Aluminium-Profil 1 Meter für LED Neon Fluro Mini
Alu-Profil für den LED Neon Fluro Mini Streifen (Art Nr 4020)
Dieses schmale Aluprofil ist nur mit dem LED Neon Fluro Mini Streifen (Art Nr 4020) zu kombinieren. Der LED-Schlauch wird einfach in das Profil eingeklemmt. Das Aluminiumprofil hat keine Abdeckung. Dieses Profil hat eine Länge von 1m.
Properties
Data according to manufacturer. Errors and changes reserved.
Datenblatt herunterladen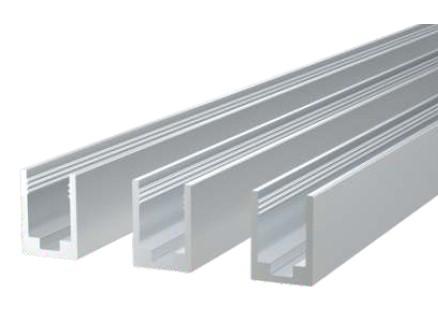 Properties "Aluminium-Profil 1 Meter für LED Neon Fluro Mini"
Energieverbrauchskennzeichnung (Labelart):

Kein Label

Garantie:

2 Jahre

Herkunftsland:

China

Aufbaulänge:

1000 mm

Aufbaubreite:

6,5 mm

Länge des Produktes (z.B. Strips, Kabel etc):

1 Meter

Einbau-LEDs:

Nein

Eingebaute LEDs:

Nein

Gehäusefarbe:

silber / chrom

Abdeckung:

keine

, klar

Produktlänge:

1 m

Produktbreite:

6,5 mm

Produktlänge:

1000 mm

Produkthöhe:

9,1 mm

Aluprofilform:

Aufbauprofil

LED Streifenbreite:

8 mm