CCT LED Panel Set S | 120x60cm 60W 3000K-6000K silbern Netzteil Fernbedienung
CCT LED Panel Set S - 120x60cm 60W 3000K-6000K silbern
Dieses LED CCT Panel Komplettset 120x60cm mit 60W lässt sich mithilfe der Funkfernbedienung aus dem reichhaltig mitgeliefertem Zubehör nicht nur dimmen, sondern auch in der Farbtemperatur stufenlos zwischen 3000K-6000K (warm-, neutral-, kaltweiß) verstellen.
Die zuletzt mit der Fernbedienung eingestellte Farbtemperatur oder Helligkeit wird so lange gespeichert bis sie erneut wieder verstellt wird. Auch beim Betätigen des Schalters oder nach einem Stromausfall bleibt die Einstellung gespeichert.
Als ultimatives Komplettset enthält es alle Befestigungsmöglichkeiten, die für die verschiedenen Installationsideen gebraucht werden in einem! Als solche sind Klammern für die Montage für abgehängte Gipskarton oder Holzdecken vorhanden. Mit diesen lässt sich das Panel so flach wie nur möglich in die abgehängte Decke integrieren. Ebenso ist eine 6-fache je 1 m lange Seilaufhängung um die Leuchte als Pendelleuchte herab zu hängen mit dabei.
Als weitere Befestigungsmöglichkeit liegt dem Komplettset eine 6-fache Z Halterung bei. Mit dieser kann das Panel nicht nur unter die Decke, sondern auch an die Wand montiert werden. Die Z Halter sind 1 cm hoch und lassen damit genug Platz für das Kabel der Stromversorgung. In dem Fall entsteht ein Abstand zur Decke von 1 cm (+ die Höhe vom Panel). Der Treiber muss bei dieser Installationsvariante (aus Platzgründen) entweder in der Decke oder neben dem Panel verstaut werden.
Die Funkfernbedienung hat eine Reichweite von 30Â m und mit einer lassen sich bis zu 100 Panels in 99 Gruppen bedienen.
Properties
Data according to manufacturer. Errors and changes reserved.
Datenblatt herunterladen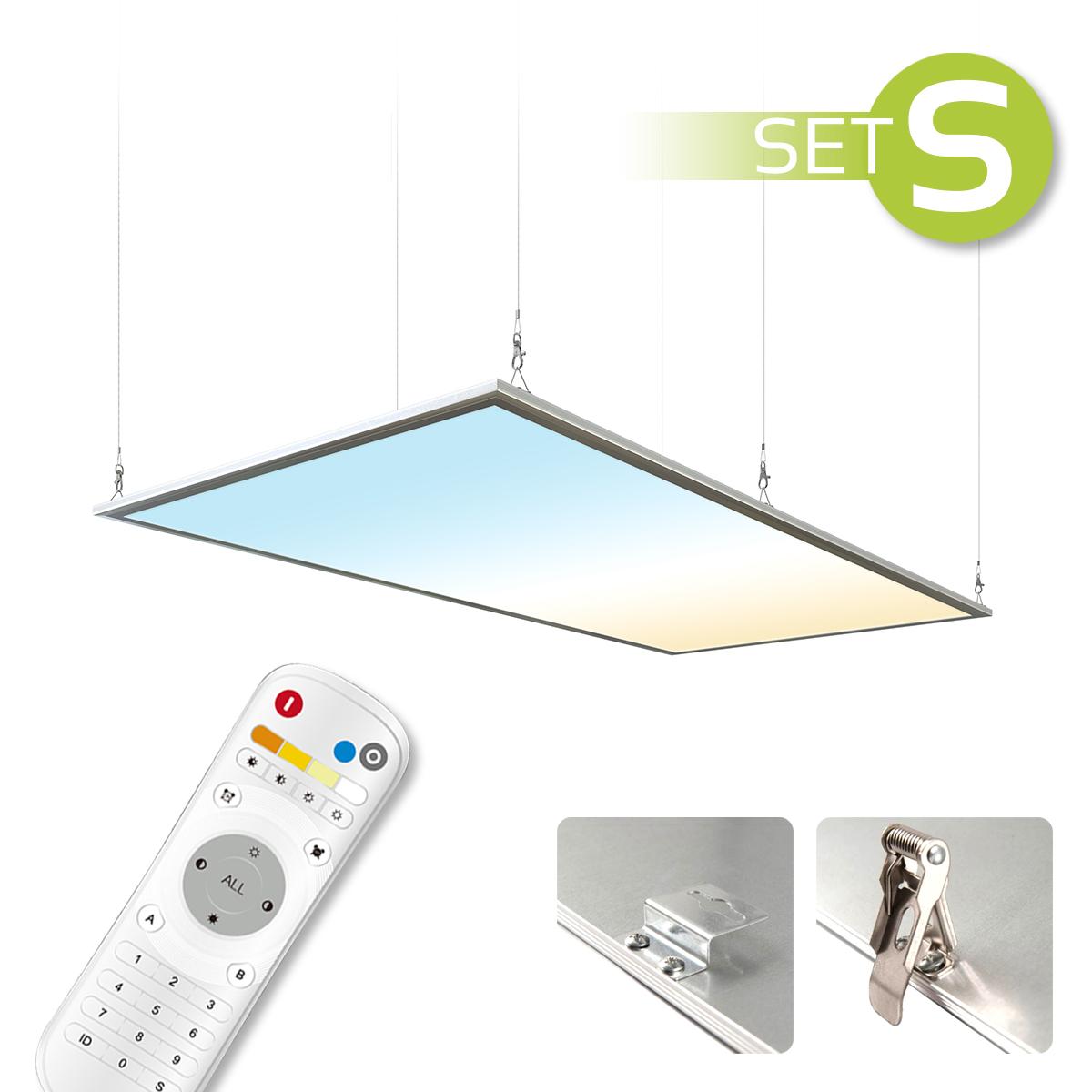 Properties "CCT LED Panel Set S | 120x60cm 60W 3000K-6000K silbern Netzteil Fernbedienung"
Fachgerechte Entsorgung nach WEEE:

ja

Lagertemperatur:

-20 °C bis +50 °C

Besonderheiten:

stufenlos einstellbare Farbtemperatur

, dimmbar

Eingangsspannung:

230 V/AC

Energieverbrauchskennzeichnung:

A+

Energieverbrauchskennzeichnung (nach EU 2019/2015):

F

Energieverbrauchskennzeichnung (Labelart):

Leuchte

EPREL-Eintragungsnummer:

928856

Garantie:

3 Jahre

PrĂĽfzeichen:

RoHS

, CE

Schutzklasse (nach EN 61140 und VDE 0140-1):

III

Herkunftsland:

China

Dimmbar:

Ja

Farbtemperatur:

4100 K

, 5500 K

, 6000 K

, 3500 K

, 4500 K

, 5000 K

, 5400 K

, 4000 K

, 3000 K

Lichtfarbe:

CCT

Nennlebensdauer:

30000 Std.

Schutzart (IP):

IP20

Smart Home Systeme:

TIGI RF-2.4GHz

Farbwiedergabe:

80 Ra

Abstrahlwinkel:

120 Grad

Farbkonsistenz:

6 SDCM

Form:

rechteckig

Rahmenfarbe:

silber

Akzentbeleuchtung:

ungeeignet

LED-Hersteller:

EPISTAR

Einbau-LEDs:

Ja

Eingebaute LEDs:

Ja

Aufwärmzeit:

1 s

Eingangsspannung (V):

230 V/AC

Energieverbrauch:

60 W

Leistung:

60 W

Lichtstrom:

5200 Lumen

Nennlichtstrom:

5200 Lumen

Nennstrom:

1500 mA

Netzteil:

extern

Powerfactor:

0,9

Schaltzyklen:

100000

Treiberhersteller:

LiFud

ZĂĽndzeit:

0,5 s

Abdeckung:

opal

Produktbreite:

595 mm

Produktlänge:

1195 mm

Produkthöhe:

10 mm

Treiberabmessung Länge:

190 mm

Treiberabmessung Höhe:

39 mm

Treiberabmessung Breite:

65 mm

Betriebstemperatur (°C):

-20 °C bis +50 °C

Gewicht:

3,86 kg

Netto-Gewicht des Produktes:

6,758 kg

Funk-Frequenzband:

2402 - 2482 MHz MHz

Funkreichweite:

30 m

Signalstärke:

85 mW

WLAN-Frequenzband:

2.4 GHz

WLAN-Protokolle:

GFSK

Panelgröße:

120x60 cm

Gewicht der Verpackung (Pappe):

0,95 g

Gewicht der Verpackung (Pappe + Kunststoff):

0,95 g

Gewicht inkl. Verpackung Bruttogewicht:

8,784 kg

Länge der Verpackung:

125,79 cm

CCT Modus:

fade