Deckenleuchte Slim Pro silber 24W 3000K Ø380 mm Warmweiß
Runde, ultraflache LED Deckenleuchte 24W mit warmweißen LED Licht
Diese stromsparende LED-Aufbauleuchte besteht aus einem Metallkörper, der die opale Abdeckung trägt und an die Decke befestigt wird. Die langlebige LED Deckenleuchte ist superflach - die Aufbauhöhe beträgt nur 50 Millimeter. Mit dieser geringen Aufbauhöhe schmiegt sich die Leuchte an die Decke. Der Vorteil gegenüber Einbaustrahler ist offensichtlich: Deckenausschnitte werden nicht benötigt.
Die hocheffizienten LEDs sind in dieser Deckenleuchte fest verbaut und stehen für eine hohe, zuverlässige Lichtleistung.
Die 24W Leuchte wird direkt an die 230V Netzspannung angeschlossen.
Das warmweiße LED-Licht taucht einen Raum in harmonisches Licht, in dem man sich wohlfühlt. Diese Deckenbeleuchtung würde also hervorragende Dienste in Wohnzimmer und Schlafzimmer verrichten.
Einige technische Details
Farbtemperatur 3000K
Schutzart IP20 (nur im Innenbereich verwenden)
Helligkeit 2400 Lumen
Nennlebensdauer ca 30.000 Stunden
Durchmesser 380 mm
Properties
Data according to manufacturer. Errors and changes reserved.
Datenblatt herunterladen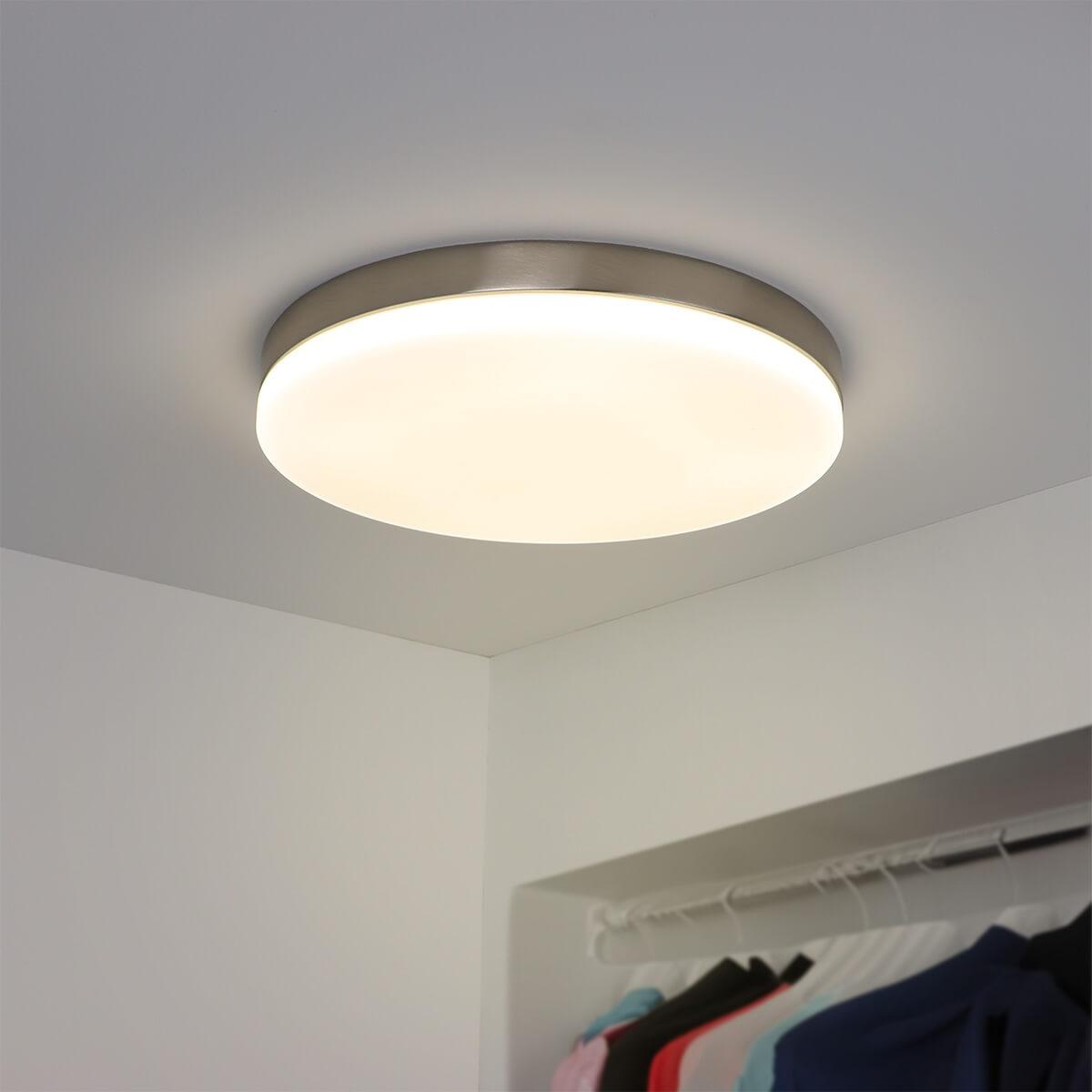 Properties "Deckenleuchte Slim Pro silber 24W 3000K Ø380 mm Warmweiß"
Fachgerechte Entsorgung nach WEEE:

ja

Lagertemperatur:

-20 °C bis +50 °C

Eingangsspannung:

230 V/AC

Energieverbrauchskennzeichnung:

A

Energieverbrauchskennzeichnung (nach EU 2019/2015):

F

Energieverbrauchskennzeichnung (Labelart):

Leuchte

EPREL-Eintragungsnummer:

902349

Garantie:

2 Jahre

Prüfzeichen:

RoHS

, CE

Schutzklasse (nach EN 61140 und VDE 0140-1):

II

Herkunftsland:

China

Montageart:

Deckenmontage

, Aufbau

Einbaubreite:

380 mm

Einbautiefe:

50 mm

Dimmbar:

Nein

Dimmbarkeit:

nicht dimmbar

Farbtemperatur:

3000 K

Lichtfarbe:

warmweiß

Nennlebensdauer:

30000 Std.

Schutzart (IP):

IP20

Farbwiedergabe:

80 Ra

Abstrahlwinkel:

170 Grad

Farbkonsistenz:

4 SDCM

Form:

rund

Schwenkbar:

Nein

Akzentbeleuchtung:

ungeeignet

LED-Chip-Typ:

SMD2835

LED-Hersteller:

SANAN

Einbau-LEDs:

Ja

Eingebaute LEDs:

Ja

Anlaufstrom:

36 mA

Eingangsspannung (V):

230 V/AC

Energieverbrauch:

24 W

Leistung:

24 W

Lichtstrom:

1680 Lumen

, 2400 Lumen

Nennlichtstrom:

2400 Lumen

, 1680 Lumen

Nennstrom:

840 mA

Netzfrequenz (Hz):

50 Hz - 60 Hz

Netzteil:

intern

Powerfactor:

0,5

Treiberhersteller:

Eupple

Vergleichswert:

48 Watt

Zündzeit:

0,5 s

Abdeckung:

satiniert

Produktbreite:

380 mm

Produkthöhe:

50 mm

Produktdurchmesser:

380 mm

Betriebstemperatur (°C):

-20 °C bis +50 °C

Ausgangsspannung:

24 V/DC - 26 V/DC

Ausgangsstrom:

840 mA