HighVoltage Pro+ Super Warmweiß 230V CRI90 LED Streifen 25M 8W/m 54LED/m 15,5mm IP65 2700K
LED Strip Pro+ 2700K 230V 8W IP65 54LED/m 25Meter
LED Streifen werden vielseitig eingesetzt, der Verdrahtungsaufwand ist aber immer sehr hoch, da Netzteile immer zusätzlich verdrahtet werden müssen. Nicht so bei unseren LED Streifen, die direkt mit AC 230V betrieben werden und somit direkt an die Netzspannung angeschlossen werden.
Die Streifen sind schon fertig als 25 m Stück konfektioniert und können direkt in Betrieb genommen werden. Diese Streifen lassen sich bei Bedarf zerteilen (alle 50 cm / 27 LEDs) und können mit unseren speziellen Verbindern und Einspeisern den persönlichen Bedingungen angepasst werden. Bei den Einspeiser haben Sie die Wahl eines Einspeiser mit offenen Kabelende oder mit Stecker.
Die Lichtfarbe ist 2700K warmweiß. Der Streifen eignet sich ideal für denAußenbereich, z.B. Terrasse, Carport, Dachüberstand, etc.
Hinweis: Schutzart IP65 - geschützt gegen Eindringen von Staub und Strahlwasser
Nicht geeignet für den Einsatz in Swimmingpools oder Aquarien.
Properties
Data according to manufacturer. Errors and changes reserved.
Datenblatt herunterladen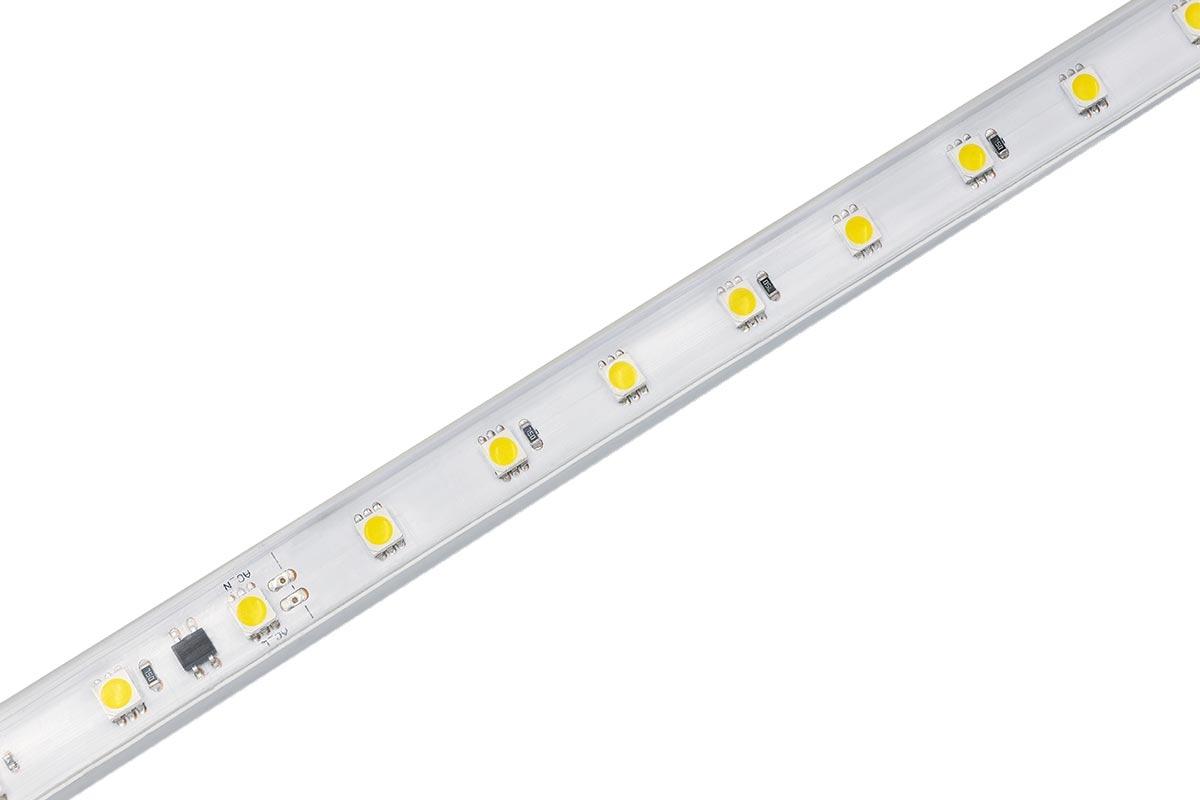 Properties "HighVoltage Pro+ Super Warmweiß 230V CRI90 LED Streifen 25M 8W/m 54LED/m 15,5mm IP65 2700K"
Fachgerechte Entsorgung nach WEEE:

ja

Lagertemperatur:

-20 °C bis +40 °C

Eingangsspannung:

230 V/AC

Konstantspannung (CV):

230 V/DC

Energieverbrauchskennzeichnung:

A+

Energieverbrauchskennzeichnung (nach EU 2019/2015):

G

Energieverbrauchskennzeichnung (Labelart):

Leuchte

EPREL-Eintragungsnummer:

929792

Garantie:

2 Jahre

Prüfzeichen:

RoHS

, CE

Schutzklasse (nach EN 61140 und VDE 0140-1):

II

Herkunftsland:

China

Einbaulänge:

25000 mm

Einbaubreite:

15 mm

Einbautiefe:

6,5 mm

Dimmbar:

Nein

Dimmbarkeit:

nicht dimmbar

Farbtemperatur:

2700 K

Lichtfarbe:

warmweiß

Nennlebensdauer:

50000 Std.

Schutzart (IP):

IP65

Farbwiedergabe:

90 Ra

Abstrahlwinkel:

120 Grad

, 110 Grad

Länge des Produktes (z.B. Strips, Kabel etc):

25 Meter

Aufwärmzeit:

0,1 s

Eingangsspannung (V):

230 V/DC

Energieverbrauch:

200 W

Leistung:

200 W

Lichtstrom:

16000 Lumen

Nennlichtstrom:

16000 Lumen

Nennstrom:

35 mA

Netzfrequenz (Hz):

50 Hz - 60 Hz

Produktlänge:

25 m

Produktbreite:

15 mm

Produktlänge:

25000 mm

Produkthöhe:

6,5 mm

Betriebstemperatur (°C):

-20 °C bis +40 °C

Gewicht:

6,34 kg

Netto-Gewicht des Produktes:

6,34 kg

LEDs pro Meter:

54

LEDs pro Segment:

24

LED-Abstand:

18,5 mm

Segmentlänge (teilbar alle x):

500 mm

Leistung pro Meter:

8 W/m

Stromaufnahme pro Meter:

35 mA/m

Lichtstrom pro Meter:

640 lm/m

Nennlichtstrom pro Meter:

640 lm/m

Stripart:

Classic

Gewicht der Verpackung (Pappe + Kunststoff):

0,45 g

Gewicht inkl. Verpackung Bruttogewicht:

6,79 kg

Farbtemperatur warmweiß:

94056020