Hohlstecker DC Kabel schwarz mit Schalter auf Hohlbuchse
DC Kabel mit Schalter, schwarz (inkl. Hohlstecker und Hohlbuchse)
Die Stromversorgung zu Ihren LED Strips (Niederspannung) an- und ausschalten können Sie mit diesem schwarzen Schalter, indem Sie ihn zwischen Netzteil und Strip anschließen.
Es handelt sich um einen DC-Kabel Schalter.
Die Gesamtlänge des Kabelstücks beträgt ca. 30cm (gemessen von Hohlbuchse auf der einen Seite und Hohlstecker auf der anderen).
Schaftlänge von Stecker und Buchse: 9mm, Außen-Durchmesser: 5,5mm, Stift-Durchmesser: 2,1mm
Nennspannung 12V/DC, maximal 36V
Strom: maximal 2A
Properties
Data according to manufacturer. Errors and changes reserved.
Datenblatt herunterladen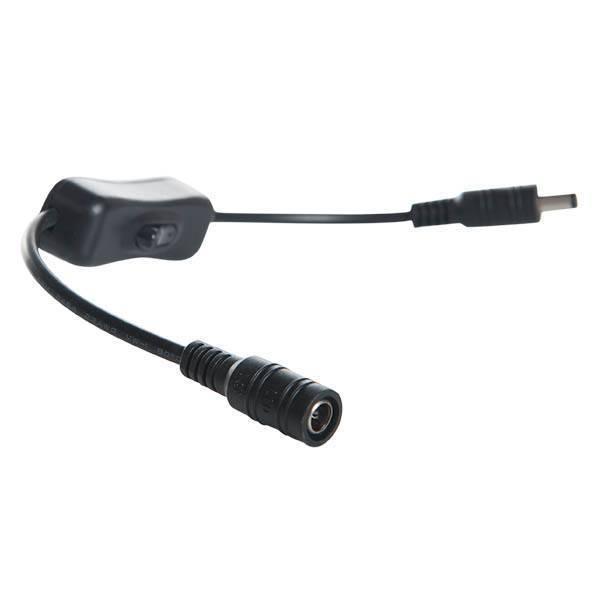 Properties "Hohlstecker DC Kabel schwarz mit Schalter auf Hohlbuchse"
Fachgerechte Entsorgung nach WEEE:

ja

Energieverbrauchskennzeichnung:

Keine

Energieverbrauchskennzeichnung (Labelart):

Kein Label

Garantie:

2 Jahre

Prüfzeichen:

RoHS

, CE

Herkunftsland:

China

Schutzart (IP):

IP20

Gehäusefarbe:

schwarz

Produktlänge:

300 mm

Gewicht:

0,024 kg

Netto-Gewicht des Produktes:

0,024 kg

Gewicht inkl. Verpackung Bruttogewicht:

0,024 kg

Länge der Verpackung:

32,26 cm