KNX RGBW Controller ATOS4 DIN Hutsch. 4-Kanal 4x5A
ATOS4 KNX RGBW LED Controller
Der Dimmer mit LED-Konstantspannungstreiber kann die LED direkt ansteuern, hat vier Kanäle, jeder Kanal ist unabhängig. Der Ausgang kann mit einigen großen dimmbaren LED-Leuchten verbunden werden. Diese LEDs können über den Bus geschaltet, gedimmt, abgerufen oder zur Durchführung anderer Operationen genutzt werden. Zur elektrischen Verbindung verwenden die Geräte PUSH-Klemmen; die Verbindung zum EIB/KNX-Bus erfolgt über eine Busanschlussklemme. Der Eingang muss mit einer 12V-36V DC Betriebsspannung verbunden werden.

Die folgende Liste gibt einen Überblick über die verschiedenen Funktionen:
Wechseln des LED-Lichts
Status Bericht, Fehlerbericht
Relatives Dimmen
Absolutes Dimmen
Speicherung von 15 Einstellungen
Treppenlichtzeitfunktion
Bus Wiederherstellungs- (oder Reset-) Funktion
Voreingestellter Wert und Veränderung der voreingestellten Werte
Schalten/relatives Dimmen über Handtasten
Das Gerät verfügt über eine eigene Datenbankdatei. Für den normalen Dimm-Modus wurde eine manuelle Bedienfunktion hinzugefügt, im Treppenlichtzeitmodus ist sie ungültig. Schalten Sie über eine kurze Betätigung der Drucktasten, relatives Dimmen über eine lange Betätigung, und bei Ausfall der Busspannung ist die manuelle Betätigung ungültig.


12-36 Volt
350mA
Schraubenfreie Verbindung
7 voreingestellte Dimmstufen
Auch stufenlos dimmbar
Properties
Data according to manufacturer. Errors and changes reserved.
Datenblatt herunterladen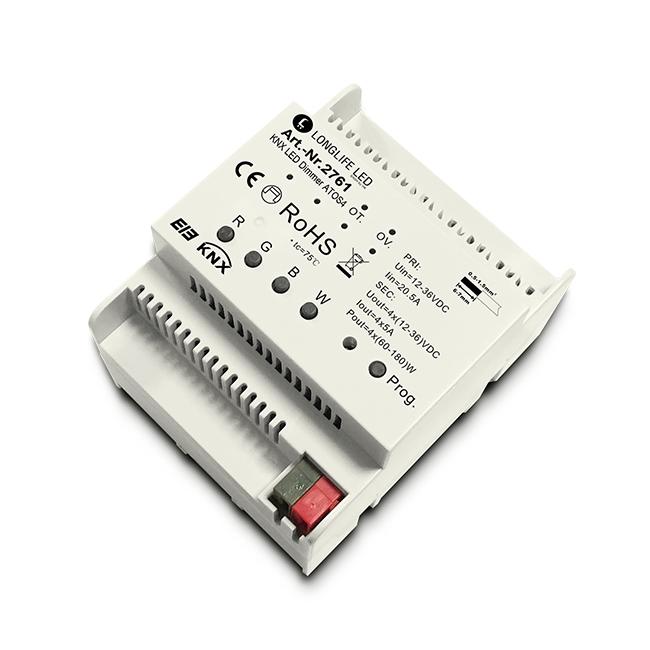 Properties "KNX RGBW Controller ATOS4 DIN Hutsch. 4-Kanal 4x5A"
Fachgerechte Entsorgung nach WEEE:

ja

Lagertemperatur:

-20 °C bis +50 °C

Energieverbrauchskennzeichnung:

Keine

Energieverbrauchskennzeichnung (Labelart):

Kein Label

Garantie:

5 Jahre

Prüfzeichen:

CE

Schutzklasse (nach EN 61140 und VDE 0140-1):

III

Herkunftsland:

China

Einbaulänge:

90,1 mm

Einbaubreite:

72 mm

Einbautiefe:

66,4 mm

Dimmbar:

Ja

Schutzart (IP):

IP20

Smart Home Systeme:

KNX

, ATOS 2.4GHz

Schwenkbar:

Nein

Einbau-LEDs:

Nein

Eingebaute LEDs:

Nein

Anlaufstrom:

12 mA

Eingangsspannung (V):

24 V/DC

, 36 V/DC

, 12 V/DC

Energieverbrauch:

720 W

Leistung:

720 W

Nennstrom:

5000 mA

Treiberhersteller:

Sunricher

Gehäusefarbe:

weiß

Produktbreite:

72 mm

Produktlänge:

90,1 mm

Produkthöhe:

66,4 mm

Betriebstemperatur (°C):

-20 °C bis +45 °C

Gewicht:

0,05 kg

, 0,048 kg

Netto-Gewicht des Produktes:

0,23 kg

Ausgangsspannung:

12 V/DC - 36 V/DC

Ausgangsstrom:

5000 mA

Gewicht der Verpackung (Pappe + Kunststoff):

0,17 g

Gewicht inkl. Verpackung Bruttogewicht:

0,06 kg
Downloads "KNX RGBW Controller ATOS4 DIN Hutsch. 4-Kanal 4x5A"