LED Bodeneinbaustrahler eckig Set 1x Gartenstrahler 230V IP67 GU10 5W 2700K DIMMBAR
Eckige LED-Bodeneinbauleuchte mit dimmbarer GU10-Lampe 5W (2700K)
Ihre Highlights:
Hochwertiger, viereckiger Edelstahlring mit Sicherheitsglas
Belastbar bis zu 2t
Schwarzer Kunststoffkörper mit zwei seitlichen Ein-Ausgängen für die Verdrahtung
Wegen der Schutzart IP67 geschützt vor eindringendem Staub und Wasser
Direkter Anschluss an 230 Volt
Einsatzbereiche
Die Bodeneinbauleuchten werden sowohl im Innenbereich als auch im Außenbereich eingesetzt. Im Außenbereich dienen die versenkten Lichter als Wegweiser für Auffahrten, Hofeinfahrten, Gartenwege. Sie unterstützen also bei der Ausleuchtung und Orientierung. Neben dieser zweckdienlichen Aufgabe werden auch Lichtakzente gesetzt, um Gebäude, Fassaden, Gartenbereiche oder andere Außenbereiche vorteilhaft aussehen zu lassen. Architektur und Gartenlandschaften werden so in anmutende Licht- und Schatteneffekte getaucht.
Installation von Bodeneinbauleuchten - worauf sollten Sie achten?
Normalerweise geht es hier um eine dauerhafte Installation, darum lohnt sich der Zeitinvest in Planung und Vorbereitung, um schließlich in die Ausführung überzugehen.
Der Bodeneinbaustrahler benötigt eine Einbautiefe von 140 mm. Sorgen Sie für eine gute Drainage. Sie sollten also unterhalb der Bodenleuchte z.B. ein Kiesbett anlegen, damit Wasser schnell abfließen kann. Eine Installation in Bodensenken sollte vermieden werden, ebene Flächen oder Bodenerhebungen sind die angewiesene Wahl.
Bitte verschrauben Sie alles wasserdicht und benutzen Sie geeignete Verbindungsmuffen für die Stromleitungen.


Warmweißes Licht - die dimmbare GU10-Lampe ist im Lieferumfang enthalten
In die Bodenleuchte wird eine 5 Watt Lampe mit GU10-Sockel verschraubt. Die LED-Lampe ist also austauschbar. Bitte stellen Sie immer sicher, dass das Oberteil aus Edelstahl immer wieder gut verschraubt wird. Ein Austauschen der Lampen empfiehlt sich bei trockener Wetterlage.
Properties
Data according to manufacturer. Errors and changes reserved.
Datenblatt herunterladen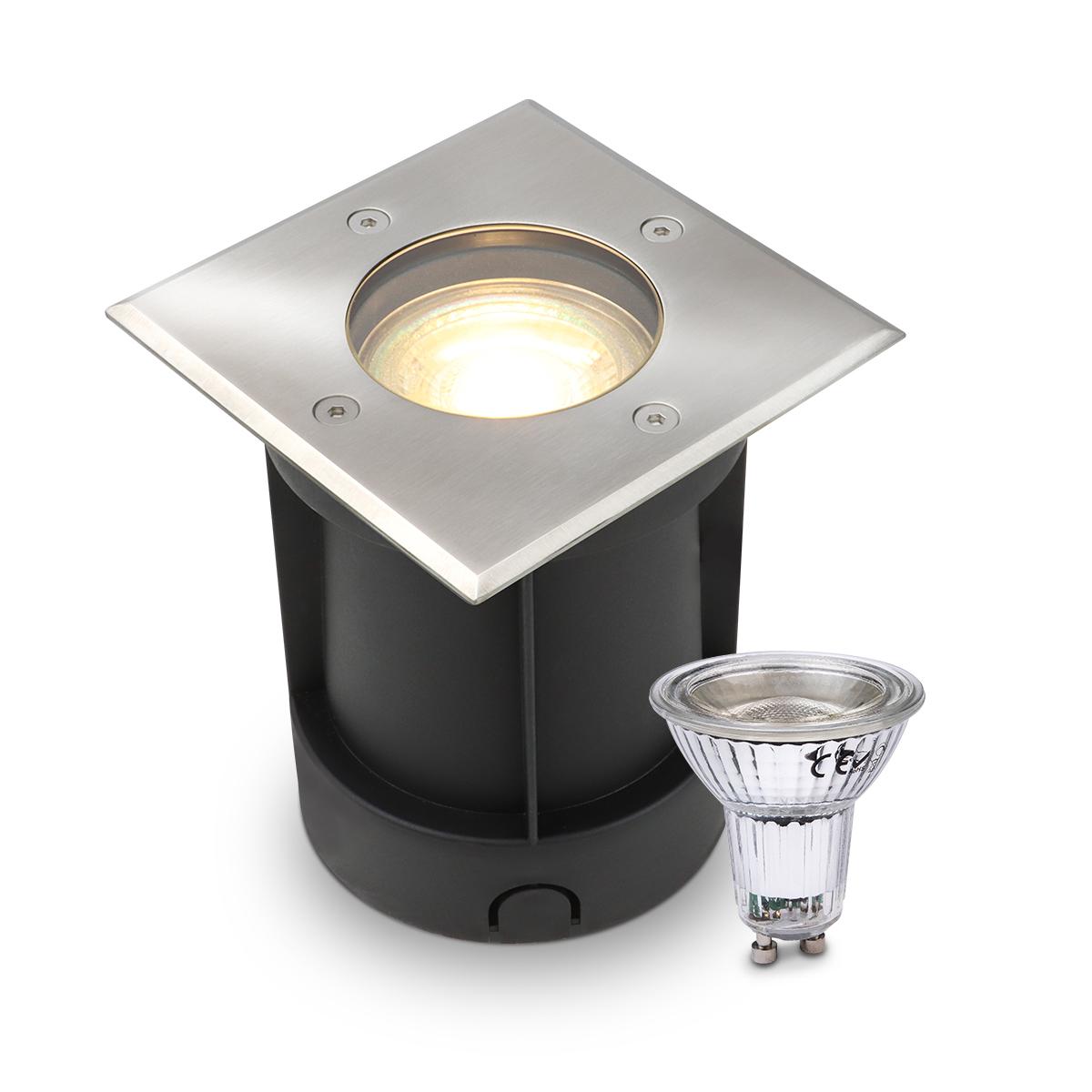 Properties "LED Bodeneinbaustrahler eckig Set 1x Gartenstrahler 230V IP67 GU10 5W 2700K DIMMBAR"
Besonderheiten:

dimmbar

Eingangsspannung:

115 V/AC

, 230 V/AC

Energieverbrauchskennzeichnung:

A+

Energieverbrauchskennzeichnung (nach EU 2019/2015):

F

EPREL-Eintragungsnummer:

911212

Garantie:

2 Jahre

Prüfzeichen:

RoHS

, CE

Herkunftsland:

China

Einbautiefe:

140 mm

Einbaudurchmesser:

107 mm

Trittfest:

Ja

Dimmbar:

Ja

Farbtemperatur:

2700 K

Lichtfarbe:

warmweiß

Nennlebensdauer:

25000 Std.

Schutzart (IP):

IP67

Farbwiedergabe:

80 Ra

Fassung:

GU10

Abstrahlwinkel:

40 Grad

Form:

quadratisch

Schwenkbar:

Nein

Akzentbeleuchtung:

geeignet

Eingangsspannung (V):

230 V/AC

Energieverbrauch:

5 W

Leistung:

5 W

Lichtstrom:

400 Lumen

Nennlichtstrom:

400 Lumen

Produktbreite:

120 mm

Produkthöhe:

140 mm

Betriebstemperatur (°C):

-10 °C bis +40 °C

Netto-Gewicht des Produktes:

0,852 kg

Gewicht inkl. Verpackung Bruttogewicht:

0,9 kg
Downloads "LED Bodeneinbaustrahler eckig Set 1x Gartenstrahler 230V IP67 GU10 5W 2700K DIMMBAR"