LED Bodeneinbaustrahler eckig Set 3x Gartenstrahler 230V IP67 GU10 5W 2700K DIMMBAR
3 eckige LED-Bodeneinbauleuchten mit dimmbaren GU10-Lampen 5W (2700K)
Ihre Highlights:
Hochwertiger Bodenstrahler in Edelstahl gebürstet
Sicherheitsglas belastbar bis zu 2t
Schwarzer Kunststoffkörper mit zwei seitlichen Ein-/Ausgängen für die Verdrahtung
Geschützt vor eindringendem Staub und Wasser (IP67)
Vor allem für den Außenbereich geeignet
Direkter Anschluss an 230 Volt
Einsatzbereiche
Diese Bodenleuchten sind wegen der Schutzart IP67 für den Außenbereich geeignet.
Mit den Bodenleuchten setzen Sie im Garten schöne Lichtakzente, die Beete, Bäume, Statuen oder Brunnen hervorheben. Licht- und Schatteneffekte bei Gebäuden oder Fassaden heben eindrucksvoll die Architektur hervor.
Der Hauptfokus liegt natürlich auf die Beleuchtung von Wegen für die Orientierung und das Sicherheitsempfinden bei Dunkelheit. Der geschwungene Weg zur Haustür, Garageneinfahrten oder Gartenwege - Bodeneinbaustrahler unterstützen mit einer dezenten Beleuchtung.
Worauf sollten Sie bei der Installation von Bodeneinbauleuchten achten?
Die Installation von mehreren Bodeneinbauleuchten ist normalerweise dauerhaft, daher sollte alles gut überlegt sein. Eine sorgsame Ausführung ist empfehlenswert. Zögern Sie nicht, einen Fachmann zu engagieren. Alles muss wasserdicht verlegt werden, damit Sie auch von der Langlebigkeit der Bodenstrahler profitieren können.
Der Bodeneinbaustrahler hat eine Einbautiefe von 140 mm. Wir empfehlen, die Bodenleuchte auf einem Kiesbett zu installieren, damit überschüssiges Wasser z.B. nach einem Regenguss schnell abfließen kann.
Das Verlegen sollte nur bei trockenem Wetter stattfinden.
Die GU10-Lampe ist austauschbar
Im Lieferumfang sind die dimmbaren GU10-Lampen enthalten. Die Strahler leuchten mit warmweißen LED-Licht.
Ein Vorteil ist also die Austauschmöglichkeit der stromsparenden LED-Lampe. Bitte achten Sie beim Austauschen darauf, dass Dreckablagerungen entfernt sind, damit die Wasserdichtheit weiterhin gewährleistet ist.
Properties
Data according to manufacturer. Errors and changes reserved.
Datenblatt herunterladen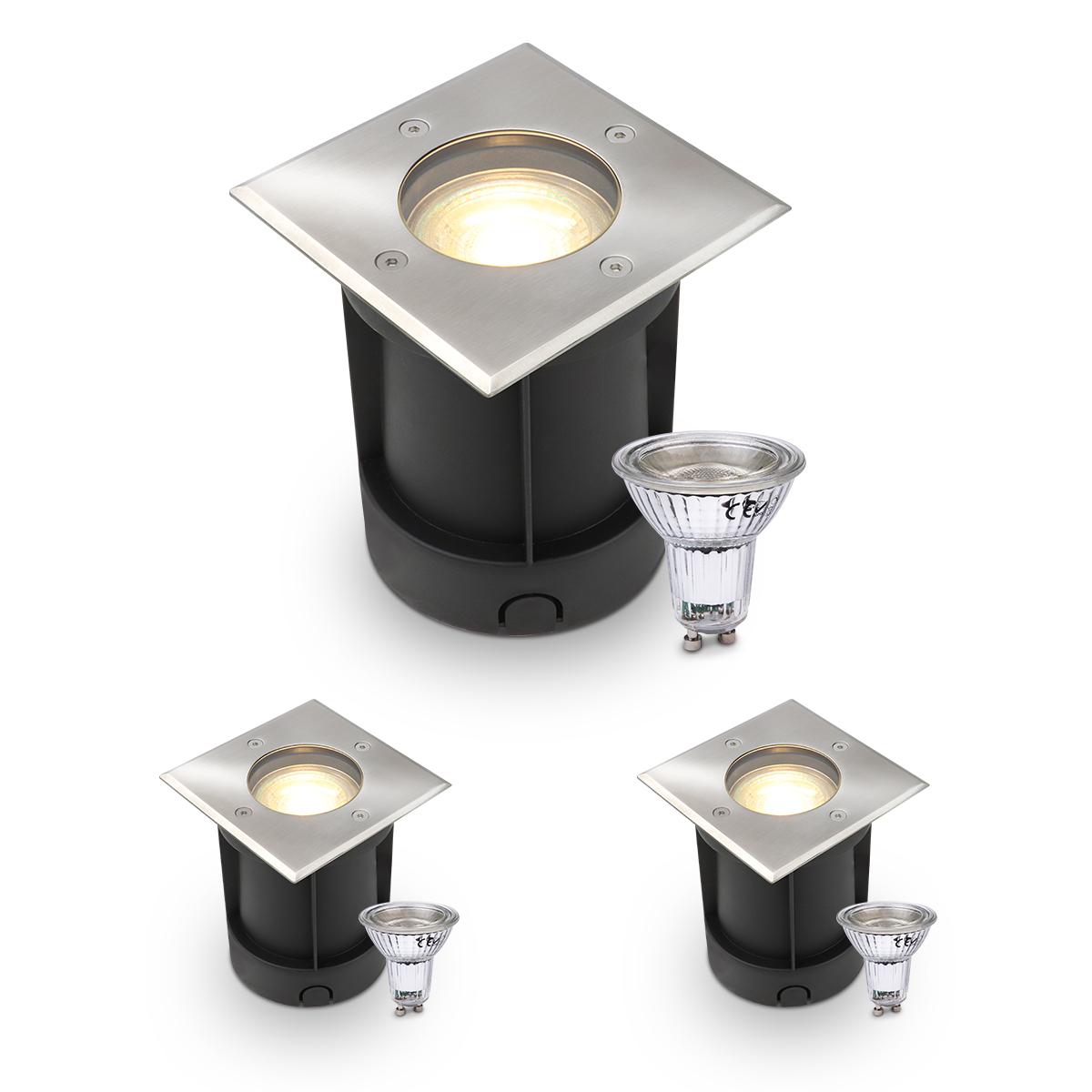 Properties "LED Bodeneinbaustrahler eckig Set 3x Gartenstrahler 230V IP67 GU10 5W 2700K DIMMBAR"
Fachgerechte Entsorgung nach WEEE:

ja

Lagertemperatur:

0 °C bis +30 °C

Besonderheiten:

dimmbar

Eingangsspannung:

115 V/AC

, 230 V/AC

Energieverbrauchskennzeichnung:

A+

Energieverbrauchskennzeichnung (nach EU 2019/2015):

F

Energieverbrauchskennzeichnung (Labelart):

Leuchtmittel

EPREL-Eintragungsnummer:

911213

Garantie:

2 Jahre

Prüfzeichen:

RoHS

, CE

Herkunftsland:

China

Einbautiefe:

140 mm

Einbaudurchmesser:

107 mm

Trittfest:

Ja

Dimmbar:

Ja

Farbtemperatur:

2700 K

Lichtfarbe:

warmweiß

Nennlebensdauer:

25000 Std.

Schutzart (IP):

IP67

Farbwiedergabe:

80 Ra

Fassung:

GU10

Abstrahlwinkel:

40 Grad

Form:

quadratisch

Schwenkbar:

Nein

Akzentbeleuchtung:

geeignet

Eingangsspannung (V):

230 V/AC

Energieverbrauch:

5 W

Leistung:

5 W

Lichtstrom:

400 Lumen

Nennlichtstrom:

400 Lumen

Powerfactor:

0,5

Schaltzyklen:

12500

Produktbreite:

120 mm

Produkthöhe:

140 mm

Betriebstemperatur (°C):

-10 °C bis +40 °C

Netto-Gewicht des Produktes:

2,556 kg

Gewicht inkl. Verpackung Bruttogewicht:

2,7 kg
Downloads "LED Bodeneinbaustrahler eckig Set 3x Gartenstrahler 230V IP67 GU10 5W 2700K DIMMBAR"