LED Bodeneinbaustrahler rund Set 1x Gartenstrahler 230V IP67 GU10 3W RGBW ink. IR Fernbedienung
Runder 230V LED Bodeneinbaustrahler mit Fernbedienung
Der Bodeneinbaustrahler wird mit einer GU10-Lampe 3W und einer handlichen IR-Fernbedienung geliefert.
Über die Infrarot-Fernbedienung wird die Lichtfarbe der Lampe gesteuert. Es stehen Ihnen elf Farben und die Lichtfarbe Warmweiß zur VerfĂŒgung. Weitere Funktionen: Dimmbarkeit, Memoryfunktion der letzten Lichteinstellung, Timerfunktion. Die einfache Bedienbarkeit ist das große Plus: kein Anlernen, sofort funktionstĂŒchtig, keine Verbauung von Zubehör und Kontrolle der KompatibilitĂ€t.
Highlights Bodeneinbaustrahler
Runder, gebĂŒrsteter Edelstahlring
Sicherheitsglas - belastbar mit einem Gewicht bis zu 2000 kg
Schutzart IP67 - fĂŒr den Innen- und Außenbereich geeignet
FĂŒr den direkten Anschluss an 230V
Schwarzer Kunststoffkörper fĂŒr die Einbettung in den Boden
Was mĂŒssen Sie bei der Installation beachten?
Der Bodeneinbaustrahler/Gartenstrahler wird bevorzugt in ebenen FlÀchen oder leichten Erhöhungen eingelassen. Bodensenken sind zu vermeiden wegen der Gefahr von Stehwasser.
Die Verbauung sollte an trockenen Tagen mit geringer Luftfeuchtigkeit stattfinden. Die Verschraubung muss wasserfest sein, genauso wie das verwendete Zubehör.
Kleiner Tipp: Falls Sie beim Einsetzen oder Austausch von der GU10 Lampe den Eindruck haben, dass Feuchtigkeit in den Strahler eingedrungen ist, dann verwenden Sie bitte vorsichtig einen Föhn zum Trocknen.
Anwendungsbereiche
Den Bodeneinbaustrahler könnte man auch als Gartenstrahler bezeichnen, denn im Garten lassen sich damit tolle Lichteffekte installieren: BÀume, Springbrunnen, Terrassen, GartenhÀuser, Standbilder, Hecken, etc. werden mit Licht von unten angestrahlt. Licht- und Schatteneffekte verwandelt Ihren Garten auch bei Dunkelheit zu einem visuellen Anziehungspunkt.
Bei Fassaden, altem oder modernem Mauerwerk, WÀllen, etc. zaubern die Bodeneinbauleuchten wunderschöne Lichtspiele auf die OberflÀchen.
Properties
Data according to manufacturer. Errors and changes reserved.
Datenblatt herunterladen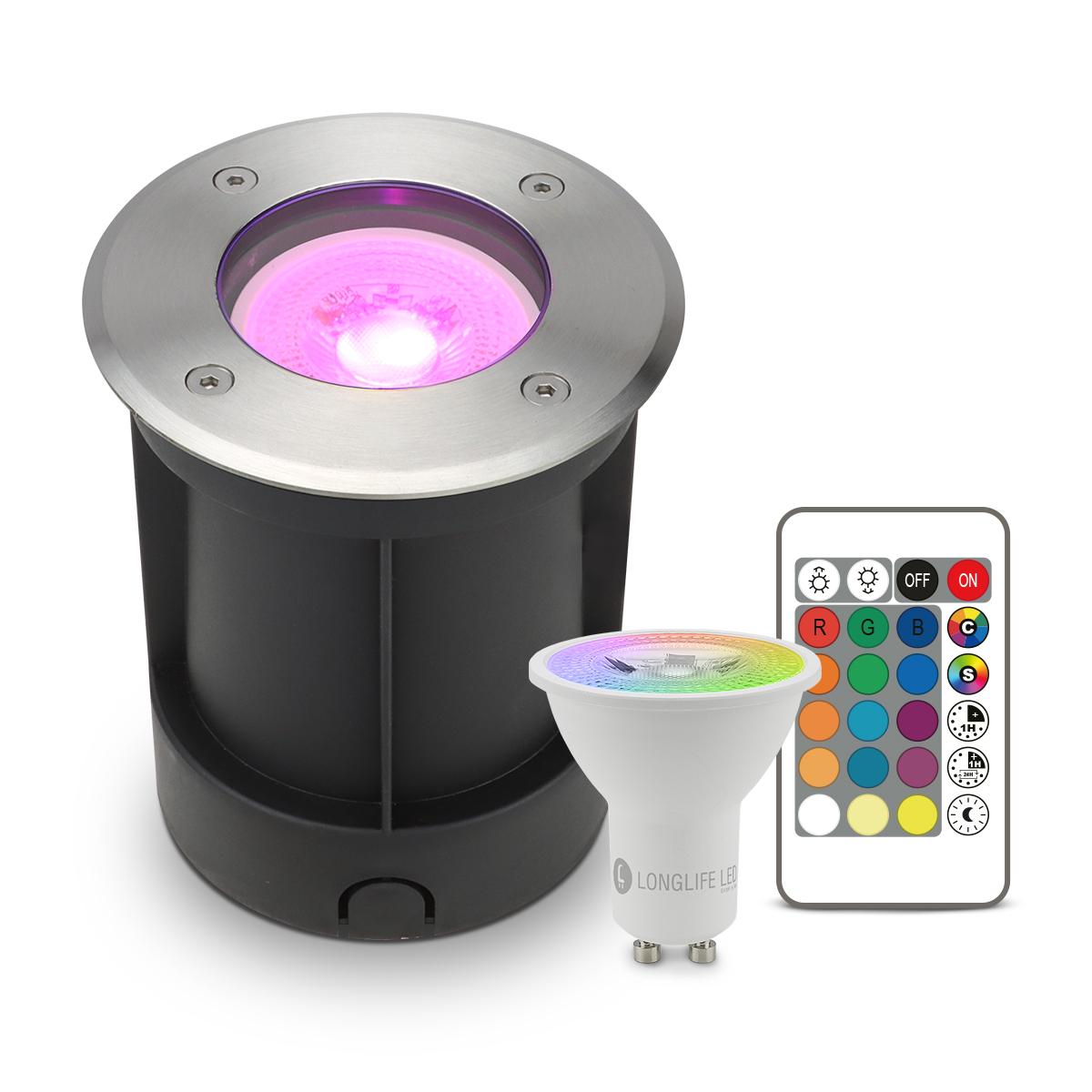 Properties "LED Bodeneinbaustrahler rund Set 1x Gartenstrahler 230V IP67 GU10 3W RGBW ink. IR Fernbedienung"
Eingangsspannung:

115 V/AC

, 230 V/AC

Energieverbrauchskennzeichnung (nach EU 2019/2015):

F

EPREL-Eintragungsnummer:

928881

PrĂŒfzeichen:

RoHS

, CE

Herkunftsland:

China

Einbautiefe:

140 mm

Einbaudurchmesser:

107 mm

Farbtemperatur:

3000 K

Lichtfarbe:

RGBWW

Schutzart (IP):

IP67

Smart Home Systeme:

Infrarot

Abstrahlwinkel:

60 Grad

Energieverbrauch:

3 W

Leistung:

3 W

Lichtstrom:

240 Lumen

Nennlichtstrom:

240 Lumen

Produkthöhe:

1400 mm

Produktdurchmesser:

120 mm

Netto-Gewicht des Produktes:

0,792 kg

Gewicht inkl. Verpackung Bruttogewicht:

0,83 kg
Downloads "LED Bodeneinbaustrahler rund Set 1x Gartenstrahler 230V IP67 GU10 3W RGBW ink. IR Fernbedienung"