LED Bodeneinbaustrahler rund Set 3x Gartenstrahler 230V IP67 GU10 3W RGBW ink. IR Fernbedienung
3er Set runde LED Bodeneinbaustrahler mit RGBW Lampe GU10
In der Lieferung sind drei Bodeneinbaustrahler und drei GU10-Lampen inklusiv Infrarotfernbedienung enthalten.
Vorteile der LED Lampe 3W mit Fernbedienung
Der große Pluspunkt ist die Einfachheit der Bedienbarkeit: kein Anlernen, kein weiteres Zubehör wie Controller oder Trafos. Einfach den Bodeneinbaustrahler/Gartenstrahler mit der Lampe an das 230V Stromnetz anschließen und sofort ist alles mit der Fernbedienung (Batterien nicht im Lieferumfang enthalten) steuerbar.
Die Lampe leuchtet in 11 Farben und in der Lichtfarbe Warmweiß. Warmweiß ist die ĂŒbliche Lichtfarbe in WohnrĂ€umen.
Über die IR-Fernbedienung steuern Sie die Dimmbarkeit und die Timer-Funktion. Ferner hat die Lampe 3W eine Memory-Funktion, d.h. die letzte Lichteinstellung bleibt gespeichert.
Bauprojekt Bodeneinbaustrahler
Vorbereitung und Planung sind nicht unerheblich. Zögern Sie nicht, einen Fachmann hinzuzuholen. Die Bodeneinbaustrahler werden fĂŒr Jahre verbaut und ein ZurĂŒckfĂŒhren der Baumaßnahmen ist immer mit nicht unerheblichen Aufwand verbunden.
WĂ€hlen Sie eine trockene Wetterlage aus mit wenig Luftfeuchtigkeit.
Der Bodeneinbaustrahler/Gartenstrahler wird bevorzugt in ebenen FlÀchen oder leichten Erhöhungen eingelassen. Bodensenken sind zu vermeiden wegen der Gefahr von Stehwasser.
Alle Materialien mĂŒssen wasserdicht und fĂŒr den Einsatz im Außenbereich geeignet sein. Einen Kurzschluss wegen eindringendem Wasser bei einer abendlichen Feier muss nicht sein.
Highlights der Bodeneinbaustrahler
GebĂŒrsteter Edelstahlring in runder Form
Sicherheitsglas - hÀlt eine Belastung von zwei Tonnen aus
Schutzart IP67 - geschĂŒtzt gegen Staub und Wasser
FĂŒr den direkten Anschluss an 230V
Schwarzer Kunststoffkörper mit zwei seitlichen Kabelein-/ausgÀngen

Anwendungsbereiche
Im Gartenbereich: Beleuchtung von Hecken, BĂ€umen, Statuen, Wegen
Bei GebÀuden: Lassen Sie Fassaden, altes oder modernes Mauerwerk, SteinwÀlle, etc. in buntem Licht erstrahlen.
Properties
Data according to manufacturer. Errors and changes reserved.
Datenblatt herunterladen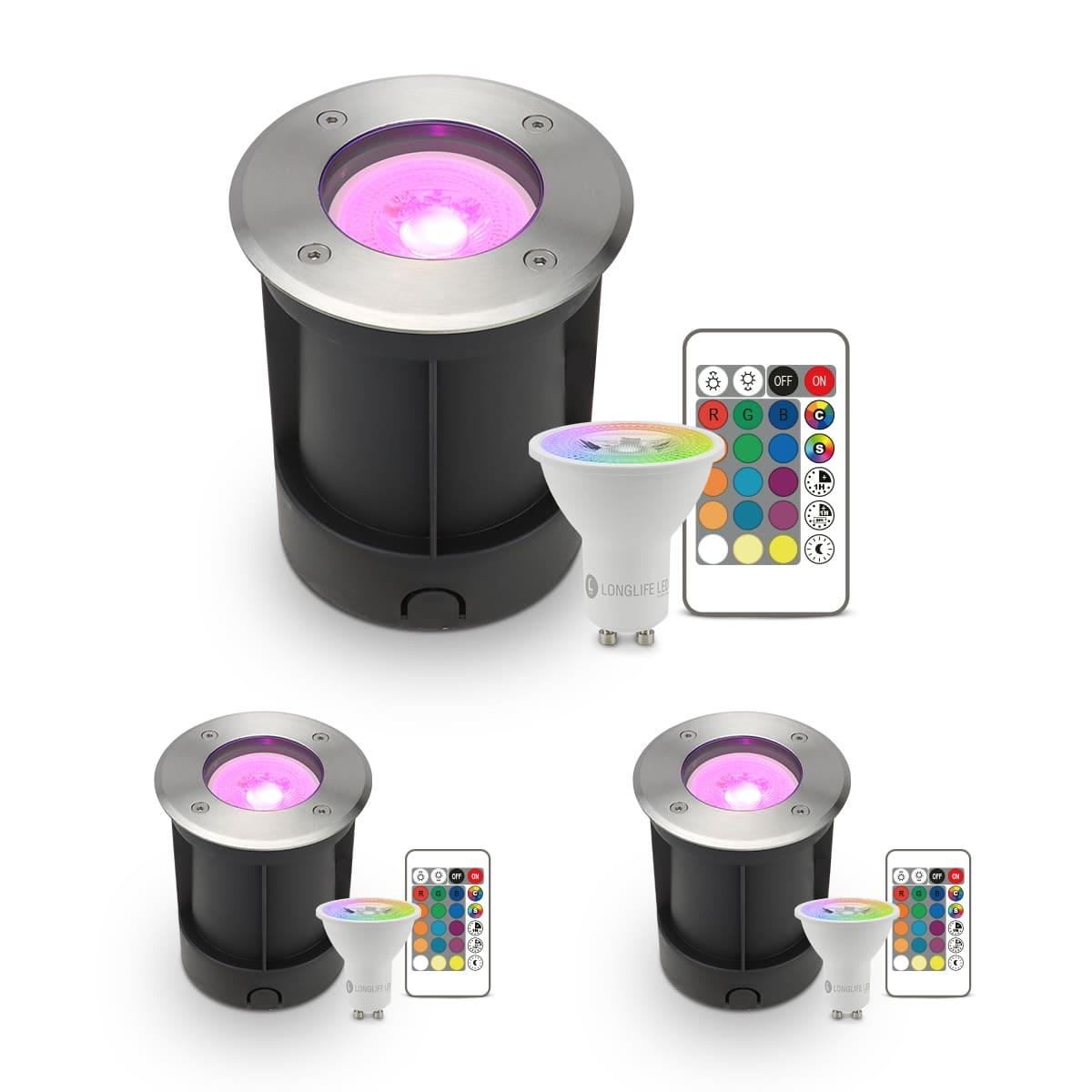 Properties "LED Bodeneinbaustrahler rund Set 3x Gartenstrahler 230V IP67 GU10 3W RGBW ink. IR Fernbedienung"
Fachgerechte Entsorgung nach WEEE:

ja

Besonderheiten:

dimmbar

Eingangsspannung:

115 V/AC

, 230 V/AC

Energieverbrauchskennzeichnung:

A+

Energieverbrauchskennzeichnung (nach EU 2019/2015):

F

Energieverbrauchskennzeichnung (Labelart):

Leuchtmittel

EPREL-Eintragungsnummer:

928881

Garantie:

2 Jahre

PrĂŒfzeichen:

RoHS

, CE

Herkunftsland:

China

Einbautiefe:

140 mm

Einbaudurchmesser:

107 mm

Dimmbar:

Ja

Farbtemperatur:

3000 K

Lichtfarbe:

RGBWW

, RGBW

Nennlebensdauer:

30000 Std.

Schutzart (IP):

IP67

Smart Home Systeme:

Infrarot

Farbwiedergabe:

80 Ra

Fassung:

GU10

Abstrahlwinkel:

60 Grad

Form:

rund

Schwenkbar:

Nein

Eingangsspannung (V):

230 V/AC

Energieverbrauch:

3 W

Leistung:

3 W

Lichtstrom:

240 Lumen

Nennlichtstrom:

240 Lumen

Schaltzyklen:

10000

Produkthöhe:

140 mm

Produktdurchmesser:

120 mm

Netto-Gewicht des Produktes:

2,376 kg

Gewicht inkl. Verpackung Bruttogewicht:

2,49 kg
Downloads "LED Bodeneinbaustrahler rund Set 3x Gartenstrahler 230V IP67 GU10 3W RGBW ink. IR Fernbedienung"