LED Bodeneinbaustrahler rund Set 3x Gartenstrahler 230V IP67 GU10 5W 2700K DIMMBAR
3 runde LED-Bodeneinbauleuchten mit dimmbarer GU10-Lampe 5W (2700K)
Ihre Highlights:
Robuster Edelstahlring mit Sicherheitsglas
Bis zu 2000 kg befahrbar und belastbar
Schwarzer Einbautopf aus Kunststoff mit seitlichen Ein-/Ausgang für die Verdrahtung
Schutzart IP67: gegen eindringenden Staub und eindringendem Wasser
Lange Lebensdauer, hohe Energieeffizienz
Direkter Anschluss an 230 Volt
Abhängig von Ihrem Lichtprojekt benötigen Sie wahrscheinlich mehrere Bodeneinbauleuchten. Diese Bodeneinbauleuchten bestehen aus rostfreiem Edelstahl mit einer gebürsteten Oberfläche und erhalten dadurch ein zeitloses Design. Die Bodeneinbaustrahler rücken Gartenanlagen, Fassaden, Auffahrten und Gehwege in das richtige Licht. Sie werden Nachbarn und Freunde mit Lichteffekten überraschen, aber auch für sich selbst oder Besucher Orientierung und ein gesteigertes Sicherheitsgefühl bei Dunkelheit sorgen.
Die Installation der LED-Bodeneinbauleuchte
Die Verbauung von LED Bodeneinbaustrahlern bedarf Planung und Vorbereitung, da normalerweise eine dauerhafte Installation geplant ist. Bodeneinbaustrahler sollten nicht in Senken eingelassen werden und an trockenen Tagen verbaut werden, damit die Gefahr von Feuchtigkeitsansammlung im Strahler vermieden wird. Bei der Einbettung (Einbautiefe 140 mm) sollte auf eine gute Drainage geachtet werden z.B. mit einem Untergrund aus Kies, damit langes Stehwasser vermieden wird. Die Bodenleuchte wird direkt an das 230V Stromnetz angeschlossen. Wasserdichte Verschraubungen und Abdichtungen garantieren eine hohe Lebenserwartung der Bodeneinbauleuchten.
Die GU10-Lampe - warmweißes Licht
Die dimmbare 5 Watt Lampe passt in GU10-Fassungen und wird mit 230V Betriebsspannung betrieben. Diese Lampe wird in den Körper der Bodenleuchte reingedreht. Da nicht fest verbaut, kann die Lampe ausgewechselt werden. Achten Sie dabei immer auf eine wasserdichte Verschraubung des Edelstahlrings der Bodenleuchte.
Properties
Data according to manufacturer. Errors and changes reserved.
Datenblatt herunterladen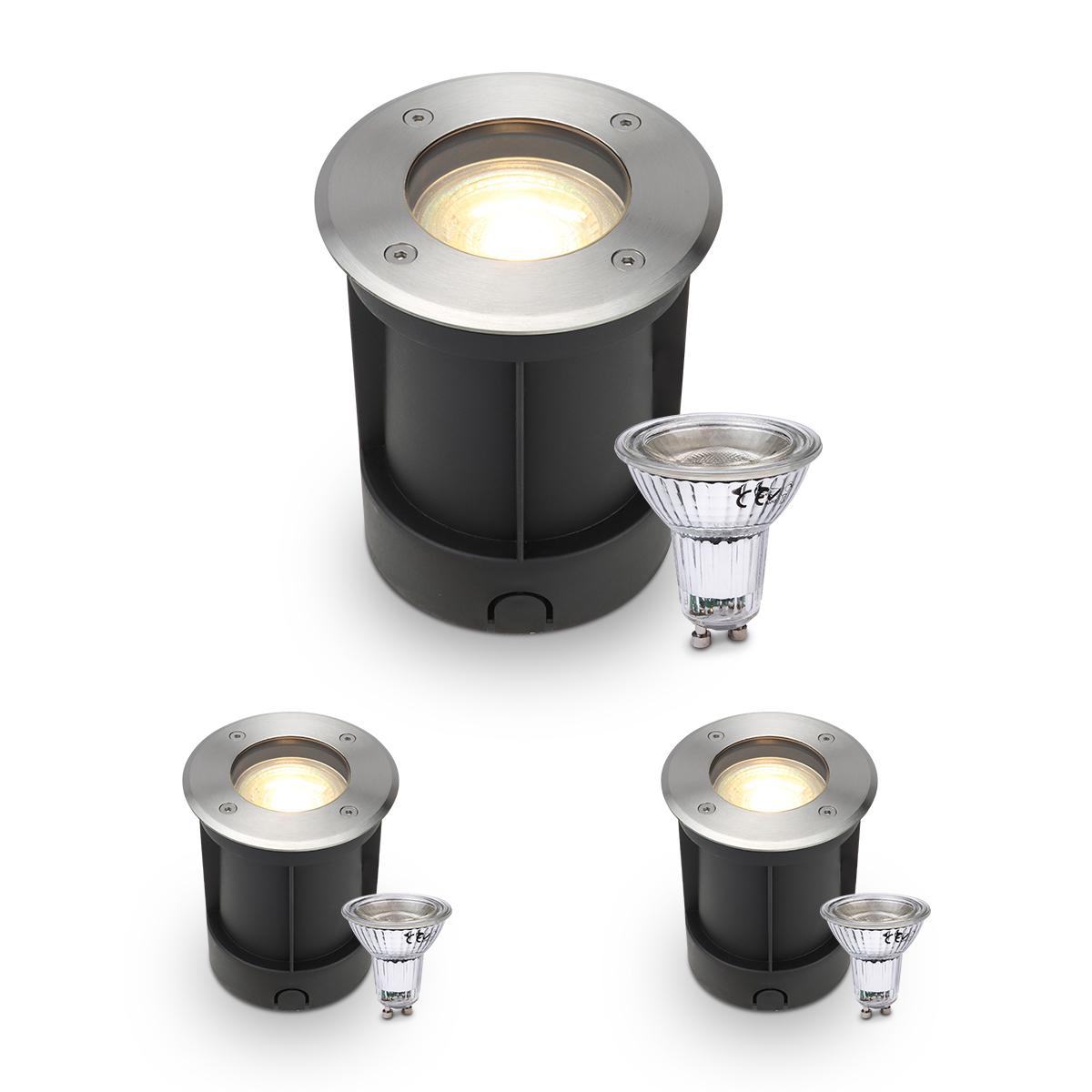 Properties "LED Bodeneinbaustrahler rund Set 3x Gartenstrahler 230V IP67 GU10 5W 2700K DIMMBAR"
Fachgerechte Entsorgung nach WEEE:

ja

Lagertemperatur:

0 °C bis +30 °C

Besonderheiten:

dimmbar

Eingangsspannung:

115 V/AC

, 230 V/AC

Energieverbrauchskennzeichnung:

A+

Energieverbrauchskennzeichnung (nach EU 2019/2015):

F

Energieverbrauchskennzeichnung (Labelart):

Leuchtmittel

EPREL-Eintragungsnummer:

911207

Garantie:

2 Jahre

Prüfzeichen:

RoHS

, CE

Herkunftsland:

China

Einbautiefe:

140 mm

Einbaudurchmesser:

107 mm

Dimmbar:

Ja

Farbtemperatur:

2700 K

Lichtfarbe:

warmweiß

Nennlebensdauer:

25000 Std.

Schutzart (IP):

IP67

Farbwiedergabe:

80 Ra

Fassung:

GU10

Abstrahlwinkel:

40 Grad

Form:

rund

Schwenkbar:

Nein

Eingangsspannung (V):

230 V/AC

Energieverbrauch:

5 W

Leistung:

5 W

Lichtstrom:

400 Lumen

Nennlichtstrom:

400 Lumen

Powerfactor:

0,5

Schaltzyklen:

12500

Produkthöhe:

140 mm

Produktdurchmesser:

120 mm

Betriebstemperatur (°C):

-10 °C bis +40 °C

Netto-Gewicht des Produktes:

2,556 kg

Gewicht inkl. Verpackung Bruttogewicht:

2,7 kg
Downloads "LED Bodeneinbaustrahler rund Set 3x Gartenstrahler 230V IP67 GU10 5W 2700K DIMMBAR"