LED Bodeneinbaustrahler rund Set 3x Gartenstrahler 230V IP67 GU10 RGB+CCT DIMMBAR inkl. Fernbedienung
3 runde LED-Bodeneinbauleuchten mit RGB CCT Lampen GU10
Ihre Highlights:
Runder, geb√ľrsteter Edelstahlring mit Sicherheitsglas
Das Sicherheitsglas hält einer Belastbarkeit von 2000 kg stand
Kunststoffkörper, der in den Boden versenkt wird
Schutzart IP67: gegen eindringenden Staub und eindringendem Wasser
Farbenvielfalt mit RGB CCT Lampe, steuerbar √ľber Fernbedienung
Direkter Anschluss an 230 Volt
Die Bodeneinbauleuchten bestehen aus einem rostfreien Edelstahlring mit einer geb√ľrsteten Oberfl√§che. Sie haben ein zeitloses Design und sehen auch tags√ľber chic und dezent aus. Durch die Farbvielfalt tauchen Sie Gartenanlagen, Fassaden, B√§ume in ein eigenes Farbuniversum. Die Lichter sorgen f√ľr Orientierung und steigern das Sicherheitsgef√ľhl bei Dunkelheit.
Die Installation der LED-Bodeneinbauleuchte
Die Verbauung von LED Bodeneinbaustrahlern bedarf Planung und Vorbereitung, da normalerweise eine dauerhafte Installation geplant ist.
Bodeneinbaustrahler sollten nicht in Senken eingelassen werden und an trockenen Tagen mit geringer Luftfeuchtigkeit verbaut werden, damit die Gefahr von Feuchtigkeitsansammlung im Strahler vermieden wird. Bei Feuchtigkeit im Strahler hilft der vorsichtige Einsatz von einem Föhn, um alles zu trocknen.
Bei der Einbettung sollte auf eine gute Drainage geachtet werden z.B. mit einem Untergrund aus Kies, damit langes Stehwasser vermieden wird.
Die Bodenleuchte wird direkt an das 230V Stromnetz angeschlossen. Wasserdichte Verschraubungen und Abdichtungen garantieren eine hohe Lebenserwartung der Bodeneinbauleuchten.
RGB CCT Lampe GU10 - ein Farbenuniversum
Mit dieser 4 Watt Lampe holen Sie sich ein Farbspektakel ins Haus. Eine Vielzahl an Farbeinstellungen lässt Ihr Haus oder Ihren Garten in ein komplett neues Licht erscheinen. Weiter im Lieferumfang ist eine Fernbedienung enthalten, um Ihre Bodenleuchte anzusteuern bis zu einem Abstand von 30 Metern (Sichtkontakt notwendig). Per Touchfunktion steuern Sie die Farbauswahl, Helligkeit und Dimmbarkeit.
Properties
Data according to manufacturer. Errors and changes reserved.
Datenblatt herunterladen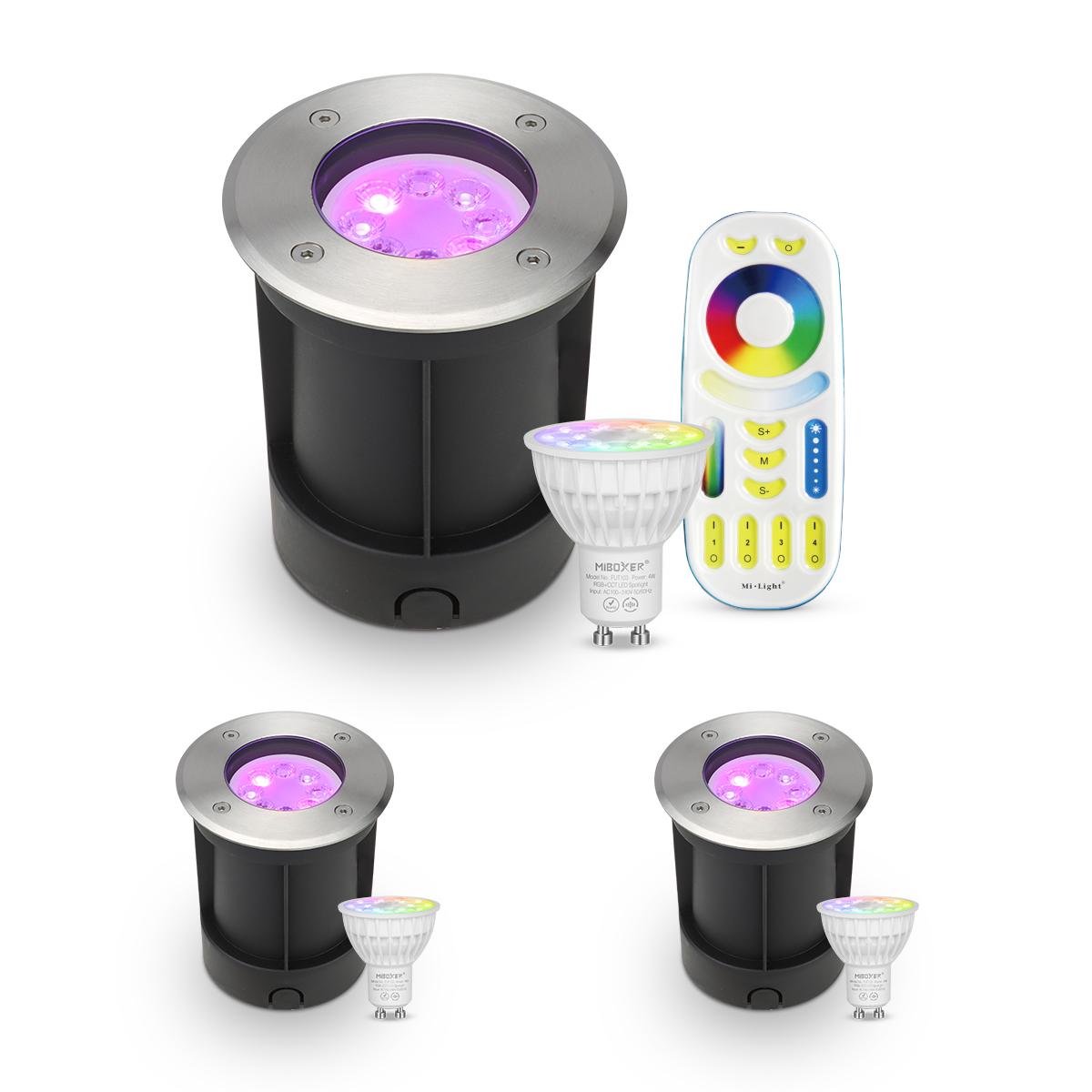 Properties "LED Bodeneinbaustrahler rund Set 3x Gartenstrahler 230V IP67 GU10 RGB+CCT DIMMBAR inkl. Fernbedienung"
Fachgerechte Entsorgung nach WEEE:

ja

Besonderheiten:

dimmbar

Eingangsspannung:

115 V/AC

, 230 V/AC

Energieverbrauchskennzeichnung:

A+

Energieverbrauchskennzeichnung (nach EU 2019/2015):

G

Energieverbrauchskennzeichnung (Labelart):

Leuchtmittel

EPREL-Eintragungsnummer:

928891

Garantie:

2 Jahre

Pr√ľfzeichen:

RoHS

, CE

Herkunftsland:

China

Einbautiefe:

140 mm

Einbaudurchmesser:

107 mm

Dimmbar:

Ja

Farbtemperatur:

4100 K

, 5500 K

, 6000 K

, 2900 K

, 3500 K

, 4500 K

, 5000 K

, 5400 K

, 2700 K

, 4000 K

, 3000 K

, 6500 K

Lichtfarbe:

RGB+CCT

Nennlebensdauer:

50000 Std.

Schutzart (IP):

IP67

Smart Home Systeme:

MiBoxer

Farbwiedergabe:

80 Ra

Fassung:

GU10

Abstrahlwinkel:

25 Grad

Form:

rund

Schwenkbar:

Nein

Eingangsspannung (V):

230 V/AC

Energieverbrauch:

4 W

Leistung:

4 W

Lichtstrom:

280 Lumen

Nennlichtstrom:

280 Lumen

Powerfactor:

0,55

Produkthöhe:

140 mm

Produktdurchmesser:

120 mm

Netto-Gewicht des Produktes:

2,679 kg

Funk-Frequenzband:

2400 - 2483.5 MHz MHz

Funkreichweite:

30 m

Signalstärke:

3,98 mW

WLAN-Frequenzband:

2.4 GHz

WLAN-Protokolle:

MiBoxer 2.4 GHz

Gewicht inkl. Verpackung Bruttogewicht:

2,79 kg
Downloads "LED Bodeneinbaustrahler rund Set 3x Gartenstrahler 230V IP67 GU10 RGB+CCT DIMMBAR inkl. Fernbedienung"