LED Buchstabe Click $ Dollarzeichen für 75mm Arial 6500K weiß
LED-Buchstabe Dollarzeichen (Click) - Höhe 75mm, Lichtfarbe Kaltweiß
Für die Inbetriebnahme wird eine Einspeisung und ein passendes Netzteil (beides separat zu bestellen) benötigt.
Der LED-Buchstabe Dollarzeichen mit magnetischem Klickmechanismus leuchtet mit kaltweißer Lichtfarbe und gehört zu der Buchstabenserie 75mm
Der Leuchtbuchstabe Dollarzeichen befindet sich auf einem Sockel mit seitlich befindlichen Magneten. Über diese Magneten werden die Leuchtbuchstaben nach Ihren individuellen Wünschen oder Vorstellungen zusammengeklickt. Daher die Bezeichnung "Click".
Neben weiteren Groß- und Kleinbuchstaben stehen Sonderzeichen zur Verfügung, wie z.B. ein rotes Herz, Prozentzeichen, Hashtag, €-Zeichen und mehr, die separat dazu bestellt werden können.
Die LED-Buchstaben sind in den drei Größenserien 75 mm, 125 mm und 175 mm verfügbar, die auch untereinander kombiniert werden können. Die Sockelanschlüsse sind immer gleich.
Durch weiteres dazu bestellbares Zubehör wie Leerfeld und Eckverbinder gibt man dem gewählten Schriftzug noch ganz andere Wendungen und Möglichkeiten der Darstellungen.
Für die Inbetriebnahme wird eine Einspeisung und ein passendes Netzteil (beides separat zu bestellen) benötigt.
Die Click-Buchstaben kombinieren Sie ganz nach Ihren eigenen Vorstellungen und bieten eine Vielzahl von Einsatzmöglichkeiten:
Botschaften für das heimische Wohnzimmer: CARPE DIEM, Sweet Home
Liebesbekundung: I♥YOU, MARRY ME, I LOVE FC BAYERN, ♥Borussia Dortmund♥
Kindernamen in Leuchtschrift: LISA, Mia, Emma, LEON, Noah
Festliche Aussagen: HAPPY NEW YEAR, MERRY Xmas🎄, Frohe Ostern
Gruß: WILLKOMMEN, HALLO, Moin
Für den Verkauf: SALE, DEAL, 50% OFF, SSV, -30%, 5€ geschenkt, SUPERSALE
Hinweise: #abcmix, #FASHION, #FITNESS, #travel, #WERBUNG
Legen Sie los und wählen Sie Ihre LED Click-Buchstaben Kombination aus!
Eine kleine Anleitung für die praktische Anwendung
Die Buchstaben werden mit einem seitlichen, magnetischen Klickmechanismus in beliebiger Reihenfolge zusammen gefügt.
Für die Stromzufuhr muss eine Einspeisung am Schriftzug geklickt werden. Die Position ist beliebig wählbar, z.B. links außen oder mittig. Die Einspeisung kommt mit zwei Seitenabdeckungen. So wird der Schriftzug an beiden äußeren Enden sauber abgedeckt.
Ein Stecker- oder Tischnetzteil wird mittels Hohlstecker an die Einspeisung geschlossen.
Das Netzteil wird an die haushaltsübliche Betriebsspannung angeschlossen - und schon leuchtet der Schriftzug.
Properties
Data according to manufacturer. Errors and changes reserved.
Datenblatt herunterladen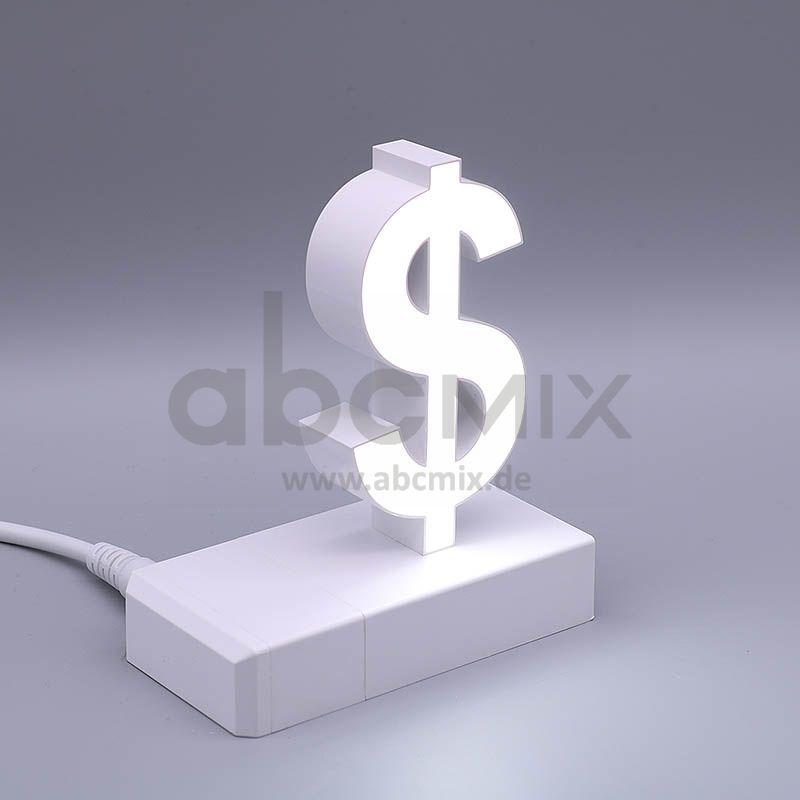 Properties "LED Buchstabe Click $ Dollarzeichen für 75mm Arial 6500K weiß"
Fachgerechte Entsorgung nach WEEE:

ja

Lagertemperatur:

-20 °C bis +40 °C

Zolltarifnummer:

94056020

Eingangsspannung:

12 V/DC

Energieverbrauchskennzeichnung:

A+

Energieverbrauchskennzeichnung (nach EU 2019/2015):

A

Energieverbrauchskennzeichnung (Labelart):

Leuchte

EPREL-Eintragungsnummer:

901205

Garantie:

5 Jahre

Prüfzeichen:

RoHS

, CE

Schutzklasse (nach EN 61140 und VDE 0140-1):

III

Herkunftsland:

China

Einbautiefe:

20 mm

Dimmbar:

Nein

Farbtemperatur:

6500 K

Lichtfarbe:

kaltweiß

Schutzart (IP):

IP20

Abstrahlwinkel:

120 Grad

Rahmenfarbe:

weiß

Schwenkbar:

Nein

Einbau-LEDs:

Ja

Eingebaute LEDs:

Ja

Aufwärmzeit:

0,1 s

Eingangsspannung (V):

12 V/DC

Energieverbrauch:

1,5 W

Leistung:

1,5 W

Lichtstrom:

428 Lumen

Nennlichtstrom:

385 Lumen

Nennstrom:

130 mA

Netzteil:

extern

Zündzeit:

0,5 s

Gehäusefarbe:

weiß

Abdeckung:

satiniert

Produktbreite:

65 mm

Produktlänge:

90 mm

Produkthöhe:

75 mm

Betriebstemperatur (°C):

-20 °C bis +40 °C

Gewicht:

0,135 kg

, 0,14 kg

Netto-Gewicht des Produktes:

0,135 kg

Gewicht der Verpackung (Pappe + Kunststoff):

0,015 g

, 0,02 g

Gewicht inkl. Verpackung Bruttogewicht:

0,15 kg

Länge der Verpackung:

20 cm

Farbtemperatur warmweiß:

94056020

Schriftzeichen:

Dollarzeichen

Buchstabenhöhe:

75mm

Buchstabenart:

Sonderzeichen

Buchstabensystem:

Click