LED Feuchtraumleuchte PRO+ 60W 150cm 4000K 1-10V dimmbar
LED Feuchtraumleuchte PRO+ 60W 4000K 1-10V dimmbar
Unsere 150 cm langen LED Feuchtraumleuchten PRO+ sind sehr vielseitig einsetzbar, da sie sowohl als Einzelleuchten als auch als Lichtbandsystem verwendet werden können. Sie sind eine moderner, energieeffizienter Alternative zu herkömmlichen Wannenleuchten und können zum Beispiel als Arbeitsplatzbeleuchtung, auch in niedrigen Hallen, verwendet werden.
Die LED Feuchtraumleuchte PRO+ ist leicht zu installieren und kann ohne Werkzeugeinsatz angeschlossen werden. Die einzelnen Elemente sind durchverdrahtet, so dass sie mühelos miteinander über Klemmblöcke verbunden werden können. Die LED Feuchtraumleuchte hat ein robustes Aluminium-Gehäuse mit hohem Schlagschutz (IK 10) und verfügt über die Schutzart IP65 und Schutzklasse I.
Ihre Vorteile auf einen Blick:
vielseitig einsetzbare LED Feuchtraumleuchte mit neutralweißem Licht (4.000 K)
Länge: 150 cm
energiesparende, kostengünstige Beleuchtungslösung
robustes Aluminium-Gehäuse mit hohem Schlagschutz (IK 10)
hohe Lichtausbeute (60 W, 8.400 lm)
dimmbar: 1-10V Standard
einfache Montage, werkzeugloser Anschluss
durchverdrahtete Elemente: Anschluss über Klemmbock
5 Jahre Herstellergarantie
Dimmbarkeit
Die LED Feuchtraumleuchte PRO+ (Art.-Nr. 2274) ist dimmbar.
Properties
Data according to manufacturer. Errors and changes reserved.
Datenblatt herunterladen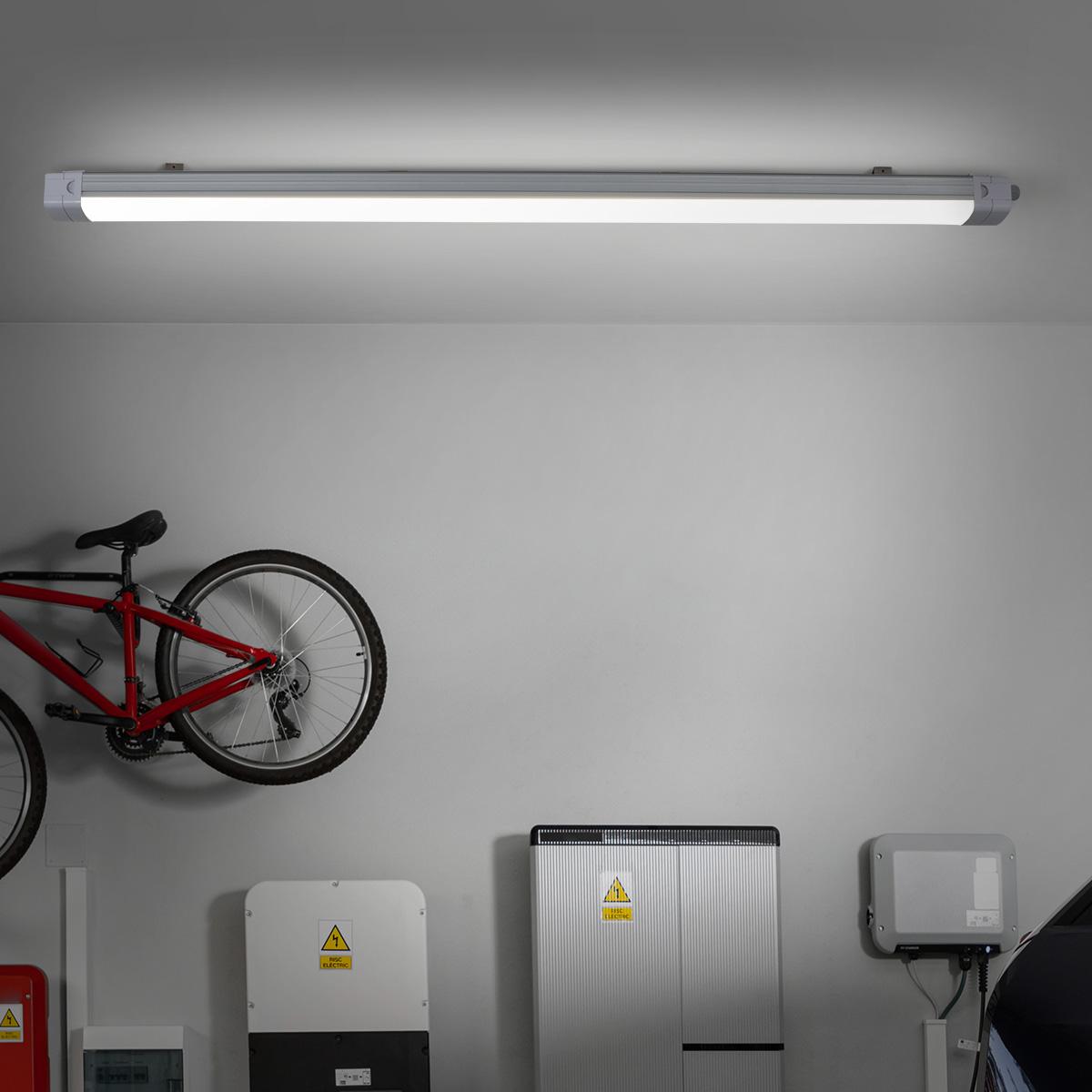 Properties "LED Feuchtraumleuchte PRO+ 60W 150cm 4000K 1-10V dimmbar"
Fachgerechte Entsorgung nach WEEE:

ja

Lagertemperatur:

-20 C° bis +50 C°

Besonderheiten:

dimmbar

Eingangsspannung:

230 V/AC

Energieverbrauchskennzeichnung:

A++

Energieverbrauchskennzeichnung (nach EU 2019/2015):

D

Energieverbrauchskennzeichnung (Labelart):

Leuchte

EPREL-Eintragungsnummer:

897740

Garantie:

5 Jahre

Prüfzeichen:

RoHS

, CE

Schutzklasse (nach EN 61140 und VDE 0140-1):

I

Herkunftsland:

China

Montageart:

Deckenmontage

, Aufbau

Einbaulänge:

1510 mm

Einbaubreite:

84 mm

Einbautiefe:

63 mm

Dimmbar:

Ja

Dimmbarkeit:

DALI

, 1-10V

Farbtemperatur:

4000 K

Lichtfarbe:

neutralweiß

Nennlebensdauer:

50000 Std.

Schutzart (IP):

IP65

Farbwiedergabe:

80 Ra

Abstrahlwinkel:

120 Grad

Farbkonsistenz:

5 SDCM

Rahmenfarbe:

Alu gebürstet

Schwenkbar:

Nein

Akzentbeleuchtung:

ungeeignet

LED-Chip-Typ:

SMD2835

LED-Hersteller:

SANAN

LED Anzahl:

325

Einbau-LEDs:

Ja

Eingebaute LEDs:

Ja

Aufwärmzeit:

0,5 s

Eingangsspannung (V):

230 V/AC

Energieverbrauch:

60 W

Leistung:

60 W

Lichtstrom:

8400 Lumen

Nennlichtstrom:

8400 Lumen

Nennstrom:

1500 mA

Netzfrequenz (Hz):

50 Hz

Netzteil:

intern

Powerfactor:

0,95

Schaltzyklen:

100000

Treiberhersteller:

BOKE

Zündzeit:

0,5 s

Gehäusefarbe:

weiß

Abdeckung:

satiniert

Produktbreite:

84 mm

Produktlänge:

1510 mm

Produkthöhe:

63 mm

Treiberabmessung Länge:

355 mm

Treiberabmessung Höhe:

21 mm

Treiberabmessung Breite:

30 mm

Betriebstemperatur (°C):

-20 °C bis +45 °C

Nominale maximale Umgebungstemperatur (°C):

40 °C

Gewicht:

2,7 kg

Netto-Gewicht des Produktes:

2,7 kg

Gewicht inkl. Verpackung Bruttogewicht:

3,3 kg