LED Feuchtraumleuchte PRO+ 60W 150cm CCT 3000/4000/6000K
LED Feuchtraumleuchte PRO+ 60W, CCT 3.000/4.000/6.000K, IP65
Die 150 cm lange LED Feuchtraumleuchte PRO+ eignet sich als robuste Arbeitsplatzbeleuchtung, auch in niedrigen Hallen, oder auch als Parkhausbeleuchtung. Sie ist eine moderne, energieeffiziente Alternative zu herkömmlichen Wannenleuchten und kann entweder als Einzelleuchte oder auch als Lichtbandsystem eingesetzt werden. Ihre einzelnen Elemente sind durchverdrahtet und können daher nach Bedarf ganz einfach über Klemmblöcke verbunden und installiert werden.
Die LED Feuchtraumleuchte PRO+ ist nicht dimmbar und ihre Farbtemperatur ist von warmweiß (3.000 Kelvin) bis kaltweiß (6.000 Kelvin) wählbar. Sie hat einen breiten Abstrahlwinkel (120 Grad) und eine sehr gute Lichtausbeute.
Ihre Vorteile auf einen Blick
variabel einsetzbare, energieeffiziente Feuchtraumleuchte (60 W)
Länge: 150 cm
Farbtemperatur wählbar, CCT: 3.000 bis 6.000 K
energiesparende Beleuchtungslösung 
dimmbar nein
Schutzart IP 65, robustes Aluminiumgehäuse mit hohem Schlagschutz (IK 10)
einfache Montage, werkzeugloser Anschluss
durchverdrahtete Elemente, Anschluss über Klemmbock
Herstellergarantie: 5 Jahre
Die Feuchtraumleuchte Pro+ hat ein robustes, silberfarbenes Gehäuse aus Aluminium mit einem hohen Schlagschutz (IK 10). Sie verfügt über Schutzklasse I und die Schutzart IP 65. Ihre LEDs der Marke Epistar (Typ SMD2835) haben eine Nennlebensdauer von 50.000 Stunden mit rund 100.000 Schaltzyklen.
Wir geben Ihnen fünf Jahre Herstellergarantie auf diese LED Feuchtraumleuchte PRO+.
Dimmbarkeit
Die LED Feuchtraumleuchte PRO+ (Art.-Nr. 2809) ist nicht dimmbar. Die Leistung kann intern über DIP Schalter von 60W auf 55W; 50W oder 40W reduziert werden.
Properties
Data according to manufacturer. Errors and changes reserved.
Datenblatt herunterladen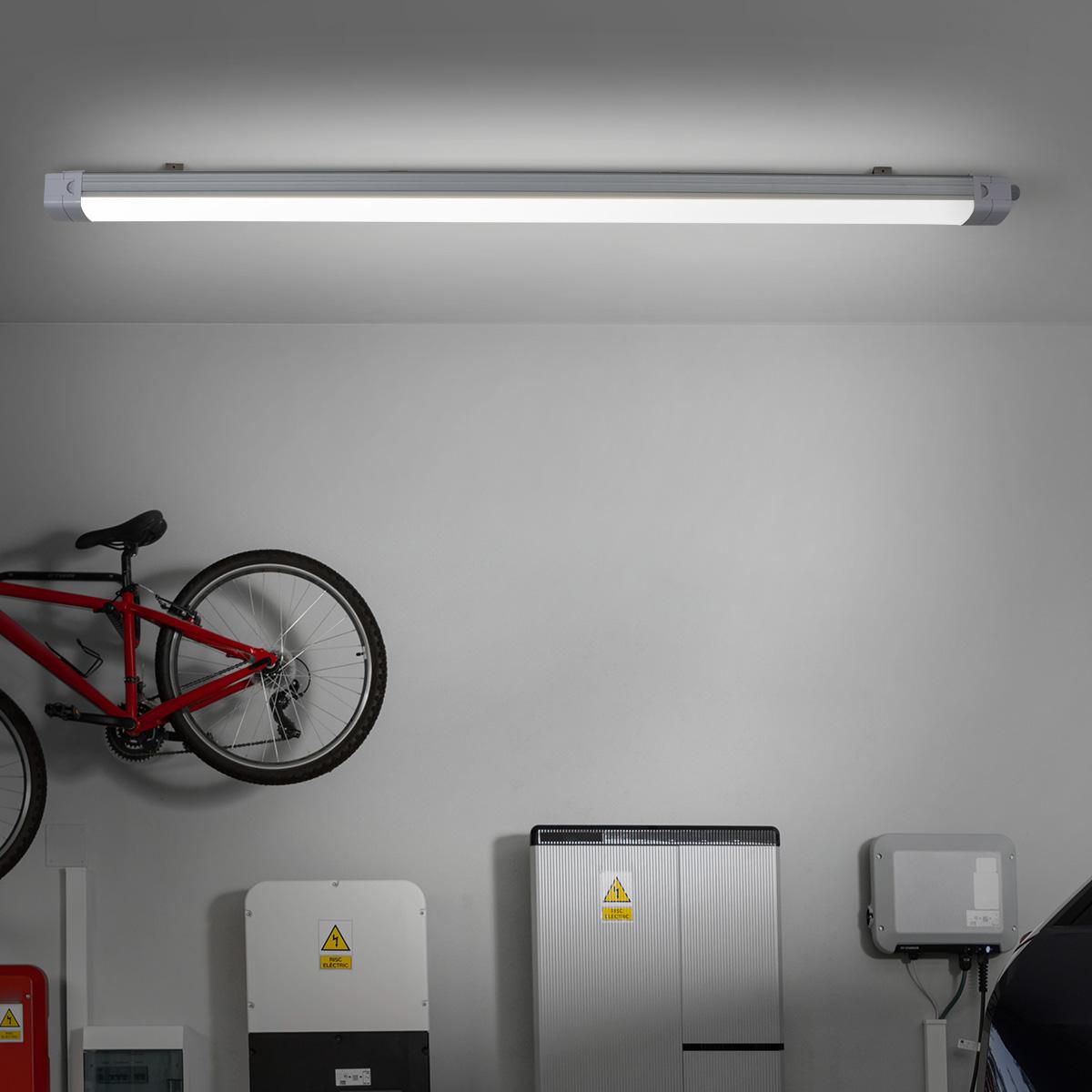 Properties "LED Feuchtraumleuchte PRO+ 60W 150cm CCT 3000/4000/6000K"
Lagertemperatur:

-20 °C bis +50 °C

Eingangsspannung:

230 V/AC

Energieverbrauchskennzeichnung:

A+

Energieverbrauchskennzeichnung (nach EU 2019/2015):

E

Energieverbrauchskennzeichnung (Labelart):

Leuchte

EPREL-Eintragungsnummer:

901096

Garantie:

5 Jahre

Prüfzeichen:

RoHS

, CE

Schutzklasse (nach EN 61140 und VDE 0140-1):

I

Herkunftsland:

China

Montageart:

Deckenmontage

, Aufbau

Einbaulänge:

1510 mm

Einbaubreite:

84 mm

Einbautiefe:

63 mm

Dimmbar:

Nein

Dimmbarkeit:

nicht dimmbar

Farbtemperatur:

6000 K

, 4000 K

, 3000 K

Lichtfarbe:

CCT

Nennlebensdauer:

50000 Std.

Schutzart (IP):

IP65

Farbwiedergabe:

80 Ra

Abstrahlwinkel:

120 Grad

Farbkonsistenz:

5 SDCM

Schwenkbar:

Nein

Akzentbeleuchtung:

geeignet

LED-Chip-Typ:

SMD2835

LED-Hersteller:

SANAN

Einbau-LEDs:

Ja

Eingebaute LEDs:

Ja

Aufwärmzeit:

0,5 s

Eingangsspannung (V):

230 V/AC

Energieverbrauch:

60 W

Leistung:

60 W

Lichtstrom:

7200 Lumen

, 6600 Lumen

Nennlichtstrom:

7200 Lumen

, 6600 Lumen

Nennstrom:

350 mA

Netzfrequenz (Hz):

50 Hz - 60 Hz

Netzteil:

intern

Powerfactor:

0,95

Schaltzyklen:

100000

Treiberhersteller:

Tridonic

Gehäusefarbe:

silber / chrom

Abdeckung:

opal

Produktbreite:

84 mm

Produktlänge:

1510 mm

Produkthöhe:

63 mm

Treiberabmessung Länge:

280 mm

Treiberabmessung Höhe:

21 mm

Treiberabmessung Breite:

30 mm

Betriebstemperatur (°C):

-20 °C bis +45 °C

Nominale maximale Umgebungstemperatur (°C):

50 °C

Gewicht:

0,02 kg

, 0,019 kg

Netto-Gewicht des Produktes:

2,58 kg

Gewicht der Verpackung (Pappe + Kunststoff):

0,29 g

Gewicht inkl. Verpackung Bruttogewicht:

2,87 kg

CCT Modus:

switch
---
Hochwertig und extrem lichtstark
Diese Leuchte ist aufgrund der Einstellbarkeit über DIP-Schalter sehr flexibel und liefert vor allem auch genügend Licht, um Kellerräume ausreichend zu beleuchten. Die Material macht einen hochwertigen und stabilen Eindruck!