LED Panel 120x30cm 48W 5000K IP65 UGR19 dimmbar | weißer Rahmen
LED Panel 120x30cm 48W 5000K IP65 UGR
Hinweis: Im Ein 1-10V dimmbarer Trafo ist im Lieferumfang enthalten.
Aufgrund der Schutzart IP65 ist dieses LED-Panel nicht nur für Büroflächen geeignet, sondern kann auch in Feuchträumen, z.B. Badezimmer und Dusche, eingesetzt werden.
Was bedeutet UGR19?
Die Eignung einer LED Leuchte zur BAP-Leuchte wird durch den UGR-Wert ermittelt. UGR steht für "Unified Glare Rating" oder auf Deutsch: Vereinheitlichte Blendungsbewertung. Ein geringer UGR-Wert bedeutet weniger Blendung. Die UGR-Skala geht von 10 (keine Blendung) bis 30 (sehr hohe Blendung).
Leuchten mit UGR19 Kennzeichnung sind vor allem für Bildschirmarbeitsplätze geeignet. Man spricht oft von BAP-Leuchten.
Eine geringe Blendung unterstützt das Konzentrationsvermögen und das Wohlbefinden von Mitarbeitern. Mit anderen Worten: BAP-Leuchten erhöhen die Produktivität Ihrer Mitarbeiter.
Neben Büroflächen sind auch Seminarräume oder Schuleinrichtungen besonders für BAP-Leuchten geeignet.
Weitere Details
Farbtemperatur 5000K (kaltweiß)
Schutzart IP65
Dimmbar über 1V bis 10V Steuereingang
Weißer Rahmen
Es bestehen verschiedene Montagemöglichkeiten, wie Aufputz und Unterputz.
Beim Aufbaurahmen bitte nur den Click-Typ verwenden.
Properties
Data according to manufacturer. Errors and changes reserved.
Datenblatt herunterladen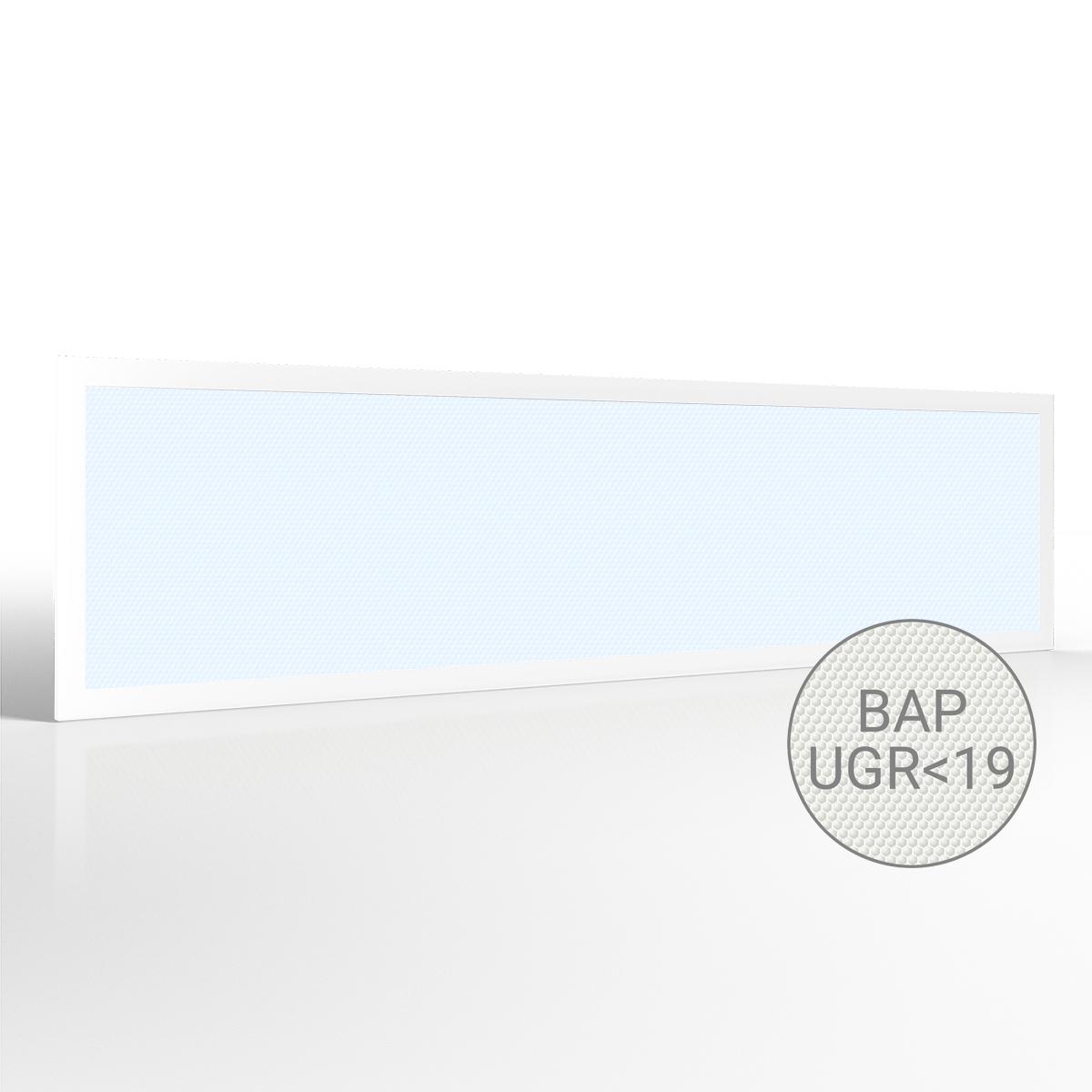 Properties "LED Panel 120x30cm 48W 5000K IP65 UGR19 dimmbar | weißer Rahmen"
Zolltarifnummer:

94054099

Besonderheiten:

dimmbar

Anschluss:

Kabel (offenes Ende)

Eingangsspannung:

230 V/AC

Energieverbrauchskennzeichnung (Labelart):

Leuchte

EPREL-Eintragungsnummer:

929809

Garantie:

2 Jahre

Prüfzeichen:

RoHS

, CE

Herkunftsland:

China

Dimmbar:

Ja

Dimmbarkeit:

1-10V

Farbtemperatur:

5000 K

Lichtfarbe:

kaltweiß

Schutzart (IP):

IP65

Farbwiedergabe:

80 Ra

Abstrahlwinkel:

80 Grad

Form:

rechteckig

Rahmenfarbe:

weiß

Eingangsspannung (V):

230 V/AC

Energieverbrauch:

48 W

Leistung:

48 W

Lichtstrom:

4800 Lumen

Nennlichtstrom:

4800 Lumen

Netzteil:

extern

Produktbreite:

295 mm

Produktlänge:

1195 mm

Produkthöhe:

10 mm

Betriebstemperatur (°C):

-20 °C bis +50 °C

Gewicht:

3,56 kg

Netto-Gewicht des Produktes:

3,56 kg

, 3,8 kg

Panelgröße:

120x30 cm

Gewicht der Verpackung (Pappe + Kunststoff):

1 g

Gewicht inkl. Verpackung Bruttogewicht:

0,272 kg

, 0,276 kg

Farbtemperatur warmweiß:

94056020
Downloads "LED Panel 120x30cm 48W 5000K IP65 UGR19 dimmbar | weißer Rahmen"