LED Panel 62x62cm 40W kaltweiss 5500K
LED Panel 62x62 kaltweiß holt den helllichten Tag zu Ihnen
Heller geht's nicht: Diese LED Einbauleuchte hat die höchste Strahlkraft gemessen in Farbtemperatur und kommt dem Tageslicht am nächsten mit 5500 Kelvin. Wollen Sie also taghell bescheinen und mit 3650 Lumen pro LED Panel 62x62 kaltweiß trotzdem nicht blenden, finden Sie hier die idealen Einsätze für eine Systemdecke in der Art von Odenwald, Rockwool oder Armstrong, die auf das 625 x 625 mm Rasterformat setzen. Darin lässt sich ein LED-Panel nahtlos einsetzen und sogleich anschließen - wozu auch ein Trafo im Lieferumfang mitkommt. Der Trockenbauer braucht sich nicht mit Adaption der Decke für die Leuchten herumplagen: Alles ist aufeinander abgestimmt.
LED Einbauleuchte im System verlegt, oder auch freestyle mit Montagezubehör
So eine Systemdecke ist was Feines und Rationales, wenn man denn dazu gegriffen hat. Was aber tun Leute, die aus irgendwelchen Gründen keine solche Decke abhängen wollen? Vielleicht weil die Raumhöhe nicht reicht oder keine Hohlräume erwünscht sind? Die abgeneigten Nutzer können gleichfalls zum LED Panel 62x62 kaltweiß greifen, denn LongLife LED versorgt alle mit Montagezubehör, die die Leuchten auf andere Weise anbringen wollen - egal ob an der Decke, der Wand oder in Möbel hinein. Es gibt Montagematerial für Seilaufhängung, Aufbaurahmen, Einbaurahmen, Halteclips mit Federsicherung sowie Wand- und Deckenhalter zum Verschrauben.
Die preiswerte Art, mit dem LED Panel 62x62 kaltweiß zu brillieren
Wo es also nicht warmweiß zugehen darf, darf bald die LED Panel 62x62 kaltweiß für Sie auffahren? Die nahezu blendfreien Leuchten mit ihrem optisch ansprechenden Aluminiumrand machen sich gut in Büros, Konferenzräumen, Foyers und besonders hellen Verkaufsräumen. Überall dort, wo der Verstand brillieren darf, ist Licht aus der LED Einbauleuchte ein willkommenes Geschenk. Schon darum, weil es so preiswert ist: 40 Watt schaffen so viel wie früher 80 Watt der Lampen, die Sie früher eingesetzt haben dürften. Wenn das kein Grund zur Freude ist! Auf einen Ausfall der LED Leuchten können Sie auch lange warten... 35.000 Betriebsstunden und mehr lassen das Wort 'wartungsarm' ebenso hell aufleuchten wie die Leuchte.
Properties
Data according to manufacturer. Errors and changes reserved.
Datenblatt herunterladen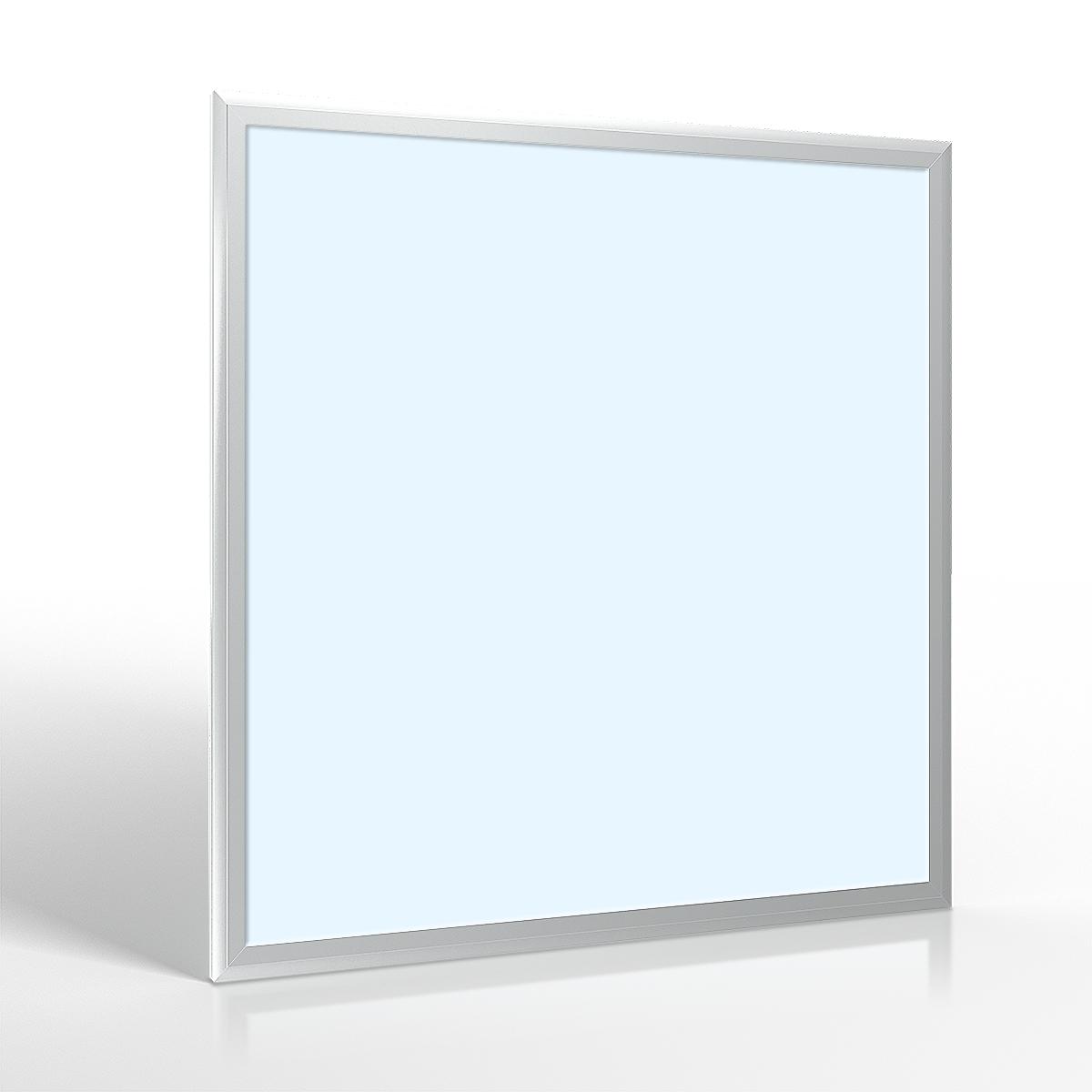 Properties "LED Panel 62x62cm 40W kaltweiss 5500K"
Fachgerechte Entsorgung nach WEEE:

ja

Lagertemperatur:

-20 °C bis +50 °C

Zolltarifnummer:

94054099

Eingangsspannung:

230 V/AC

Energieverbrauchskennzeichnung:

A+

Energieverbrauchskennzeichnung (nach EU 2019/2015):

F

Energieverbrauchskennzeichnung (Labelart):

Leuchte

EPREL-Eintragungsnummer:

767472

Garantie:

3 Jahre

Prüfzeichen:

RoHS

, CE

Schutzklasse (nach EN 61140 und VDE 0140-1):

III

Herkunftsland:

China

Dimmbar:

Nein

Dimmbarkeit:

nicht dimmbar

Farbtemperatur:

5500 K

Lichtfarbe:

kaltweiß

Nennlebensdauer:

30000 Std.

Schutzart (IP):

IP20

Farbwiedergabe:

80 Ra

Abstrahlwinkel:

120 Grad

Farbkonsistenz:

6 SDCM

Form:

quadratisch

Rahmenfarbe:

silber

Akzentbeleuchtung:

ungeeignet

LED-Hersteller:

EPISTAR

Einbau-LEDs:

Ja

Eingebaute LEDs:

Ja

Aufwärmzeit:

1 s

Eingangsspannung (V):

230 V/AC

Energieverbrauch:

40 W

Leistung:

40 W

Lichtstrom:

3600 Lumen

Nennlichtstrom:

3600 Lumen

Nennstrom:

1000 mA

Netzteil:

extern

Powerfactor:

0,9

Schaltzyklen:

10000

Treiberhersteller:

LiFud

Abdeckung:

opal

Produktbreite:

620 mm

Produktlänge:

620 mm

Produkthöhe:

9 mm

Treiberabmessung Länge:

135 mm

Treiberabmessung Höhe:

25 mm

Treiberabmessung Breite:

37 mm

Betriebstemperatur (°C):

-20 °C bis +50 °C

Gewicht:

3,3 kg

Netto-Gewicht des Produktes:

3,3 kg

Panelgröße:

62x62 cm

Gewicht der Verpackung (Pappe):

0,86 g

Gewicht der Verpackung (Pappe + Kunststoff):

0,86 g

Gewicht inkl. Verpackung Bruttogewicht:

4,16 kg