LED Panel 62x62cm 48W 3000K IP65 Rahmen weiß UGR19
LED Panel 62x62cm mit besonderen Eigenschaften, dimmbarer Treiber inkl.
LED Panels gibt es in vielen verschiedenen Größen, aber das 62x62cm Maß ist darunter besonders beliebt, da es genau in die bekannten Rasterdecken oder Odenwald-Decken hineinpasst, so dass herkömmliche Rasterleuchten völlig problemlos gegen modere LED Panels ausgetauscht werden können. Bei der Verwendung von Aufbaurahmen bitte nur den Click-Typ verwenden.
Das hier vorgestellte Panel hat einen weißen Rahmen, leuchtet in warmweißem Licht und verfügt zusätzlich über den Faktor UGR <19, welcher eine besonders geringe Blendwirkung verspricht.
Im Lieferumfang enthalten ist ein dimmbarer Treiber (1-10V), welcher Ihnen die Möglichkeit eröffnet, das Panel in seiner Helligkeit zu dimmen, wenn Sie gerade nicht die volle Leuchtkraft benötigen.
Mit 48W liefert das Panel 4800 Lumen und ist durch seine homogene Lichtverteilung bestens einzusetzen in Unterrichtsräumen oder an anderen Arbeitsplätzen, wo die Konzentration auf Lesen und Schreiben oder auf Bildschirmarbeit gefordert wird.
Durch seine hohe Schutzart mit IP65 ist dieses LED Panel geschützt gegen das Eindringen von Staub und gegen Strahlwasser und somit kann es auch in Außenanlagen, Badezimmern, Duschen und grundsätzlich in Räumen mit hoher Luftfeuchtigkeit eingesetzt werden.
Maße: 620x620mm (für Standard Rasterdecken)
weißer Rahmen
Leistung: 48W
Lichtfarbe: warmweiß
Lumen: 4800lm
Schutzart: IP65, geeignet für Bäder, Duschen
Inkl. dimmbarem Treiber (1-10V)
Properties
Data according to manufacturer. Errors and changes reserved.
Datenblatt herunterladen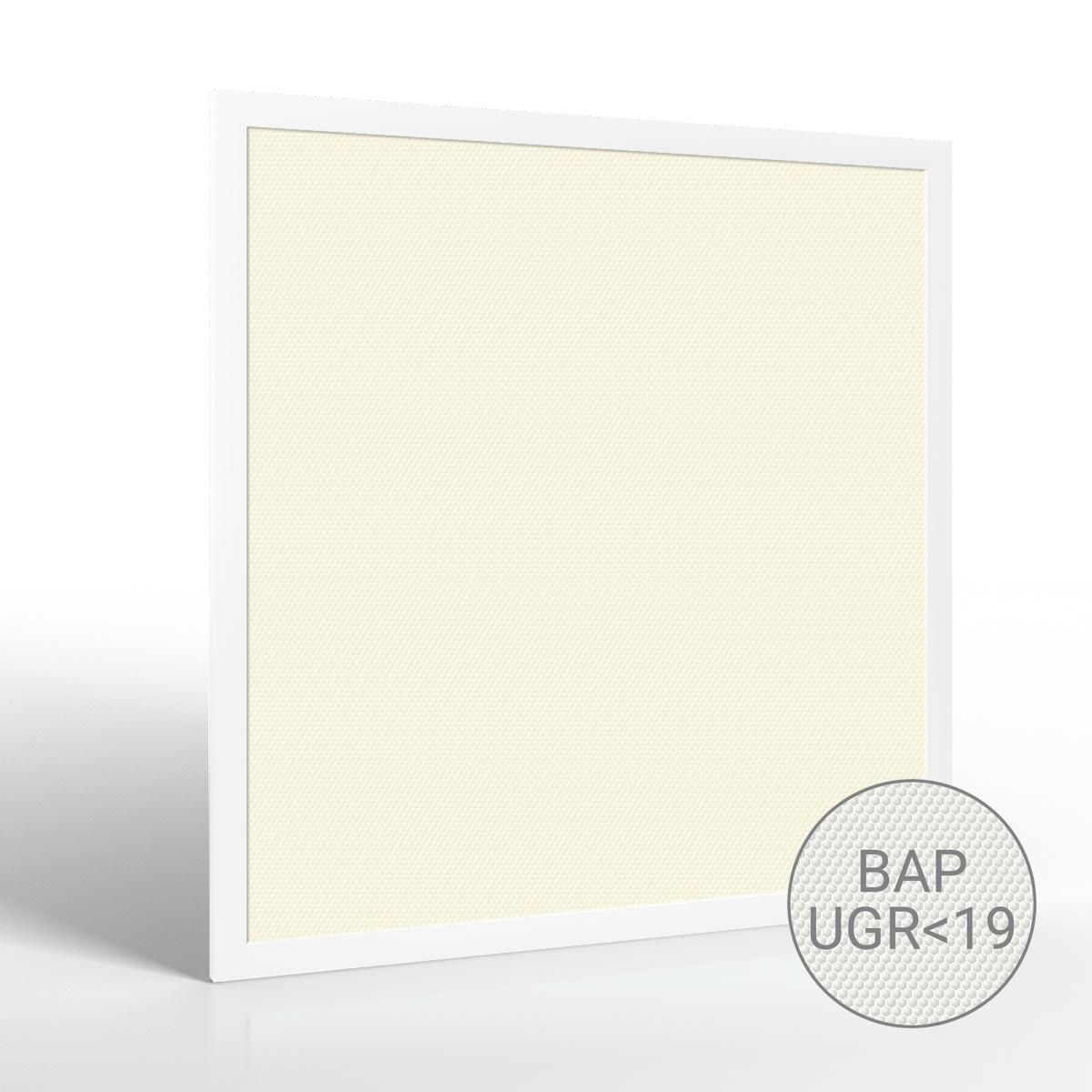 Properties "LED Panel 62x62cm 48W 3000K IP65 Rahmen weiß UGR19"
Fachgerechte Entsorgung nach WEEE:

ja

Lagertemperatur:

-20 °C bis +50 °C

Zolltarifnummer:

94054099

Eingangsspannung:

230 V/AC

Energieverbrauchskennzeichnung:

A+

Energieverbrauchskennzeichnung (nach EU 2019/2015):

E

Energieverbrauchskennzeichnung (Labelart):

Leuchte

EPREL-Eintragungsnummer:

897448

Garantie:

2 Jahre

Prüfzeichen:

RoHS

, CE

Herkunftsland:

China

Dimmbar:

Nein

Dimmbarkeit:

nicht dimmbar

Farbtemperatur:

3000 K

Lichtfarbe:

warmweiß

Nennlebensdauer:

50000 Std.

Schutzart (IP):

IP65

Farbwiedergabe:

80 Ra

Abstrahlwinkel:

80 Grad

Farbkonsistenz:

4 SDCM

Form:

quadratisch

Rahmenfarbe:

weiß

Akzentbeleuchtung:

ungeeignet

LED-Hersteller:

EPISTAR

Einbau-LEDs:

Ja

Eingebaute LEDs:

Ja

Aufwärmzeit:

1 s

Eingangsspannung (V):

230 V/AC

Energieverbrauch:

48 W

Leistung:

48 W

Lichtstrom:

4800 Lumen

Nennlichtstrom:

4800 Lumen

Nennstrom:

1200 mA

Netzteil:

extern

Powerfactor:

0,95

Schaltzyklen:

10000

Abdeckung:

opal

Produktbreite:

620 mm

Produktlänge:

620 mm

Produkthöhe:

10 mm

Betriebstemperatur (°C):

-20 °C bis +50 °C

Gewicht:

3,56 kg

Netto-Gewicht des Produktes:

3,56 kg

, 3,8 kg

Panelgröße:

62x62 cm

Gewicht der Verpackung (Pappe):

1 g

Gewicht der Verpackung (Pappe + Kunststoff):

1 g

Gewicht inkl. Verpackung Bruttogewicht:

0,272 kg

, 0,276 kg