LED Panel 62x62cm 48W 4000K IP65 Rahmen weiß, UGR19
LED Panel 48W neutralweiß UGR<19, verwendbar auch in Bädern etc.
Das beliebte und weit verbreitete LED Panel Maß von 62x62cm steht Ihnen hier mit besonderen Eigenschaften zur Verfügung, nämlich mit der hohen Schutzart IP65, womit es gegen Staub und gegen Strahlwasser geschützt ist und es somit einsatzfähig macht z.B. für den Einsatz in Duschen, oder auch in Außenanlagen.
Mit 48W und 4800lm und seiner homogenen Lichtverteilung ist das Panel auch hervorragend geeignet für den Einsatz in Büros und Unterrichtsräumen, wo die Beleuchtung besonders für die Arbeit an Bildschirmen geeignet sein muss, grundsätzlich die Konzentration fördern soll und damit auch das Lesen und Schreiben entsprechend leichter fällt.
Die Standardmaße von 62x62cm sind bekannt durch die viel verbreiteten Odenwald-Decken (auch Rasterdecken genannt), in welche diese Panels einfach eingelegt werden können und damit die herkömmlichen Rasterleuchten ganz einfach durch moderne LED-Panels ersetzt werden können. Falls Sie für die Montage Aufbaurahmen verwenden möchten, dann bitte nur den Click-Typ verwenden.
Ein weiteres besonderes Merkmal ist der Faktor UGR<19, der bedeutet, dass die Oberflächenstruktur des Panels eine besondere Behandlung erfahren hat, um die Blendwirkung, die grundsätzlich von jeder Lichtquelle ausgeht, in einem hohen Grad herabzusetzen.
Der dimmbare Treiber ermöglicht es Ihnen, die Helligkeit des Panels entweder in seiner vollen Leuchtstärke zu nutzen oder diese auf ein für Sie passendes Maß herunter zu setzten.
Maße: 620x620mm (passt genau in Standard Rasterdecken)
weißer Rahmen
Leistung: 48W
Lichtfarbe: Neutralweiß
Lumen: 4800lm
Schutzart: IP65, geeignet für Bäder, Duschen
Inkl. dimmbarem Treiber (1-10V)
Properties
Data according to manufacturer. Errors and changes reserved.
Datenblatt herunterladen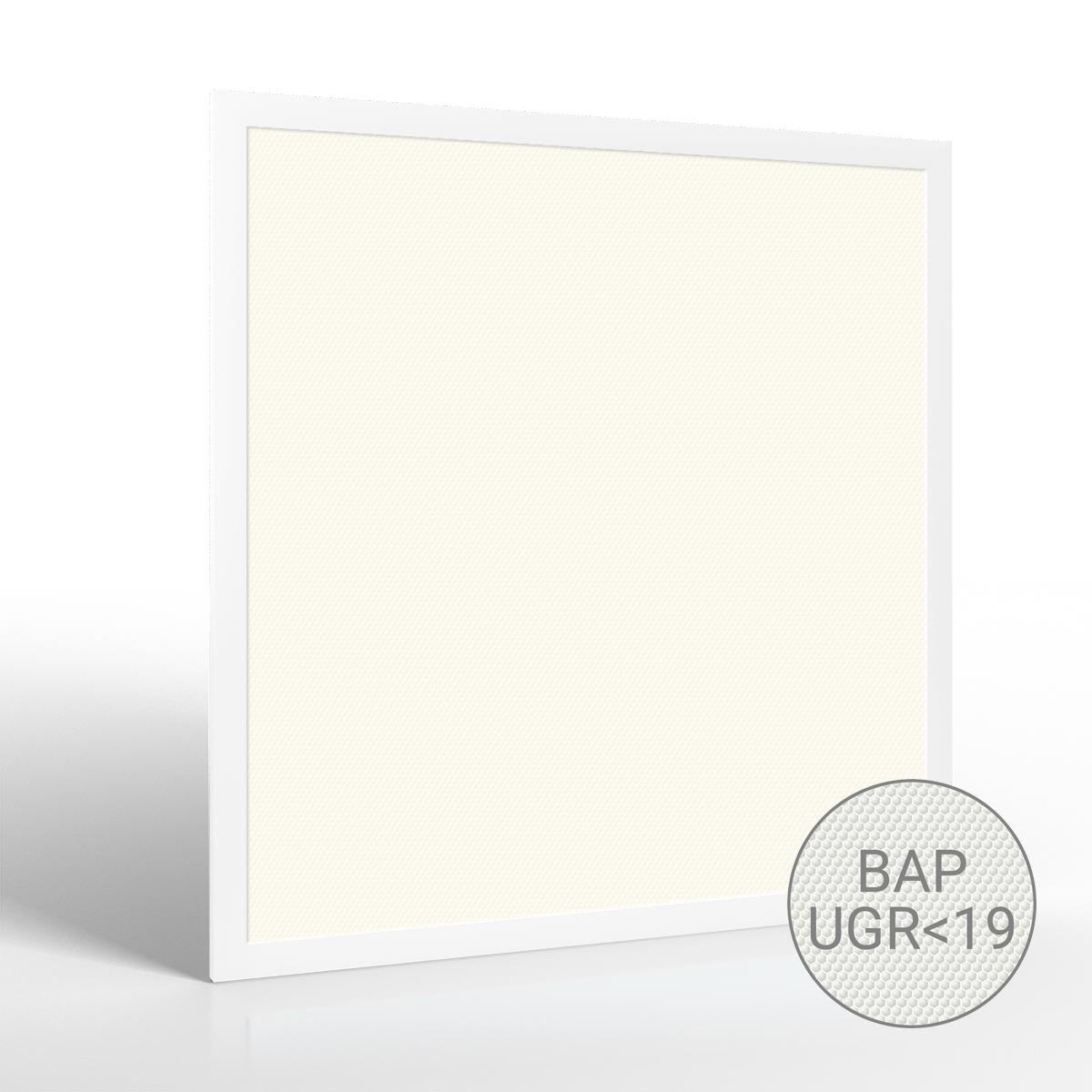 Properties "LED Panel 62x62cm 48W 4000K IP65 Rahmen weiß, UGR19"
Fachgerechte Entsorgung nach WEEE:

ja

Lagertemperatur:

-20 °C bis +50 °C

Zolltarifnummer:

94054099

Eingangsspannung:

230 V/AC

Energieverbrauchskennzeichnung:

A+

Energieverbrauchskennzeichnung (nach EU 2019/2015):

E

Energieverbrauchskennzeichnung (Labelart):

Leuchte

EPREL-Eintragungsnummer:

897447

Garantie:

2 Jahre

Prüfzeichen:

RoHS

, CE

Herkunftsland:

China

Dimmbar:

Nein

Dimmbarkeit:

nicht dimmbar

Farbtemperatur:

4000 K

Lichtfarbe:

neutralweiß

Nennlebensdauer:

50000 Std.

Schutzart (IP):

IP65

Farbwiedergabe:

80 Ra

Abstrahlwinkel:

80 Grad

Farbkonsistenz:

4 SDCM

Form:

quadratisch

Rahmenfarbe:

weiß

Akzentbeleuchtung:

ungeeignet

LED-Hersteller:

EPISTAR

Einbau-LEDs:

Ja

Eingebaute LEDs:

Ja

Aufwärmzeit:

1 s

Eingangsspannung (V):

230 V/AC

Energieverbrauch:

48 W

Leistung:

48 W

Lichtstrom:

4800 Lumen

Nennlichtstrom:

4800 Lumen

Nennstrom:

1200 mA

Netzteil:

extern

Powerfactor:

0,95

Schaltzyklen:

10000

Abdeckung:

opal

Produktbreite:

620 mm

Produktlänge:

620 mm

Produkthöhe:

10 mm

Betriebstemperatur (°C):

-20 °C bis +50 °C

Gewicht:

3,56 kg

Netto-Gewicht des Produktes:

3,56 kg

, 3,8 kg

Panelgröße:

62x62 cm

Gewicht der Verpackung (Pappe):

1 g

Gewicht der Verpackung (Pappe + Kunststoff):

1 g

Gewicht inkl. Verpackung Bruttogewicht:

0,272 kg

, 0,276 kg