LED Panel Einbaustrahler eckig weiss 9W 145x145mm 3000K dimmbar
Dimmbarer LED Einbaustrahler 9W 145x145 mm Warmweiß
Der LED Einbaustrahler 9W hat eine eckige Form und einen weißen Kunststoffrand. Die Abmessung betrĂ€gt 145x145 mm.
Mit einer geringen Einbautiefe von nur 29 mm wird der dimmbare Strahler platzsparend in Deckenausschnitte montiert. FĂŒr den mitgelieferten Triac-Treiber wird auch noch ein Ablageplatz benötigt. Um die IntensitĂ€t der Leuchte zu Ă€ndern, muss ein Triac-Dimmer oder -Regler, z.B. Wandschalter, separat bestellt werden. Bitte wĂ€hlen Sie den Regler so, dass er Leistung des Einbaustrahlers handhaben kann. Beim erneuten Einschalten der Einbauleuchte wird die vorherige Einstellung berĂŒcksichtigt.
Mit den seitlichen Federklemmen wird der LED-Strahler im Ausschnitt mit der Abmessung 131x131 mm fixiert.
Der quadratische LED Einbaustrahler ist nur fĂŒr die Montage im Innenbereich geeignet, z.B. Wohnzimmer, BĂŒro, Wartezimmer, Schlafzimmer, Empfangsraum, Meeting Room, KĂŒche, Esszimmer, GeschĂ€ftsrĂ€ume, etc.
Technische Angaben
Farbtemperatur 3000K
Lebensdauer ca. 30.000 Stunden
Abstrahlwinkel 120°
Dimmbar
Triac-Treiber wird mitgeliefert
Abmessungen
EinbaulÀnge: 131 mm
Einbaubreite: 131 mm
Einbautiefe: 20 mm
Produktbreite: 145 mm
ProduktlÀnge: 145 mm
Produkthöhe: 25 mm
Properties
Data according to manufacturer. Errors and changes reserved.
Datenblatt herunterladen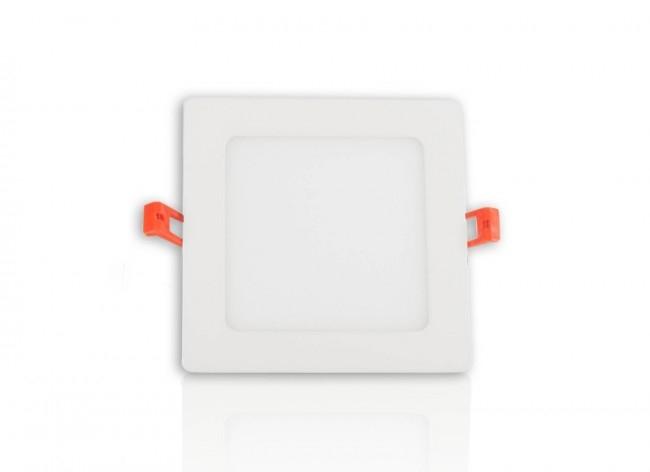 Properties "LED Panel Einbaustrahler eckig weiss 9W 145x145mm 3000K dimmbar"
Fachgerechte Entsorgung nach WEEE:

ja

Lagertemperatur:

-20 °C bis +70 °C

Besonderheiten:

dimmbar

Eingangsspannung:

230 V/AC

Energieverbrauchskennzeichnung:

A

Energieverbrauchskennzeichnung (nach EU 2019/2015):

G

Energieverbrauchskennzeichnung (Labelart):

Leuchte

EPREL-Eintragungsnummer:

897908

Garantie:

2 Jahre

PrĂŒfzeichen:

RoHS

, CE

Schutzklasse (nach EN 61140 und VDE 0140-1):

III

Herkunftsland:

China

Montageart:

Deckenmontage

, Einbau

EinbaulÀnge:

131 mm

Einbaubreite:

131 mm

Einbautiefe:

20 mm

Dimmbar:

Ja

Farbtemperatur:

3000 K

Lichtfarbe:

warmweiß

Nennlebensdauer:

30000 Std.

Schutzart (IP):

IP20

Farbwiedergabe:

80 Ra

Abstrahlwinkel:

120 Grad

Farbkonsistenz:

5 SDCM

LichtstÀrke / Candela:

174 cd

Form:

quadratisch

Akzentbeleuchtung:

ungeeignet

LED-Chip-Typ:

SMD2835

LED-Hersteller:

EPISTAR

Einbau-LEDs:

Ja

Eingebaute LEDs:

Ja

AufwÀrmzeit:

1 s

Eingangsspannung (V):

230 V/AC

Energieverbrauch:

9 W

Leistung:

9 W

Lichtstrom:

630 Lumen

Nennlichtstrom:

630 Lumen

Nennstrom:

300 mA

Netzteil:

extern

Powerfactor:

0,9

Schaltzyklen:

25000

Vergleichswert:

60 Watt

ZĂŒndzeit:

0,5 s

GehÀusefarbe:

weiß

Abdeckung:

opal

Produktbreite:

145 mm

ProduktlÀnge:

145 mm

Produkthöhe:

25 mm

Treiberabmessung LĂ€nge:

88 mm

Treiberabmessung Höhe:

21 mm

Treiberabmessung Breite:

38 mm

Betriebstemperatur (°C):

-10 °C bis +50 °C

Gewicht:

0,24 kg

Netto-Gewicht des Produktes:

0,327 kg

Gewicht der Verpackung (Pappe):

0,04 g

Gewicht der Verpackung (Pappe + Kunststoff):

0,05 g

Gewicht inkl. Verpackung Bruttogewicht:

0,375 kg

LĂ€nge der Verpackung:

16,11 cm