LED Panel Pro 62x62cm 40W 5500K Rahmen weiß
LED Panel Pro 62x62cm 40W 5500K Rahmen weiß
Die Abmessung 62x62 cm ist das Standardmaß für LED Rasterpanels in Deutschland.
Das Panel hat einen weißen Rahmen, somit für die Verbauung in weißen Decken geeignet.
Montagemöglichkeiten
Aufbaurahmen zum Anschrauben an die Decke. Bitte nur den Click-Typ verwenden.
Einbaurahmen (Einbautiefe 4 cm)
Drahtseilabhängung (Treiber wird z.B. auf dem Panel abgelegt)
Montageclips für Deckenausschnitte
Z-Halter für die direkte Befestigung (Treiber müsste z.B. in einem Deckenausschnitt abgelegt werden, da kein Platz zwischen Panel und Decke ist)
Farbtemperatur 5500K = Kaltweiß
Kaltweißes Licht wird auch als "Tageslichtweiß" bezeichnet und zeichnet sich durch sehr gute Helligkeit und Farbwahrnehmung aus. Diese Farbtemperatur steigert das Konzentrationsvermögen und das persönliche Wohlbefinden. Diese Leuchten werden dann auch gerne in Lehreinrichtungen, Krankenhäusern und Büros verwendet.
Technische Angaben
Helligkeit: 5200 Lumen
Schutzart IP20, nur für Innenräume geeignet
Nennlebensdauer ca. 35.000 Stunden
LED Marke: EPISTAR
Es wird eine Herstellergarantie von 5 Jahren auf diesen Artikel gewährleistet.
Anmerkung: Ein nicht-dimmbarer Konstantstrom-Treiber ist im Lieferumfang enthalten.
Properties
Data according to manufacturer. Errors and changes reserved.
Datenblatt herunterladen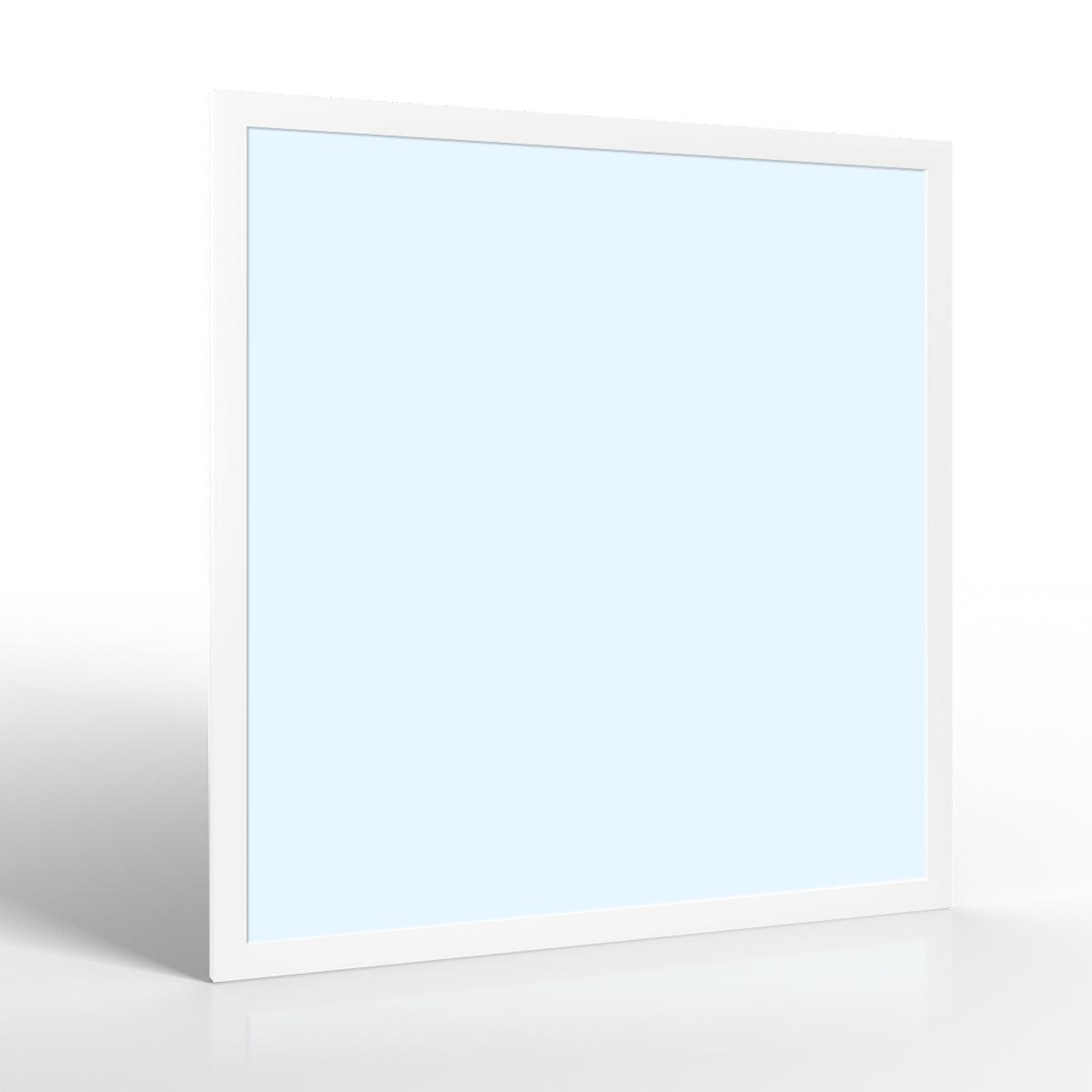 Properties "LED Panel Pro 62x62cm 40W 5500K Rahmen weiß"
Fachgerechte Entsorgung nach WEEE:

ja

Lagertemperatur:

-20 °C bis +50 °C

Zolltarifnummer:

94054099

Eingangsspannung:

230 V/AC

Energieverbrauchskennzeichnung:

A+

Energieverbrauchskennzeichnung (nach EU 2019/2015):

E

Energieverbrauchskennzeichnung (Labelart):

Leuchte

EPREL-Eintragungsnummer:

901849

Garantie:

5 Jahre

Prüfzeichen:

RoHS

, CE

Schutzklasse (nach EN 61140 und VDE 0140-1):

II

Herkunftsland:

China

Einbautiefe:

115 mm

Dimmbar:

Nein

Dimmbarkeit:

nicht dimmbar

Farbtemperatur:

5000 K

Lichtfarbe:

kaltweiß

Nennlebensdauer:

35000 Std.

Schutzart (IP):

IP20

Farbwiedergabe:

80 Ra

Abstrahlwinkel:

120 Grad

Farbkonsistenz:

4 SDCM

Form:

quadratisch

Rahmenfarbe:

weiß

Akzentbeleuchtung:

geeignet

LED-Hersteller:

EPISTAR

Aufwärmzeit:

1 s

Eingangsspannung (V):

230 V/AC

Energieverbrauch:

48 W

, 40 W

Leistung:

40 W

Lichtstrom:

5200 Lumen

Nennlichtstrom:

5300 Lumen

Nennstrom:

1050 mA

Netzfrequenz (Hz):

50 Hz

Netzteil:

extern

Powerfactor:

0,9

Schaltzyklen:

10000

Vergleichswert:

520 Watt

Abdeckung:

PMMA

, opal

Betriebstemperatur (°C):

-20 °C bis +50 °C

Gewicht:

3,2 kg

Netto-Gewicht des Produktes:

3,5 kg

Panelgröße:

62x62 cm

Gewicht der Verpackung (Pappe + Kunststoff):

0,58 g

Gewicht inkl. Verpackung Bruttogewicht:

4,08 kg

Farbtemperatur warmweiß:

94056020