LED Spot GU10 5W Warmweiß dimmbar 2700K 400lm 40°
LED Spot GU10 5W 2700K 400lm 40° dimmbar
Das dimmbare GU10 Leuchtmittel findet sich sehr häufig in den verschiedensten Räumlichkeiten. Der GU10 Spot ersetzt die früher weit verbreitete Halogenlampe und wird sowohl in geeignete Einbaurahmen installiert oder in Bodeneinbaustrahlern und Wandleuchten.
Die warmweiße Lichtfarbe (Farbtemperatur 2700K) wird vor allem bevorzugt, wenn Behaglichkeit und Gemütlichkeit in einem Raum oder im Außenbereich unterstrichen werden soll. Mit einer Helligkeit von 400 Lumen ist der 5W Spot ein treuer Alltagsbegleiter mit einer Lebensdauer von ca. 25.000 Stunden.
Der Spot hat eine Höhe von 51 mm und eine Silber-farbige Gehäusefarbe.
Properties
Data according to manufacturer. Errors and changes reserved.
Datenblatt herunterladen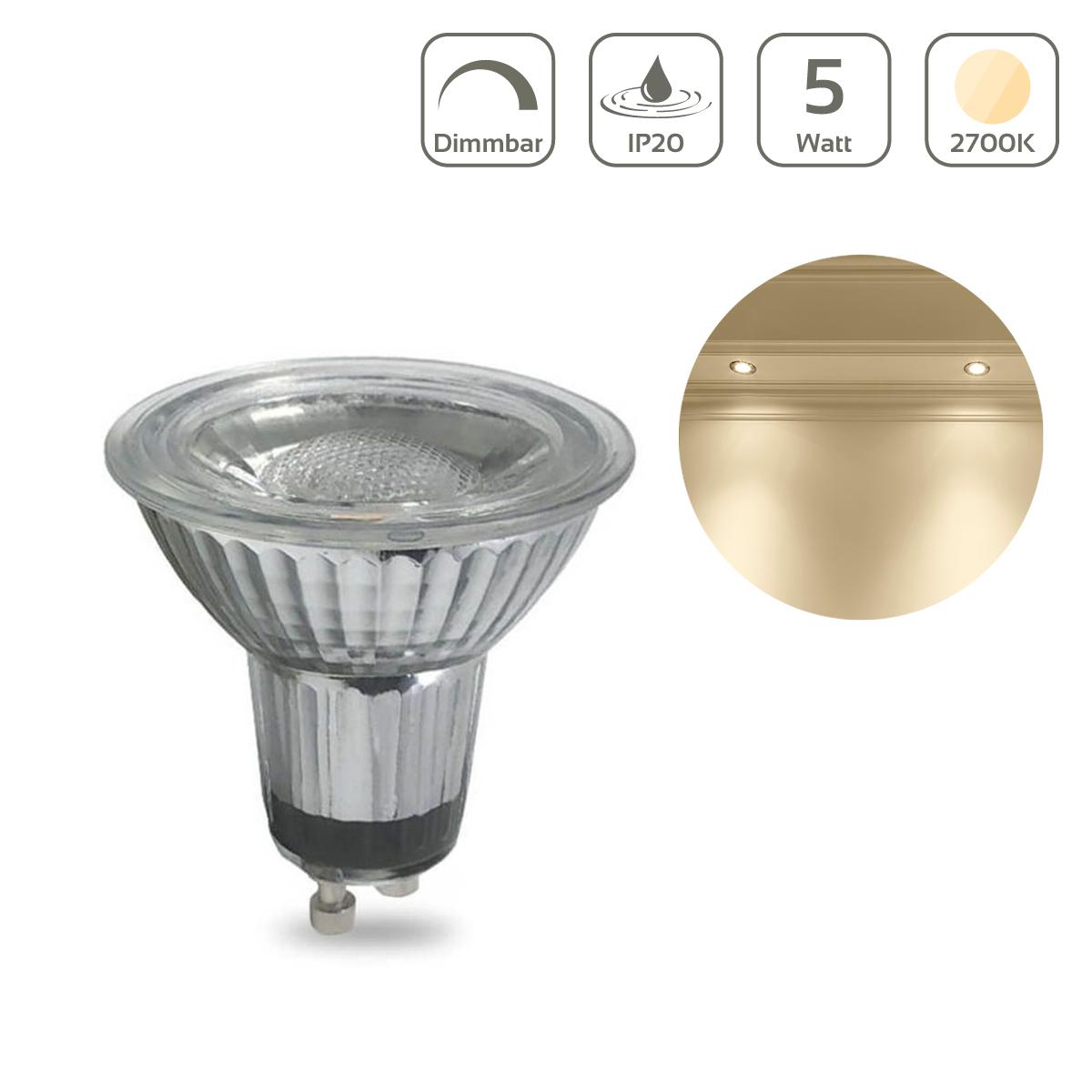 Properties "LED Spot GU10 5W Warmweiß dimmbar 2700K 400lm 40° "
Fachgerechte Entsorgung nach WEEE:

ja

Lagertemperatur:

0 °C bis +30 °C

Besonderheiten:

dimmbar

Eingangsspannung:

230 V/AC

Energieverbrauchskennzeichnung:

A+

Energieverbrauchskennzeichnung (nach EU 2019/2015):

F

Energieverbrauchskennzeichnung (Labelart):

Leuchtmittel

EPREL-Eintragungsnummer:

897718

Garantie:

2 Jahre

Prüfzeichen:

RoHS

, CE

Herkunftsland:

China

Dimmbar:

Ja

Farbtemperatur:

2700 K

Lichtfarbe:

warmweiß

Nennlebensdauer:

25000 Std.

Schutzart (IP):

IP20

Farbwiedergabe:

80 Ra

Fassung:

GU10

Abstrahlwinkel:

40 Grad

Farbkonsistenz:

6 SDCM

Lichtstärke / Candela:

850 cd

LED-Chip-Typ:

COB/Filament

LED-Hersteller:

EPISTAR

Aufwärmzeit:

1 s

Eingangsspannung (V):

230 V/AC

Energieverbrauch:

5 W

Leistung:

5 W

Lichtstrom:

400 Lumen

Nennlichtstrom:

400 Lumen

Nennstrom:

44 mA

Netzteil:

intern

Powerfactor:

0,5

Schaltzyklen:

12500

Vergleichswert:

50 Watt

Zündzeit:

0,5 s

Gehäusefarbe:

silber / chrom

Abdeckung:

klar

Produktlänge:

100 mm

Produkthöhe:

51 mm

Produktdurchmesser:

50 mm

Betriebstemperatur (°C):

-10 °C bis +40 °C

Gewicht:

0,06 kg

Netto-Gewicht des Produktes:

0,06 kg

Gewicht der Verpackung (Pappe):

0,01 g

Gewicht der Verpackung (Pappe + Kunststoff):

0,01 g

Gewicht inkl. Verpackung Bruttogewicht:

0,07 kg

Länge der Verpackung:

11,11 cm

Farbtemperatur warmweiß:

853950000