LED Strip Pro+ L-Verbinder klar für 230V Strip
LED Strip Pro+ L-Verbinder/Eckverbinder transparent für 230V Strip
Dieser transparente Eckverbinder ist ein Zubehörartikel für die High Voltage LED-Streifen mit folgenden Artikelnummern: 3476, 3477, 3478, 3479.
Der Eck- oder L-Verbinder kommt immer dann zum Einsatz, wenn die LED-Streifen um eine Ecke verlegt werden müssen. Da der Verbinder transparent ist, können die darunter befindlichen LED-Chips das Licht problemlos emittieren.

Der Verbinder ist nur für den Einsatz im Innenbereich geeignet.
Properties
Data according to manufacturer. Errors and changes reserved.
Datenblatt herunterladen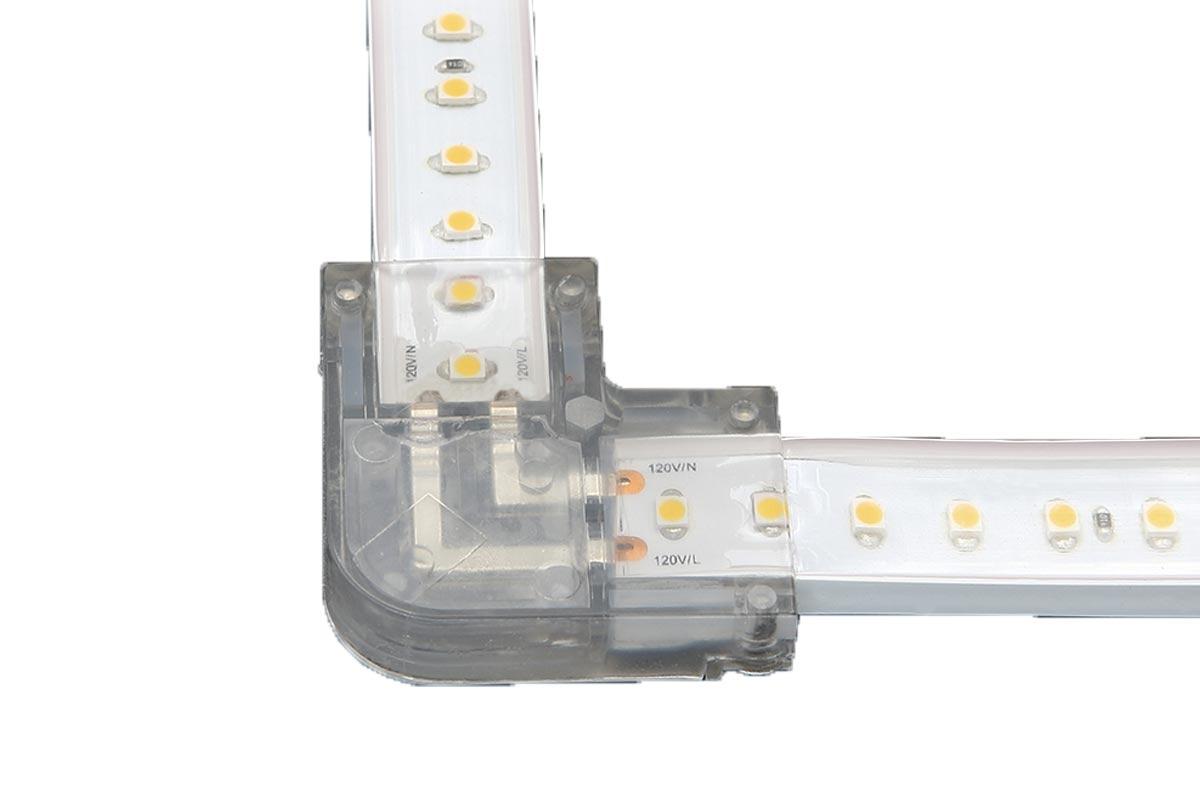 Properties "LED Strip Pro+ L-Verbinder klar für 230V Strip"
| | |
| --- | --- |
| Lagertemperatur: | -20 °C bis +50 °C |
| Energieverbrauchskennzeichnung: | Keine |
| Energieverbrauchskennzeichnung (Labelart): | Kein Label |
| Garantie: | 2 Jahre |
| Prüfzeichen: | CE |
| Schutzklasse (nach EN 61140 und VDE 0140-1): | II |
| Herkunftsland: | China |
| Einbaulänge: | 40 mm |
| Einbaubreite: | 40 mm |
| Einbautiefe: | 11 mm |
| Schutzart (IP): | IP20 |
| Schwenkbar: | Nein |
| Einbau-LEDs: | Nein |
| Eingebaute LEDs: | Nein |
| Gehäusefarbe: | transparent |
| Produktbreite: | 40 mm |
| Produktlänge: | 40 mm |
| Produkthöhe: | 11 mm |
| Betriebstemperatur (°C): | -20 °C bis +40 °C |
| Gewicht: | 6,34 kg |
| Netto-Gewicht des Produktes: | 6,34 kg |
| Gewicht der Verpackung (Pappe + Kunststoff): | 0,45 g |
| Gewicht inkl. Verpackung Bruttogewicht: | 6,79 kg |
| Farbtemperatur warmweiß: | 94056020 |