LED Strip Schnellverbinder 2-polig Breite 8mm
Schnellverbinder für 2-polige LED Strips, 8 mm
Anmerkung: Bei diesem Artikel handelt es sich um einen Einzelartikel. Falls Sie beispielshalber 3 Stück Schnellverbinder haben möchten, dann bitte die Mengenangabe auf 3 anpassen.
LED-Strips können mithilfe von Schnellverbindern einfach miteinander verbunden werden, ohne dass Lötarbeiten dafür notwendig werden.
Die Strips können auf diese Weise einfach geradeaus oder z.B. in L-Form verlegt werden.
Die Enden der Strips werden einfach in den jeweiligen Verbinder hineingesteckt, unter die vorgesehenen Kontakte geschoben und mit der Halterung zu geklickt/-geklappt, so dass ein sicherer und stabiler elektrischer Kontakt hergestellt wird. Bitte beachten Sie, dass bei wasserfesten, also Silikon-umhüllten LED Strips die Silikonschicht von den Kontakten entfernt werden muss.
Dieser Schnellverbinder ist für 2-polige (einfarbige) Strips mit 8 mm Breite geeignet.
Anmerkung: Die Kontakte dieses Verbinders sind mittig gelegen. Es gibt 8 mm breite LED-Streifen, bei denen die Kontakte außen gelegen sind, wofür der vorliegende Verbinder nicht verwendet werden kann.



Properties
Data according to manufacturer. Errors and changes reserved.
Datenblatt herunterladen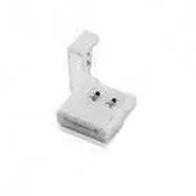 Properties "LED Strip Schnellverbinder 2-polig Breite 8mm"
Fachgerechte Entsorgung nach WEEE:

ja

Energieverbrauchskennzeichnung:

Keine

Energieverbrauchskennzeichnung (Labelart):

Kein Label

Garantie:

2 Jahre

Prüfzeichen:

RoHS

, CE

Herkunftsland:

China

Schutzart (IP):

IP20

Einbau-LEDs:

Ja

Eingebaute LEDs:

Ja

Produktlänge:

8 mm

Netto-Gewicht des Produktes:

0,001 kg

Gewicht inkl. Verpackung Bruttogewicht:

0,001 kg

Länge der Verpackung:

1 cm