Lichtleiste mit Schalter 1173mm Warmweiss 14W 1.400lm 3000K IP20
Lichtleiste/Unterbauleuchte mit Schalter 14W 1.400lm 3000K IP20
Die LED Lichtleiste kann vielseitig eingesetzt werden und eignet sich besonders dann als effektive Beleuchtungslösung, wenn wenig Platz vorhanden ist. Die Leiste kann zum Beispiel in Regalen, Schränken oder über Arbeitsflächen in der Küche oder im Büro installiert werden. Es können problemlos mehrere LED Unterbauleuchten mit geringem Abstand hintereinander oder auch über Eck angebracht werden, um die gewünschte Fläche optimal auszuleuchten. Die LED Lichtleiste spendet ein angenehmes warmweißes Licht mit 1.400 Lumen und einer Farbtemperatur 3.000 Kelvin.
Ihre Vorteile auf einen Blick:
platzsparendes, effektvolles Beleuchtungsmittel (1.173 x 28 x 36 mm)
mit integriertem Schalter
warmweißes Licht (3.000 Kelvin, 1.400 lm)
Abstrahlwinkel 140°
kurze Zünd- und Anlaufzeit von nur 0,5 sec.
Lieferung inklusive Montageclips, Anschluss- und Verbindungskabel
Die LED Lichtleiste wird anschlussfertig mit Kabel und Stecker geliefert und hat einen integrierten Schalter. Im Lieferumfang sind außerdem sind Anschluss- und Verbindungskabel sowie Montageclips für eine einfache Installation enthalten. Die integrierten hochwertigen LEDs der Marke SANAN (Typ SMD2835) haben eine Nennlebensdauer von 30.000 Stunden mit rund 100.000 Schaltzyklen. Durch die kurzen Zünd- und Anlaufzeiten (0,5 sec.) ist die LED Unterbauleuchte gut für den alltäglichen Einsatz im Büro oder Haushalt geeignet. Durch den geringen Energieverbrauch bei 14 Watt können Sie im Vergleich zu herkömmlichen Leuchtmitteln bis zu 80 Prozent an Stromkosten sparen.
Dimmbarkeit
Die LED Lichtleiste mit Schalter (Art. Nr. 2212) ist in dieser Ausführung nicht dimmbar.
Properties
Data according to manufacturer. Errors and changes reserved.
Datenblatt herunterladen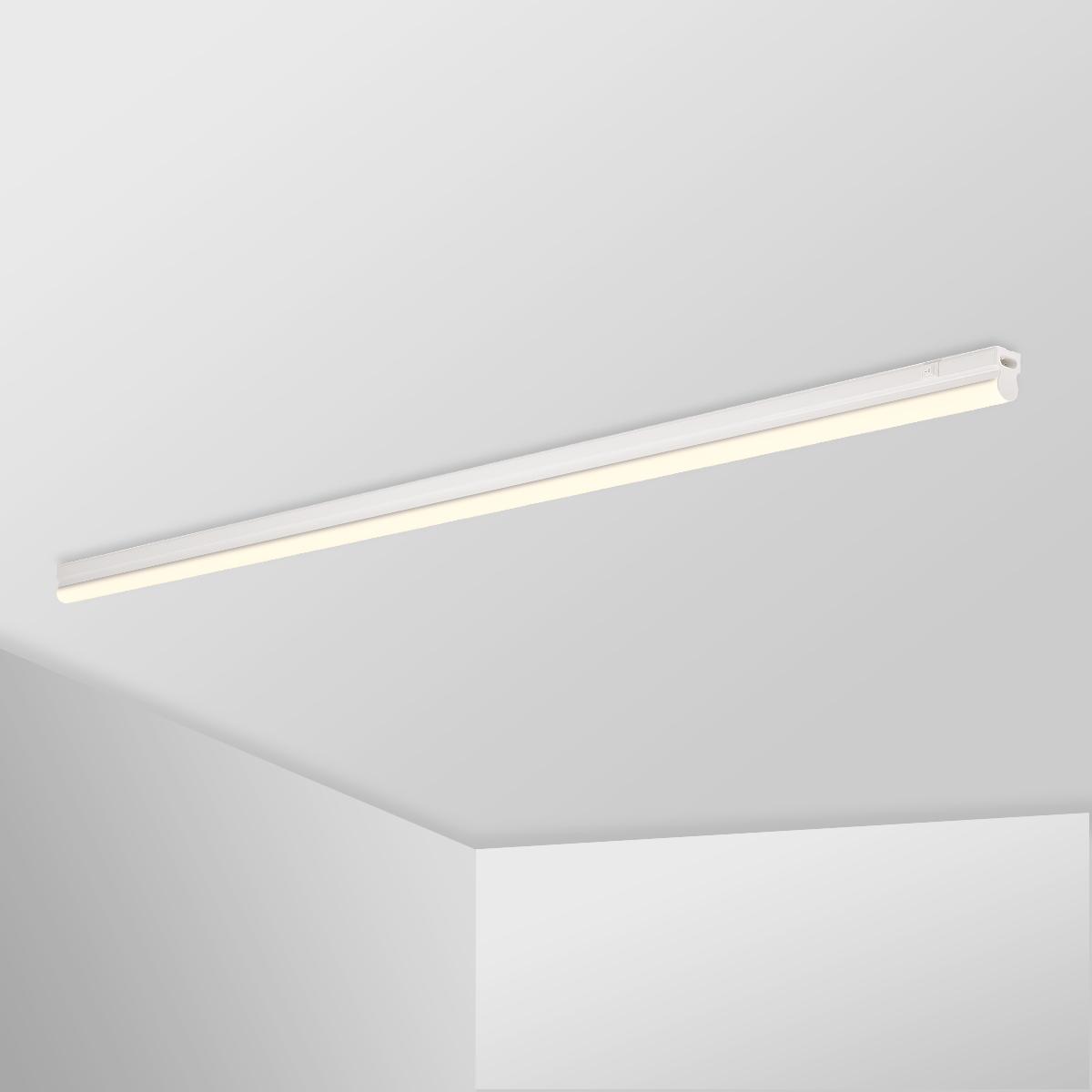 Properties "Lichtleiste mit Schalter 1173mm Warmweiss 14W 1.400lm 3000K IP20"
Fachgerechte Entsorgung nach WEEE:

ja

Lagertemperatur:

-20 °C bis +40 °C

Eingangsspannung:

230 V/AC

Energieverbrauchskennzeichnung:

A+

Energieverbrauchskennzeichnung (nach EU 2019/2015):

F

Energieverbrauchskennzeichnung (Labelart):

Leuchte

EPREL-Eintragungsnummer:

709932

Garantie:

2 Jahre

Prüfzeichen:

RoHS

, CE

Schutzklasse (nach EN 61140 und VDE 0140-1):

II

Herkunftsland:

China

Montageart:

Deckenmontage

, Aufbau

Dimmbar:

Nein

Farbtemperatur:

3000 K

Lichtfarbe:

warmweiß

Nennlebensdauer:

30000 Std.

Schutzart (IP):

IP20

Farbwiedergabe:

80 Ra

Abstrahlwinkel:

140 Grad

Farbkonsistenz:

5 SDCM

Lichtstärke / Candela:

290 cd

Akzentbeleuchtung:

ungeeignet

LED-Chip-Typ:

SMD2835

LED-Hersteller:

SANAN

Aufwärmzeit:

1 s

Eingangsspannung (V):

230 V/AC

Energieverbrauch:

14 W

Leistung:

14 W

Lichtstrom:

1400 Lumen

Nennlichtstrom:

1400 Lumen

Nennstrom:

190 mA

Netzteil:

intern

Powerfactor:

0,5

Schaltzyklen:

10000

Vergleichswert:

28 Watt

Zündzeit:

0,5 s

Gehäusefarbe:

weiß

Abdeckung:

opal

Produktbreite:

28 mm

Produktlänge:

1173 mm

Produkthöhe:

36 mm

Betriebstemperatur (°C):

-20 °C bis +40 °C

Gewicht:

1 kg

Netto-Gewicht des Produktes:

1 kg

Gewicht inkl. Verpackung Bruttogewicht:

1 kg

Länge der Verpackung:

123,47 cm