MiBoxer CCT LED Spot 6W GU10 | Wifi ready | FUT107
LED Lampe GU10 6W | CCT | MiBoxer FUT107
Dieser LED Spot leuchtet mit warm-, neutral- oder kaltweißem Licht. Der Wechsel zwischen diesen Lichtfarben erfolgt stufenlos. Diese 6W Lampe ist dimmbar. Das GU10 Leuchtmittel hat eine Lebensdauer von ca 50.000 Stunden.
Die GU10 Lampe hat den üblichen Durchmesser von 50 mm und eine Höhe von 72 mm.
Aufgrund des verfügbaren Farbtemperaturbereichs 2700K - 6000K wird die Lampe gerne in Wohnräumen, Schlafzimmer, Büros und anderen gewerblichen Räumlichkeiten eingesetzt.

Dank der integrierten Memory-Funktion bleibt beim Ausschalten die zuletzt gewählte Lichtfarbe gespeichert. Beim Einschalten leuchtet der LED Spot also in der zuletzt eingestellten Lichtfarbe.
Verschiedene Steuerungsmöglichkeiten
Es gibt verschiedene Lösungen, um das GU10 Leuchtmittel anzusteuern, und müssen separat bestellt werden.
Die 2,4GHz Fernbedienung ist eine sehr einfache Lösung. Wir empfehlen aus Kompatibilitätsgründen Fernbedienungen von MiBoxer. Weitere Alternativen wären Einbau- oder Aufbau-Wandschalter für CCT Leuchtmittel.
Properties
Data according to manufacturer. Errors and changes reserved.
Datenblatt herunterladen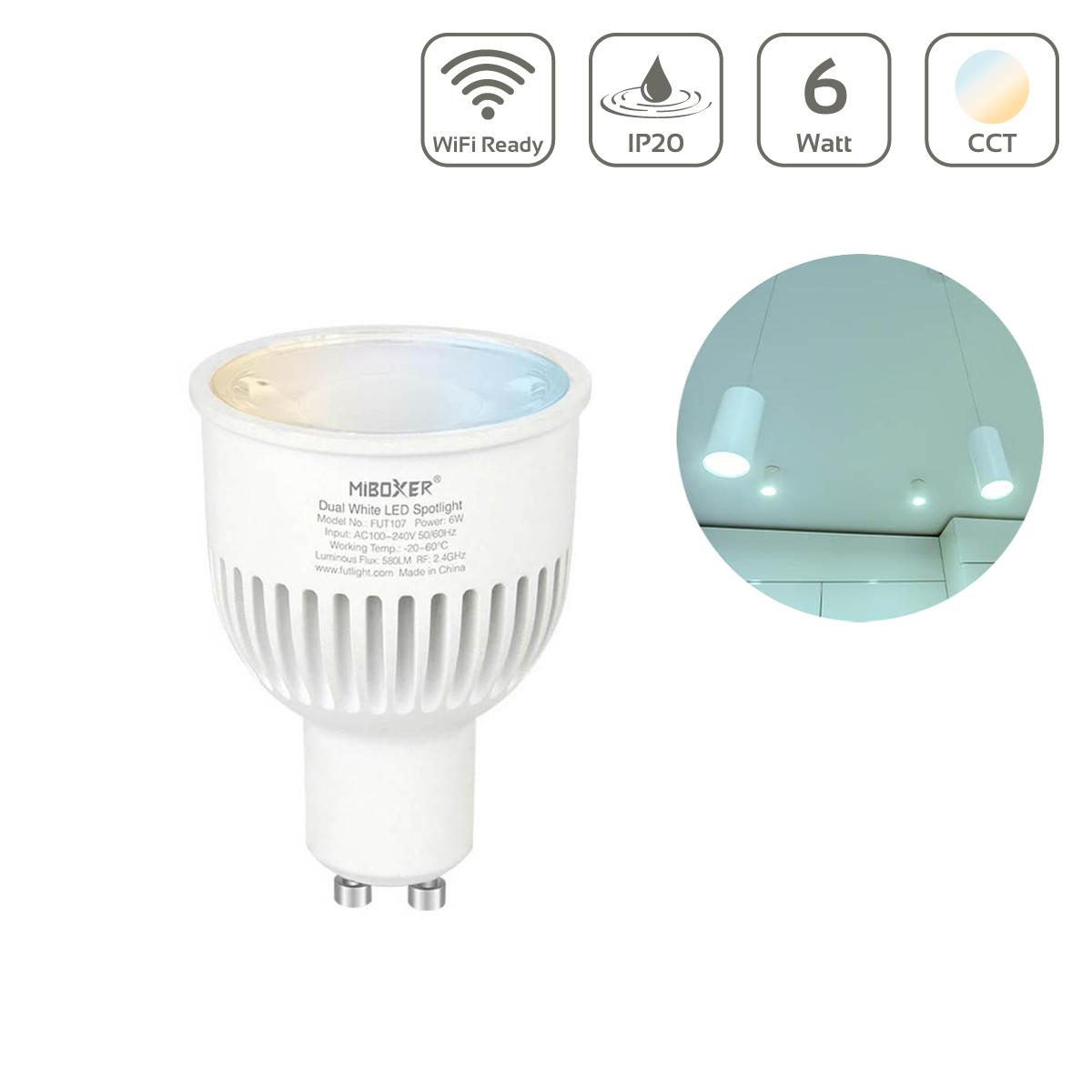 Properties "MiBoxer CCT LED Spot 6W GU10 | Wifi ready | FUT107"
Fachgerechte Entsorgung nach WEEE:

ja

Lagertemperatur:

-20 °C bis +60 °C

Hersteller:

MiBoxer

Besonderheiten:

stufenlos einstellbare Farbtemperatur

, dimmbar

Eingangsspannung:

230 V/AC

Energieverbrauchskennzeichnung:

A+

Energieverbrauchskennzeichnung (nach EU 2019/2015):

E

Energieverbrauchskennzeichnung (Labelart):

Leuchte

EPREL-Eintragungsnummer:

902340

Garantie:

2 Jahre

Prüfzeichen:

CE

Schutzklasse (nach EN 61140 und VDE 0140-1):

II

Herkunftsland:

China

Einbaubreite:

50 mm

Dimmbar:

Ja

Dimmbarkeit:

über Fernbedienung

Farbtemperatur:

4100 K

, 5500 K

, 6000 K

, 2900 K

, 3500 K

, 4500 K

, 5000 K

, 5400 K

, 2700 K

, 4000 K

, 3000 K

, 6500 K

Lichtfarbe:

CCT

Nennlebensdauer:

50000 Std.

Schutzart (IP):

IP20

Smart Home Systeme:

MiBoxer

Farbwiedergabe:

80 Ra

Fassung:

GU10

Abstrahlwinkel:

30 Grad

Rahmenfarbe:

weiß

Schwenkbar:

Nein

Akzentbeleuchtung:

ungeeignet

Einbau-LEDs:

Ja

Eingebaute LEDs:

Ja

Aufwärmzeit:

0,5 s

Eingangsspannung (V):

110 V/AC - 240 V/AC

Energieverbrauch:

6 W

Leistung:

6 W

Lichtstrom:

580 Lumen

Nennlichtstrom:

580 Lumen

Netzfrequenz (Hz):

50 Hz - 60 Hz

Netzteil:

intern

Vergleichswert:

36 Watt

Zündzeit:

0,5 s

Gehäusefarbe:

weiß

Produktbreite:

50 mm

Produkthöhe:

72 mm

Produktdurchmesser:

50 mm

Betriebstemperatur (°C):

-20 °C bis +50 °C

Nominale maximale Gehäusetemperatur (°C):

65 °C

Nominale maximale Umgebungstemperatur (°C):

60 °C

Gewicht:

0,04 kg

Netto-Gewicht des Produktes:

0,04 kg

Funk-Frequenzband:

2400 - 2483.5 MHz MHz

Funkreichweite:

30 m

Signalstärke:

3,98 mW

WLAN-Frequenzband:

2.4 GHz

WLAN-Protokolle:

MiBoxer 2.4 GHz

Gewicht der Verpackung (Pappe + Kunststoff):

0,01 g

Gewicht inkl. Verpackung Bruttogewicht:

0,05 kg

CCT Modus:

fade

Leistungsaufnahme kaltweiß:

6

Leistungsaufnahme warmweiß:

6

Farbtemperatur kaltweiß:

2700

Farbtemperatur warmweiß:

6500