MiBoxer RGB+CCT LED Einbaustrahler rund weiss 15W Ø190mm IP54 2.4GHz WiFi ready FUT069
LED Einbaustrahler IP54 RGB+CCT 15W Ø190mm FUT069
Farbiges und weißes Licht
Dieses runde LED Panel FUT069 von MiBoxer mit den kompletten Steuerungsmöglichkeiten von farbigem und weißem Licht eröffnet Ihnen die Möglichkeit, es auch im Außenbereich einzusetzen, da es mit der Schutzart IP54 dafür ausgerüstet ist.
Somit haben wir hier weitere, elegante Leuchte aus der Linie der MiLight Produkte vor uns, die nun alle Farbwechselmöglichkeiten von farbigen Mischungen kombiniert mit der optionalen Beimischung von weißem Licht, so dass auch zarte Pastelltöne realisiert werden können.
Es ist aber auch möglich, nur reines, weißes Licht einzuschalten, wobei das Panel dabei zusätzlich die Einstellungen von warmweißem, neutralweißem oder kaltweißem Licht liefert, so dass Sie auch hier die Option haben, die Beleuchtung wiederum an die jeweiligen Bedingungen oder Bedürfnisse anzupassen.

Dank der integrierten Memory-Funktion bleibt beim Ausschalten die zuletzt gewählte Einstellung der Lichtfarbe gespeichert. Beim Einschalten leuchtet der Einbaustrahler also in der zuletzt eingestellten Lichtfarbe. 
Abmessungen
Einbautiefe: 70 mm
Einbaudurchmesser: 180 mm
Produkthöhe: 70 mm
Produktdurchmesser: 190 mm
Bitte beachten Sie, dass durch die Kabelführung ca. 2 cm zusätzlicher Raum für den Einbau benötigt wird, also insgesamt 70 mm.
Steuerung des Panels
Gesteuert werden können alle diese Einstellungen des Panels entweder über eine Fernbedienung oder über sogenannte Wandpanels, die über eine elegante und dekorative Touch-Oberfläche an der Stelle eines Lichtschalters eingebaut werden.
Auch dieses tolle Panel gehört zu den "Wi-Fi ready" Produkten, die zu den eben beschriebenen Möglichkeiten der Steuerung noch eine weitere bieten:
Nämlich über Ihr Smartphone oder Tablet (iOS ab 7.0/Android ab 4.1).
Diese Möglichkeit erweitert die Reichweite der Steuerung über die übliche Funkreichweite von ca. 30 m hinaus und Sie können nun z.B. vom Arbeitsplatz aus das vergessene Licht im Schlafzimmer ausschalten oder etwa vom Hotel in Nizza aus die Beleuchtung im Wohnzimmer steuern, damit Ihr Zuhause während des Urlaubs nicht unbewohnt erscheint.
Für die Ansteuerung per Smartphone oder Tablet benötigen Sie ein Wi-Fi Steuermodul und die gratis Mi-Light/Mi-Boxer App, die Sie im Google Play Store oder Apple Store herunterladen können.



Properties
Data according to manufacturer. Errors and changes reserved.
Datenblatt herunterladen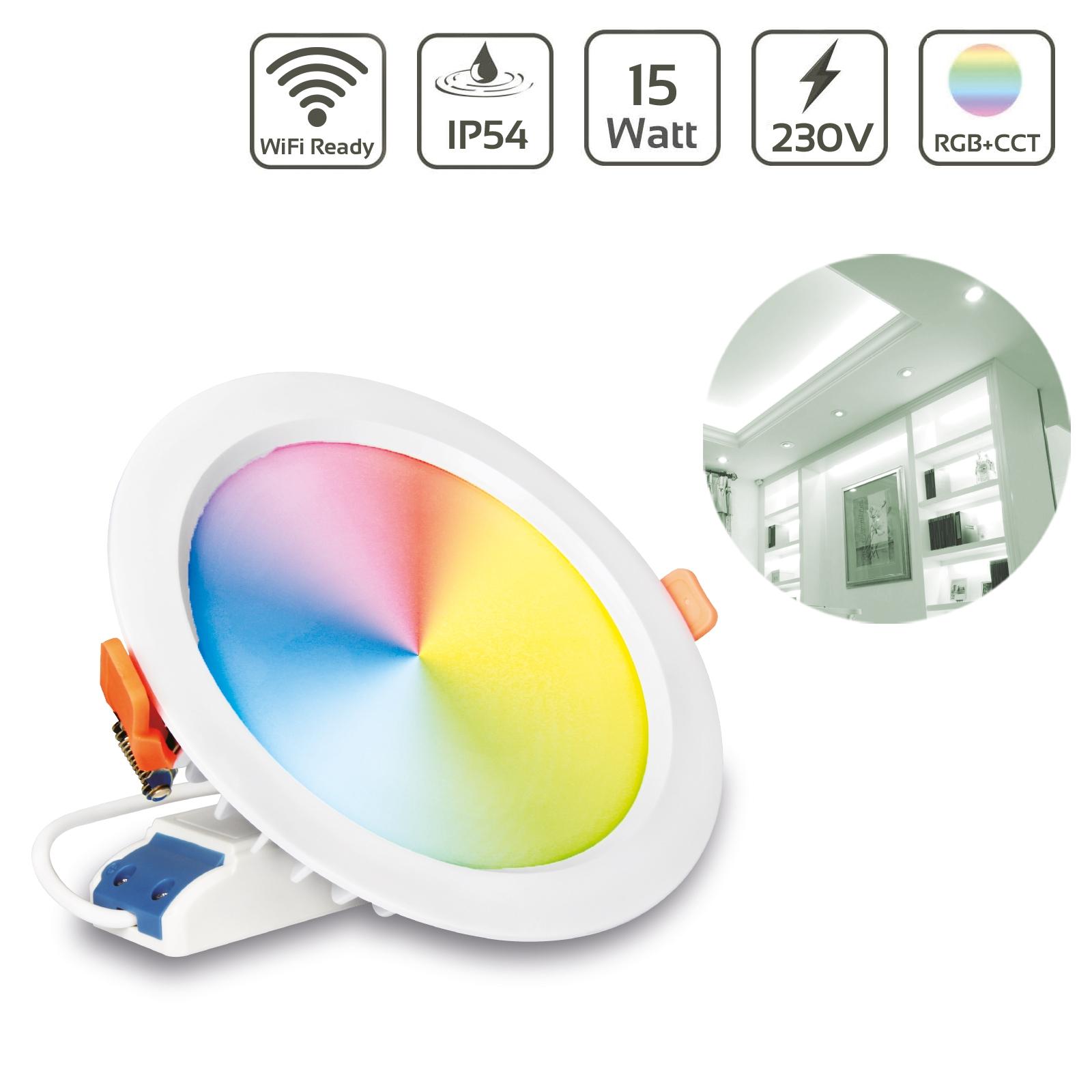 Properties "MiBoxer RGB+CCT LED Einbaustrahler rund weiss 15W Ø190mm IP54 2.4GHz WiFi ready FUT069"
Fachgerechte Entsorgung nach WEEE:

ja

Lagertemperatur:

-20 °C bis +50 °C

Hersteller:

MiBoxer

Besonderheiten:

dimmbar

Anschluss:

Kabel (offenes Ende)

Eingangsspannung:

230 V/AC

Energieverbrauchskennzeichnung:

A+

Energieverbrauchskennzeichnung (nach EU 2019/2015):

G

Energieverbrauchskennzeichnung (Labelart):

Leuchte

EPREL-Eintragungsnummer:

928849

Garantie:

2 Jahre

Prüfzeichen:

RoHS

, CE

Schutzklasse (nach EN 61140 und VDE 0140-1):

II

Herkunftsland:

China

Montageart:

Deckenmontage

, Einbau

Einbautiefe:

50 mm

, 70 mm

Einbaudurchmesser:

175 mm

Dimmbar:

Ja

Dimmbarkeit:

über Fernbedienung

Farbtemperatur:

4100 K

, 5500 K

, 6000 K

, 2900 K

, 3500 K

, 4500 K

, 5000 K

, 5400 K

, 2700 K

, 4000 K

, 3000 K

, 6500 K

Lichtfarbe:

RGB+CCT

Nennlebensdauer:

50000 Std.

Schutzart (IP):

IP54

Smart Home Systeme:

MiBoxer

Farbwiedergabe:

80 Ra

Abstrahlwinkel:

120 Grad

Form:

rund

Rahmenfarbe:

weiß

Schwenkbar:

Nein

LED-Hersteller:

MiBoxer

Eingebaute LEDs:

Ja

Aufwärmzeit:

1 s

Eingangsspannung (V):

110 V/AC - 230 V/AC

Energieverbrauch:

15 W

Leistung:

15 W

Lichtstrom:

1200 Lumen

Nennlichtstrom:

1200 Lumen

Netzfrequenz (Hz):

50 Hz - 60 Hz

Netzteil:

extern

Powerfactor:

0,5

Gehäusefarbe:

weiß

Abdeckung:

opal

Produkthöhe:

50 mm

, 70 mm

Produktdurchmesser:

190 mm

Treiberabmessung Länge:

115 mm

Treiberabmessung Höhe:

26 mm

Treiberabmessung Breite:

45 mm

Betriebstemperatur (°C):

-20 °C bis +60 °C

Gewicht:

0,33 kg

Netto-Gewicht des Produktes:

0,649 kg

Funk-Frequenzband:

2400 - 2483.5 MHz MHz

Funkreichweite:

30 m

Signalstärke:

3,98 mW

WLAN-Frequenzband:

2.4 GHz

WLAN-Protokolle:

MiBoxer 2.4 GHz

Gewicht der Verpackung (Pappe):

0,13 g

Gewicht der Verpackung (Pappe + Kunststoff):

0,13 g

Gewicht inkl. Verpackung Bruttogewicht:

0,779 kg

Höhe der Verpackung:

8,7 cm

Länge der Verpackung:

20,4 cm

Breite der Verpackung:

20,4 cm
Downloads "MiBoxer RGB+CCT LED Einbaustrahler rund weiss 15W Ø190mm IP54 2.4GHz WiFi ready FUT069"