MiBoxer RGB+CCT Lampe 6W E27 | WiFi ready | FUT014
RGB+CCT Lampe E27 6W 2.4GHz Wi-Fi ready
Eine 6W Lampe mit dem Standard-Sockel E27, die nahezu unendlich viele, verschiedene Farben abstrahlen kann (genau genommen 16 Millionen, wenn Sie Zeit und Lust haben, mitzuzählen… :)

Durch einen besonderen, lichtdurchlässigen Kunststoff wird weiches und gleichmäßiges Licht abgestrahlt.
Flickern kennt diese Lampe nicht, denn dafür sorgt der eingebaute Treiber mit seiner hervorragenden Leistung.
Ihren Einsatz findet die Lampe gerne in Bars oder Restaurants, aber selbstverständlich auch in Wohnräumen.
Außerdem gehört die Lampe zu den "Wi-Fi ready" Produkten von MiLight/MiBoxer, was bedeutet, dass Sie die Einstellungen der Lampe auch über Ihr Smartphone oder Tablet (iOS ab 7.0/Android ab 4.1) steuern können. Sie brauchen dazu die kostenlose APP von MiLight/MiBoxer, die Sie gratis im Google Play Store oder Apple Store downloaden können.

Dank der integrierten Memory-Funktion bleibt beim Ausschalten die zuletzt gewählte Einstellung der Lichtfarbe gespeichert. Beim Einschalten leuchtet die CCT LED Lampe also in der zuletzt eingestellten Lichtfarbe.

Und Sie benötigen ein kleines Zusatzgerät, ein Steuermodul (nicht im Lieferumfang enthalten).
Properties
Data according to manufacturer. Errors and changes reserved.
Datenblatt herunterladen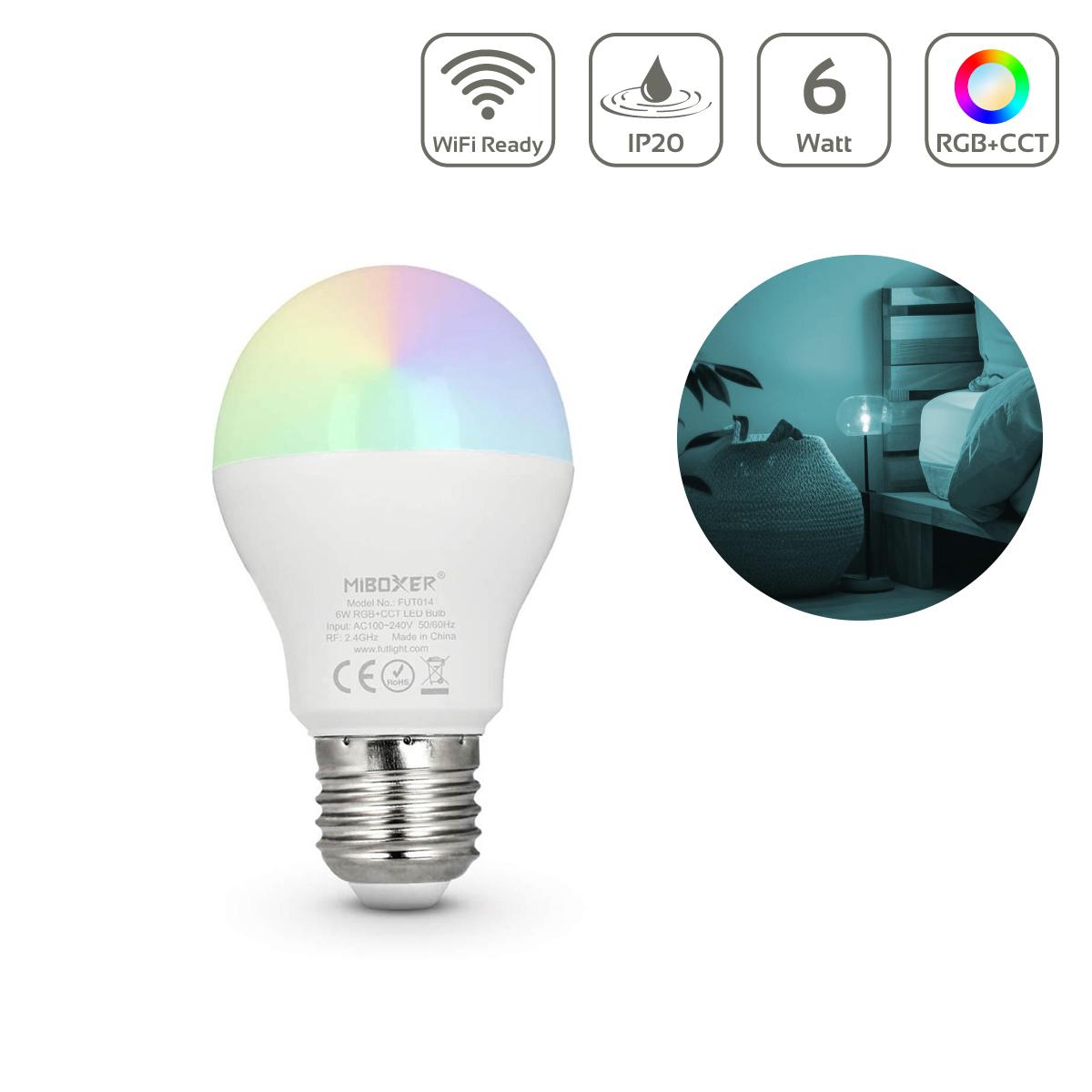 Properties "MiBoxer RGB+CCT Lampe 6W E27 | WiFi ready | FUT014"
Fachgerechte Entsorgung nach WEEE:

ja

Lagertemperatur:

-20 °C bis +50 °C

Hersteller:

MiBoxer

Besonderheiten:

dimmbar

Eingangsspannung:

230 V/AC

Energieverbrauchskennzeichnung:

A+

Energieverbrauchskennzeichnung (nach EU 2019/2015):

F

Energieverbrauchskennzeichnung (Labelart):

Leuchte

EPREL-Eintragungsnummer:

929700

Garantie:

2 Jahre

Prüfzeichen:

RoHS

, CE

Schutzklasse (nach EN 61140 und VDE 0140-1):

II

Herkunftsland:

China

Dimmbar:

Ja

Dimmbarkeit:

über Fernbedienung

Farbtemperatur:

4100 K

, 5500 K

, 6000 K

, 2900 K

, 3500 K

, 4500 K

, 5000 K

, 5400 K

, 2700 K

, 4000 K

, 3000 K

, 6500 K

Lichtfarbe:

RGB+CCT

, RGBW

Nennlebensdauer:

50000 Std.

Schutzart (IP):

IP20

Smart Home Systeme:

MiBoxer

Farbwiedergabe:

80 Ra

Fassung:

E27

Abstrahlwinkel:

220 Grad

Farbkonsistenz:

6 SDCM

Rahmenfarbe:

weiß

Akzentbeleuchtung:

ungeeignet

LED-Hersteller:

MiBoxer

Einbau-LEDs:

Ja

Eingebaute LEDs:

Ja

Aufwärmzeit:

1 s

, 0,5 s

Eingangsspannung (V):

110 V/AC - 240 V/AC

Energieverbrauch:

6 W

Leistung:

6 W

Lichtstrom:

550 Lumen

Nennlichtstrom:

550 Lumen

Netzfrequenz (Hz):

50 Hz - 60 Hz

Netzteil:

intern

Powerfactor:

0,5

Gehäusefarbe:

weiß

Abdeckung:

opal

Produkthöhe:

100 mm

Produktdurchmesser:

57 mm

Betriebstemperatur (°C):

-20 °C bis +50 °C

Gewicht:

0,078 kg

, 0,08 kg

Netto-Gewicht des Produktes:

0,078 kg

Funk-Frequenzband:

2400 - 2483.5 MHz MHz

Funkreichweite:

30 m

Signalstärke:

3,98 mW

WLAN-Protokolle:

GFSK

Gewicht inkl. Verpackung Bruttogewicht:

0,1 kg

Höhe der Verpackung:

10,6 cm

Länge der Verpackung:

6,2 cm

Leistungsaufnahme kaltweiß:

6

Leistungsaufnahme warmweiß:

6

Farbtemperatur kaltweiß:

6500

Farbtemperatur warmweiß:

2700

Breite der Verpackung:

6,2 cm
Downloads "MiBoxer RGB+CCT Lampe 6W E27 | WiFi ready | FUT014"