MiBoxer RGB+CCT Lampe 9W E27 | 2.4GHz WiFi ready | FUT012
RGB+CCT Lampe E27 9W 2.4GHz WiFi ready
Aufgrund der Auswahl von ca 16 Millionen Farbeinstellungen wird diese LED Lampe vor allem benutzt, um Stimmungsakzente in einem Raum zu setzen. Die RGB CCT LED Lampe ist dimmbar, wodurch sich weitere Einstellungsmöglichkeiten ergeben, um das perfekte Stimmungslicht zu erzeugen.
Was sind die Steuerungsmöglichkeiten?
Die LED Lampe wird mit Wandschalter, Fernbedienung oder Ihrem Smartphone angesteuert. Für das Smartphone muss die entsprechende App installiert werden und schon steht der Fernsteuerung nichts mehr im Wege.

Dank der integrierten Memory-Funktion bleibt beim Ausschalten die zuletzt gewählte Lichtfarbe gespeichert. Beim Einschalten leuchtet die CCT LED Lampe also in der zuletzt eingestellten Lichtfarbe.
Die Abmessung der RGB CCT Lampe
Die Lampe hat eine Breite von 74 mm und eine Länge von 137 mm. Bitte kontrollieren Sie vor dem Kauf, ob diese ungewöhnlichen Abmessungen mit Ihrer Lampe kombinierbar sind oder nicht. Am Ende soll es ja auch gut aussehen.
Mi-Light oder MiBOXER - was ist der Unterschied?
Die kurze Antwort: Es gibt keinen Unterschied.
Die etwas längere Antwort: Mi-Light hat eine Umbenennung zu MiBOXER vorgenommen. Auf lange Sicht wird der Name Mi-Light also verschwinden. Die einzelnen Artikel sind weiterhin untereinander kombinierbar (Beachten Sie immer die Erklärungen zu den jeweiligen Artikeln.).
Properties
Data according to manufacturer. Errors and changes reserved.
Datenblatt herunterladen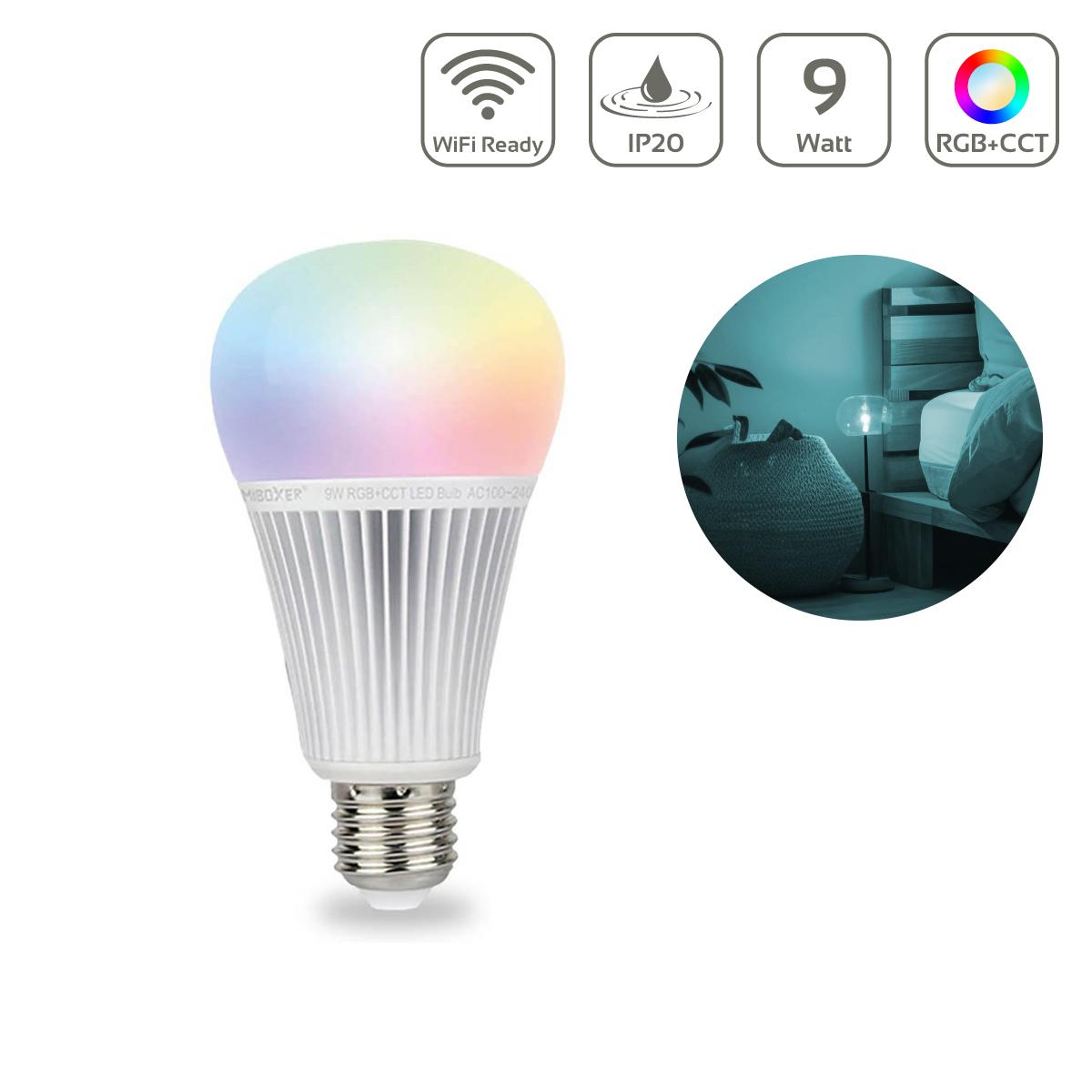 Properties "MiBoxer RGB+CCT Lampe 9W E27 | 2.4GHz WiFi ready | FUT012"
Lagertemperatur:

-20 °C bis +60 °C

Hersteller:

MiBoxer

Besonderheiten:

stufenlos einstellbare Farbtemperatur

, dimmbar

Eingangsspannung:

230 V/AC

Energieverbrauchskennzeichnung:

A+

Energieverbrauchskennzeichnung (nach EU 2019/2015):

F

Energieverbrauchskennzeichnung (Labelart):

Kein Label

EPREL-Eintragungsnummer:

928873

Garantie:

3 Jahre

Prüfzeichen:

RoHS

, CE

Schutzklasse (nach EN 61140 und VDE 0140-1):

II

Herkunftsland:

China

Dimmbar:

Ja

Dimmbarkeit:

über Fernbedienung

Farbtemperatur:

4100 K

, 5500 K

, 6000 K

, 2900 K

, 3500 K

, 4500 K

, 5000 K

, 5400 K

, 2700 K

, 4000 K

, 3000 K

, 6500 K

Lichtfarbe:

RGB+CCT

Nennlebensdauer:

50000 Std.

Schutzart (IP):

IP20

Smart Home Systeme:

MiBoxer

Farbwiedergabe:

80 Ra

Fassung:

E27

Abstrahlwinkel:

220 Grad

Schwenkbar:

Nein

Akzentbeleuchtung:

geeignet

LED-Hersteller:

MiBoxer

Eingebaute LEDs:

Ja

Eingangsspannung (V):

110 V/AC - 240 V/AC

Energieverbrauch:

9 W

Leistung:

9 W

Lichtstrom:

850 Lumen

Nennlichtstrom:

850 Lumen

Netzfrequenz (Hz):

50 Hz - 60 Hz

Netzteil:

intern

Powerfactor:

0,5

Zündzeit:

0,5 s

Gehäusefarbe:

weiß

Abdeckung:

satiniert

Produkthöhe:

137 mm

Produktdurchmesser:

74 mm

Betriebstemperatur (°C):

-20 °C bis +60 °C

Gewicht:

0,078 kg

, 0,08 kg

Netto-Gewicht des Produktes:

0,16 kg

Funk-Frequenzband:

2400 - 2483.5 MHz MHz

Funkreichweite:

30 m

Gewicht der Verpackung (Pappe + Kunststoff):

0,06 g

Gewicht inkl. Verpackung Bruttogewicht:

0,1 kg

Länge der Verpackung:

20 cm

CCT Modus:

fade

Leistungsaufnahme kaltweiß:

9

Leistungsaufnahme warmweiß:

9

Farbtemperatur kaltweiß:

6500

Farbtemperatur warmweiß:

9405409000

, 2700
Downloads "MiBoxer RGB+CCT Lampe 9W E27 | 2.4GHz WiFi ready | FUT012"