MiBoxer RGB+CCT Wandschalter 1 Kanal Aufbau Dimmen Schalten Farbsteuerung batteriebetrieben B0
RGB CCT Wandschalter | Schalten & Dimmen & Farbsteuerung | MiBoxer
Der Aufbau-Wandschalter RGB CCT hat die Abmessung 86x86x20 mm und wird mit 2 AAA Batterien betrieben.
Das OberflÀchenmaterial ist Glas-Àhnlich und wirkt dadurch edel.
Der Wandschalter mit Reichweite 30m kann also an beliebiger Stelle montiert werden. Montage erfolgt durch Ankleben oder Anschrauben.
Funktionen
Ein-/Ausschalten
Farbwechsel (Farbrad)
Helligkeit einstellen (Slider)
Einstellungsslider fĂŒr die weiße Lichtfarbe
Timerfunktion zum Ausschalten (10 Sekunden oder 10 Minuten)
Tasten fĂŒr statisches rotes, grĂŒnes oder blaues Licht
Properties
Data according to manufacturer. Errors and changes reserved.
Datenblatt herunterladen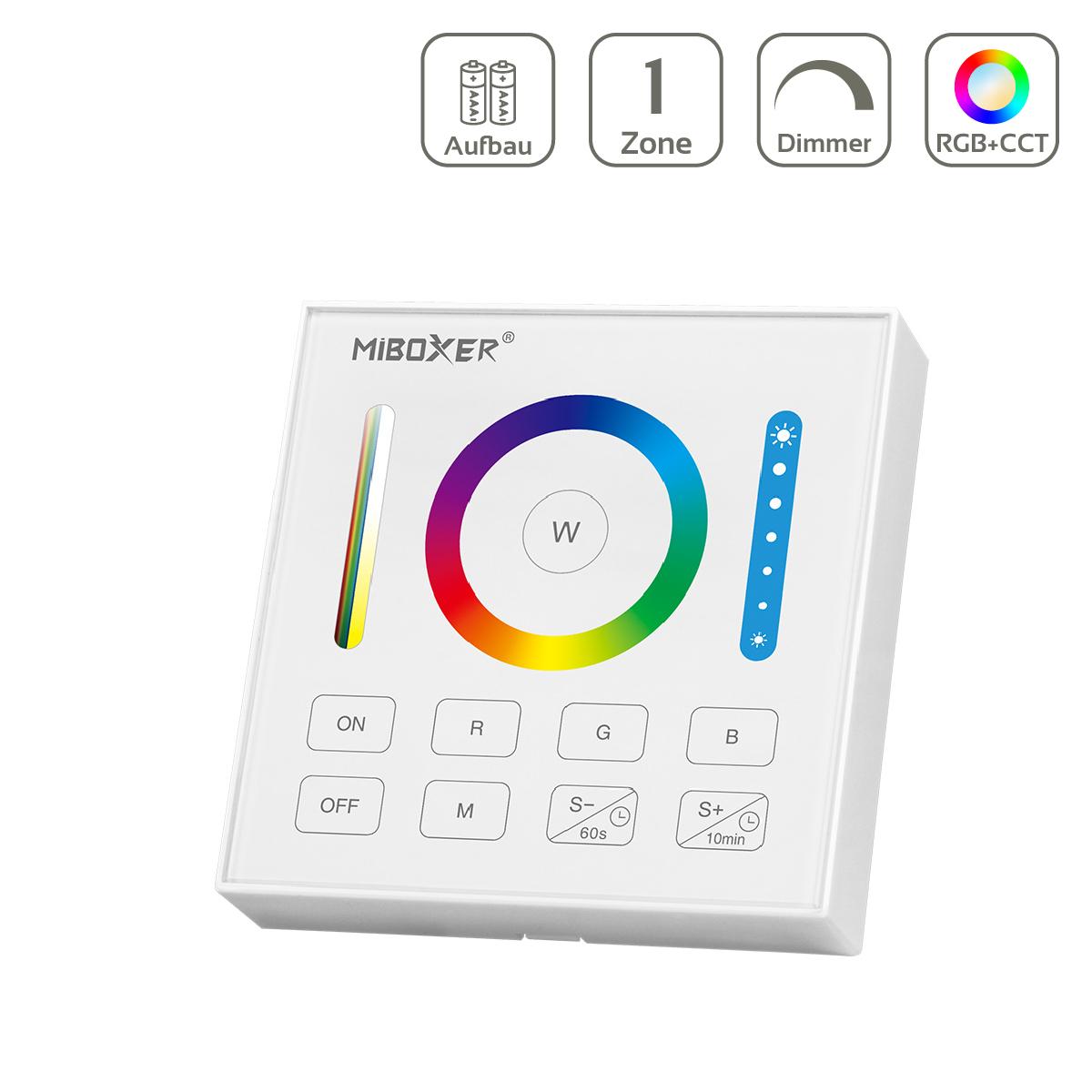 Properties "MiBoxer RGB+CCT Wandschalter 1 Kanal Aufbau Dimmen Schalten Farbsteuerung batteriebetrieben B0"
Hersteller:

MiBoxer

Energieverbrauchskennzeichnung:

Keine

Energieverbrauchskennzeichnung (Labelart):

Kein Label

Garantie:

2 Jahre

Schutzklasse (nach EN 61140 und VDE 0140-1):

III

Herkunftsland:

China

Montageart:

Aufbau

, Wandmontage

AufbaulÀnge:

86 mm

Aufbaubreite:

86 mm

Schutzart (IP):

IP20

Smart Home Systeme:

MiBoxer

Form:

eckig

Rahmenfarbe:

weiß

Eingebaute LEDs:

Nein

Eingangsspannung (V):

3 V/DC

GehÀusefarbe:

weiß

Produktbreite:

86 mm

ProduktlÀnge:

86 mm

Produkthöhe:

19 mm

Betriebstemperatur (°C):

-20 °C bis +60 °C

Nominale maximale Umgebungstemperatur (°C):

60 °C

Gewicht:

0,05 kg

, 0,048 kg

Netto-Gewicht des Produktes:

0,05 kg

, 0,048 kg

Funk-Frequenzband:

2400 - 2483.5 MHz MHz

Funkreichweite:

30 m

SignalstÀrke:

3,98 mW

WLAN-Frequenzband:

2.4 GHz

WLAN-Protokolle:

MiBoxer 2.4 GHz

Gewicht der Verpackung (Pappe + Kunststoff):

0,01 g

Gewicht inkl. Verpackung Bruttogewicht:

0,06 kg

LĂ€nge der Verpackung:

20 cm

Farbtemperatur warmweiß:

94056020