MiBoxer Wandschalter Dimmer / Wanddimmer | 1-Kanal | Dimmen Schalten FUT087
Runder Wandschalter von MiBoxer zum Ein-/Ausschalten und Dimmen (FUT087)
Dieser Wandschalter reagiert auf Touch, um das Licht ein-/auszuschalten oder zu dimmen. Der MiBoxer Wandschalter wird mit zwei AAA Batterien betrieben und kann daher an beliebiger Stelle montiert werden.
Der Wandschalter hat einen Durchmesser von 80mm und eine Höhe von 17mm. Die Reichweite beträgt 30 Meter.
Zur Kommunikation wird die 2,4GHz drahtlose Funktechnologie verwendet.
Wenn Sie die OFF-Taste lange gedrückt halten, dann leuchtet die Taste im Nachtmodus, so daß Sie auch bei Dunkelheit den Schalter einfach finden werden.
Properties
Data according to manufacturer. Errors and changes reserved.
Datenblatt herunterladen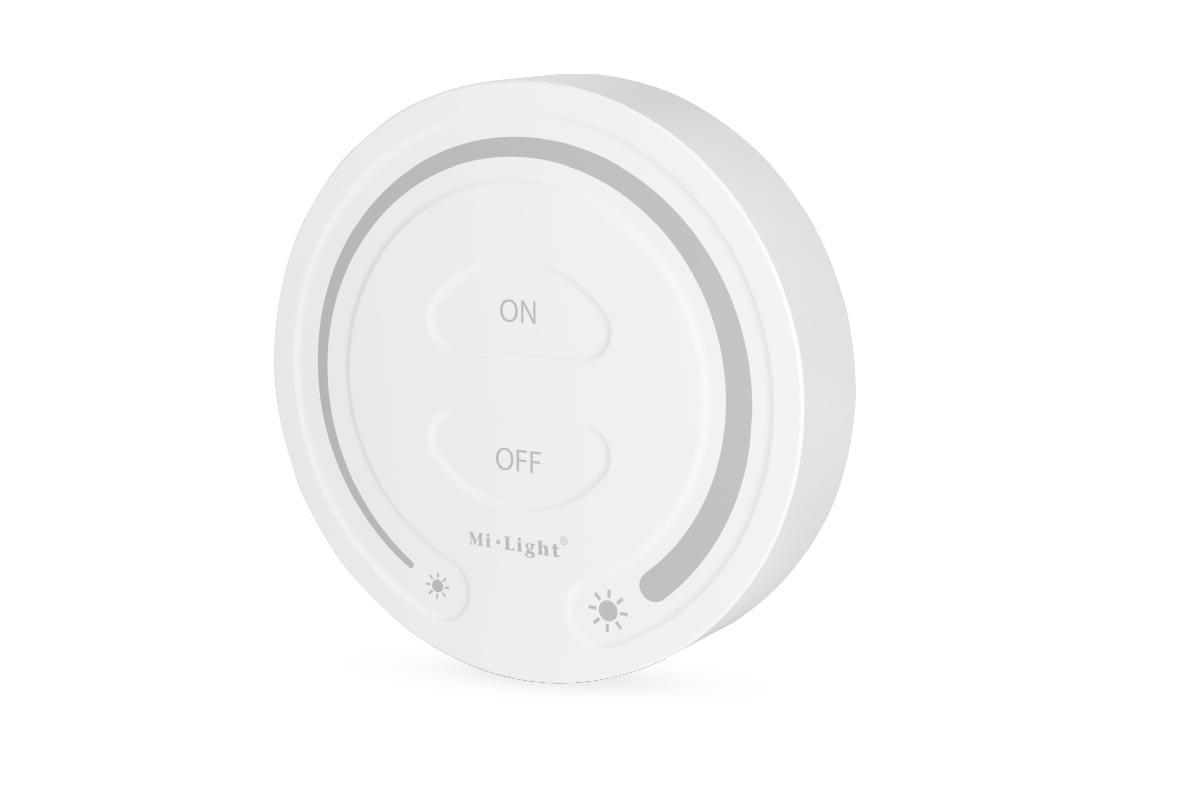 Properties "MiBoxer Wandschalter Dimmer / Wanddimmer | 1-Kanal | Dimmen Schalten FUT087"
Fachgerechte Entsorgung nach WEEE:

ja

Lagertemperatur:

-20 °C bis +60 °C

Hersteller:

MiBoxer

Energieverbrauchskennzeichnung:

Keine

Energieverbrauchskennzeichnung (Labelart):

Kein Label

Garantie:

2 Jahre

Prüfzeichen:

RoHS

, CE

Schutzklasse (nach EN 61140 und VDE 0140-1):

II

Herkunftsland:

China

Montageart:

Aufbau

, Wandmontage

Einbaubreite:

80 mm

Einbautiefe:

17 mm

Dimmbar:

Ja

Dimmbarkeit:

über Fernbedienung

Schutzart (IP):

IP20

Smart Home Systeme:

MiBoxer

Form:

rund

Rahmenfarbe:

weiß

Schwenkbar:

Nein

Akzentbeleuchtung:

ungeeignet

Einbau-LEDs:

Nein

Eingebaute LEDs:

Nein

Eingangsspannung (V):

3 V/DC

Treiberhersteller:

Futlight

Gehäusefarbe:

weiß

Produktbreite:

80 mm

Produkthöhe:

17 mm

Produktdurchmesser:

80 mm

Betriebstemperatur (°C):

-20 °C bis +50 °C

Gewicht:

0,05 kg

, 0,046 kg

Netto-Gewicht des Produktes:

0,046 kg

, 0,05 kg

Funk-Frequenzband:

2400 - 2483.5 MHz MHz

Funkreichweite:

30 m

Signalstärke:

3,98 mW

WLAN-Frequenzband:

2.4 GHz

WLAN-Protokolle:

MiBoxer 2.4 GHz

Gewicht der Verpackung (Pappe + Kunststoff):

0,01 g

Gewicht inkl. Verpackung Bruttogewicht:

0,06 kg

Farbtemperatur warmweiß:

94056020
Downloads "MiBoxer Wandschalter Dimmer / Wanddimmer | 1-Kanal | Dimmen Schalten FUT087"