Neon Fluro Warmweiß 24V LED Streifen 5M 11W/m 126LED/m 10mm IP65 3000K
Nachleuchtender 24V LED Streifen | Farbtemperatur 3000K
Neu im Sortiment - nachleuchtender LED Streifen 24V
Im Lieferumfang bereits enthalten: 25 Halter und 2 Endkappen.
Der 5 Meter lange LED Streifen hat eine Breite von 10 Millimetern und eine Höhe von 10 Millimetern. Der stromsparende LED Strip ist in einem Silikonschlauch eingefasst. Das warmweiße Licht wird nach oben abgegeben. Durch den Silikonschlauch erhält man einen homogenen Lichtstreifen. Einzelne Lichtpunkte sind nicht zu erkennen.
Der große Vorteil: Durch eine fluoreszierende Oberfläche strahlt der Silikonschlauch nach dem Ausschalten noch ca 6 Stunden nach! Vor allem bei einem Stromausfall mitten in der Nacht leuchten die LED-Streifen weiterhin und geben weiterhin Sicherheit und Orientierung. Schläft Ihr Kind lieber mit Licht ein? Dann montieren Sie doch diese LED-Streifen - durch das Nachleuchten fühlt sich Ihr Kind behaglich und wird mit einem guten Gefühl einschlafen. Steigerung Ihres Sicherheitsempfinden und Ihrer Orientierung - das sind die zwei großen Vorteile für diesen nachleuchtenden Lichtschlauch.
Der LED-Streifen ist durch die Schutzart IP65 sowohl für den Innenbereich als auch für den Außenbereich geeignet.
Im Innenbereich gibt es Räume, die man länger im Licht getaucht wissen möchte, z.B. Flur, Treppenhaus, Keller oder Dachboden. Auch in den Wohn- oder Schlafräumen wird dieser Lichteffekt gerne eingesetzt. Manchmal sucht man diese Räumlichkeiten gerne ein zweites Mal auf, da man etwas vergessen hat. Ohne Lichtschalter findet man problemlos sein Ziel. Auf Fußgänger oder Radfahrer wirkt die Wohnung als bewohnt. Sie möchten Ihrem Heimkino im Keller den letzten Schliff verpassen? Dann sind diese nachleuchtenden LED-Streifen der Renner. Auch Ladengeschäfte oder Büros werden mit diesem LED-Streifen aufgewertet.
Terrasse, Veranda, Balkon, Gartenhäuschen, etc - der Außenbereich soll etwas hergeben. Vor allem der Eingangsbereich soll immer einladend wirken. Bitte achten Sie darauf, dass die Anschlüsse immer trocken liegen.
Der Silikonschlauch bietet ungeahnte Anwendungsmöglichkeiten. Der Biegedurchmesser beträgt 100 mm. Der LED-Silikonschlauch folgt mühelos runden Linienführungen, z.B. einen Türbogen. Und es kommt noch besser: die individuelle Anpassbarkeit der Länge. Der 11W LED-Lichtschlauch lässt sich alle 55,50 Millimeter kürzen.
Einen rückseitigen Klebestreifen hat der Lichtschlauch nicht. Separat können 1 Meter lange Aluprofile (Art Nr 4024) dazu bestellt werden. Der Silikonschlauch wird dann einfach in diese Leiste geklemmt.Die Montage erfolgt ohne Abdeckung.
Properties
Data according to manufacturer. Errors and changes reserved.
Datenblatt herunterladen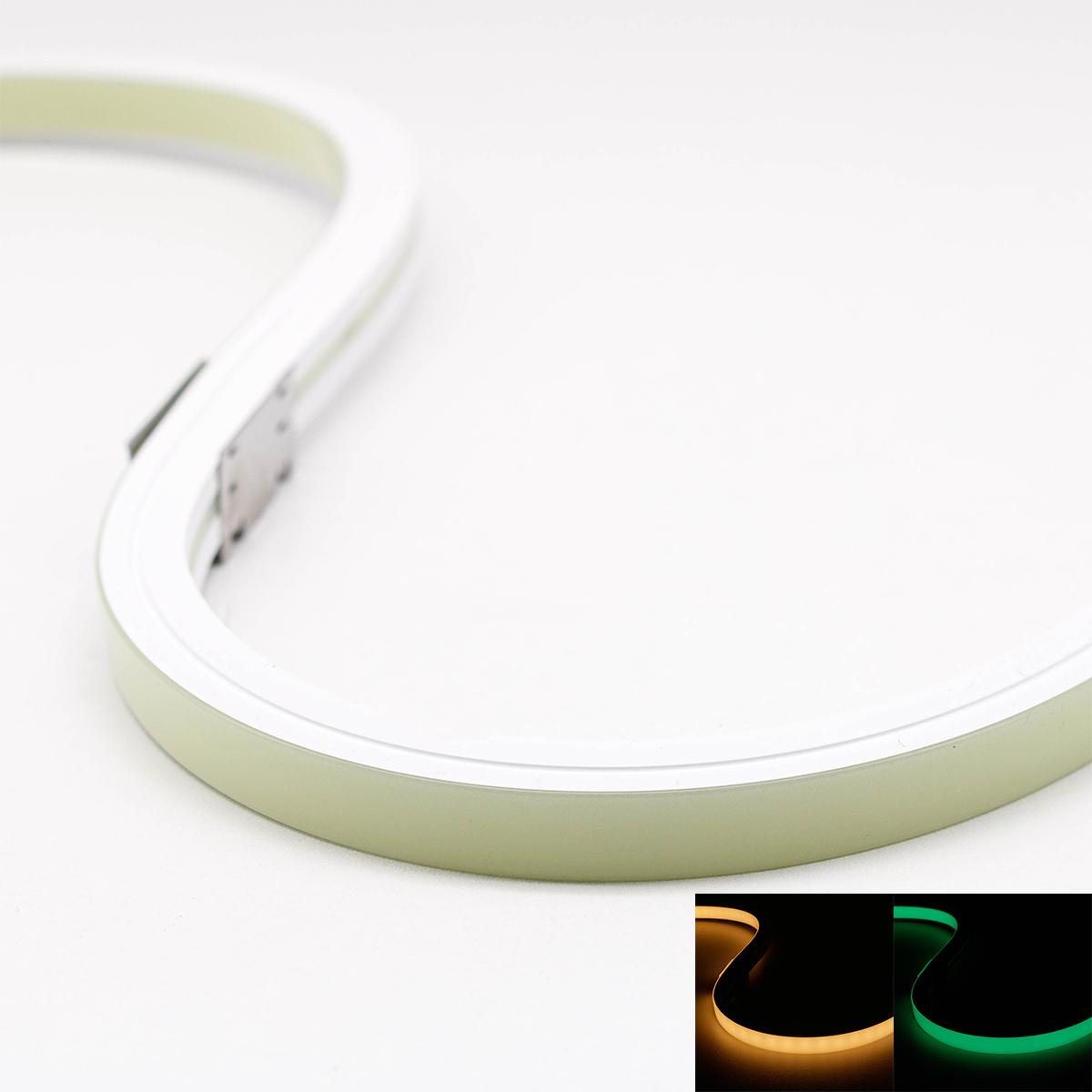 Properties "Neon Fluro Warmweiß 24V LED Streifen 5M 11W/m 126LED/m 10mm IP65 3000K"
| | |
| --- | --- |
| Fachgerechte Entsorgung nach WEEE: | ja |
| Lagertemperatur: | -20 °C bis +45 °C |
| Eingangsspannung: | 24 V/DC |
| Konstantspannung (CV): | 24 V/DC |
| Energieverbrauchskennzeichnung: | A |
| Energieverbrauchskennzeichnung (nach EU 2019/2015): | G |
| Energieverbrauchskennzeichnung (Labelart): | Leuchtmittel |
| EPREL-Eintragungsnummer: | 902352 |
| Garantie: | 2 Jahre |
| Schutzklasse (nach EN 61140 und VDE 0140-1): | III |
| Herkunftsland: | China |
| Einbaulänge: | 5000 mm |
| Einbaubreite: | 10 mm |
| Einbautiefe: | 10 mm |
| Dimmbar: | Ja |
| Dimmbarkeit: | PWM |
| Farbtemperatur: | 3000 K |
| Lichtfarbe: | warmweiß |
| Nennlebensdauer: | 50000 Std. |
| Schutzart (IP): | IP65 |
| Farbwiedergabe: | 80 Ra |
| Abstrahlwinkel: | 120 Grad |
| Länge des Produktes (z.B. Strips, Kabel etc): | 5 Meter |
| Eingangsspannung (V): | 24 V/DC |
| Energieverbrauch: | 55 W |
| Leistung: | 55 W |
| Lichtstrom: | 2750 Lumen |
| Nennlichtstrom: | 2615 Lumen |
| Nennstrom: | 459 mA |
| Zündzeit: | 0,5 s |
| Produktlänge: | 5 m |
| Produktbreite: | 10 mm |
| Produktlänge: | 5000 mm |
| Produkthöhe: | 10 mm |
| Betriebstemperatur (°C): | -10 °C bis +40 °C |
| Nominale maximale Gehäusetemperatur (°C): | 40 °C |
| LEDs pro Meter: | 126 |
| LEDs pro Segment: | 7 |
| LED-Abstand: | 7,8 mm |
| Segmentlänge (teilbar alle x): | 55 mm |
| Leistung pro Meter: | 11 W/m |
| Stromaufnahme pro Meter: | 459 mA/m |
| Lichtstrom pro Meter: | 550 lm/m |
| Nennlichtstrom pro Meter: | 523 lm/m |
| Stripart: | Neon |