Neon Mini Neutralweiß 24V LED Streifen 5M 12W/m 120LED/m 6mm IP66 4000K
LED NEON Strip Mini Pro 4000K 24V 12W/m 6x12mm
Der Neon Lichtschlauch hat eine Länge von 5 Metern und leuchtet mit neutralweißer Lichtfarbe. Aufgrund der Schutzart IP66 ist der Neon Flex Streifen sowohl für den Innen- als auch für den Außenbereich geeignet.
Eine Besonderheit dieses LED Neon Streifens ist die Breite von 6 Millimetern und die Biegsamkeit des Silikon-Lichtschlauchs. Werbetechniker, Möbel-, Laden- und Messebauer wissen diese Features ganz besonders zu schätzen, da dieser Lichtschlauch auf engen Raum, z.B. in Fugen, verlegt werden kann. Kurven sind für diesen Schlauch keine Herausforderung, was z.B. bei Leuchtreklame (Leuchtbuchstaben) ganz handlich sein kann.
Der Neonschlauch ist alle 8,3 mm kürzbar und somit auf das Wunschmaß anpassbar. Bitte kürzen Sie diesen LED Streifen nur an den angedeuteten Schnittmarkierungen, um die Funktionalität des Streifens zu bewahren.
Das Licht wird durch den Lichtschlauch abgegeben, plus es liegt eine LED-Dichte von 120 LED/m vor. Diese beiden Gründen sorgen dafür, dass einzelne Lichtpunkte nicht sichtbar sind bzw. das Licht einheitlich und flächig abgegeben wird.
Die neutralweiße Lichtfarbe (Farbtemperatur 4000K) wirkt eher sachlich und nüchtern.

Im Lieferumfang enthalten: 25x Halter, 1x Kleber, 2x Endkappen.
Hinweis: Schutzart IP66 - Nicht geeignet für den Einsatz in Swimmingpools oder Aquarien.
Properties
Data according to manufacturer. Errors and changes reserved.
Datenblatt herunterladen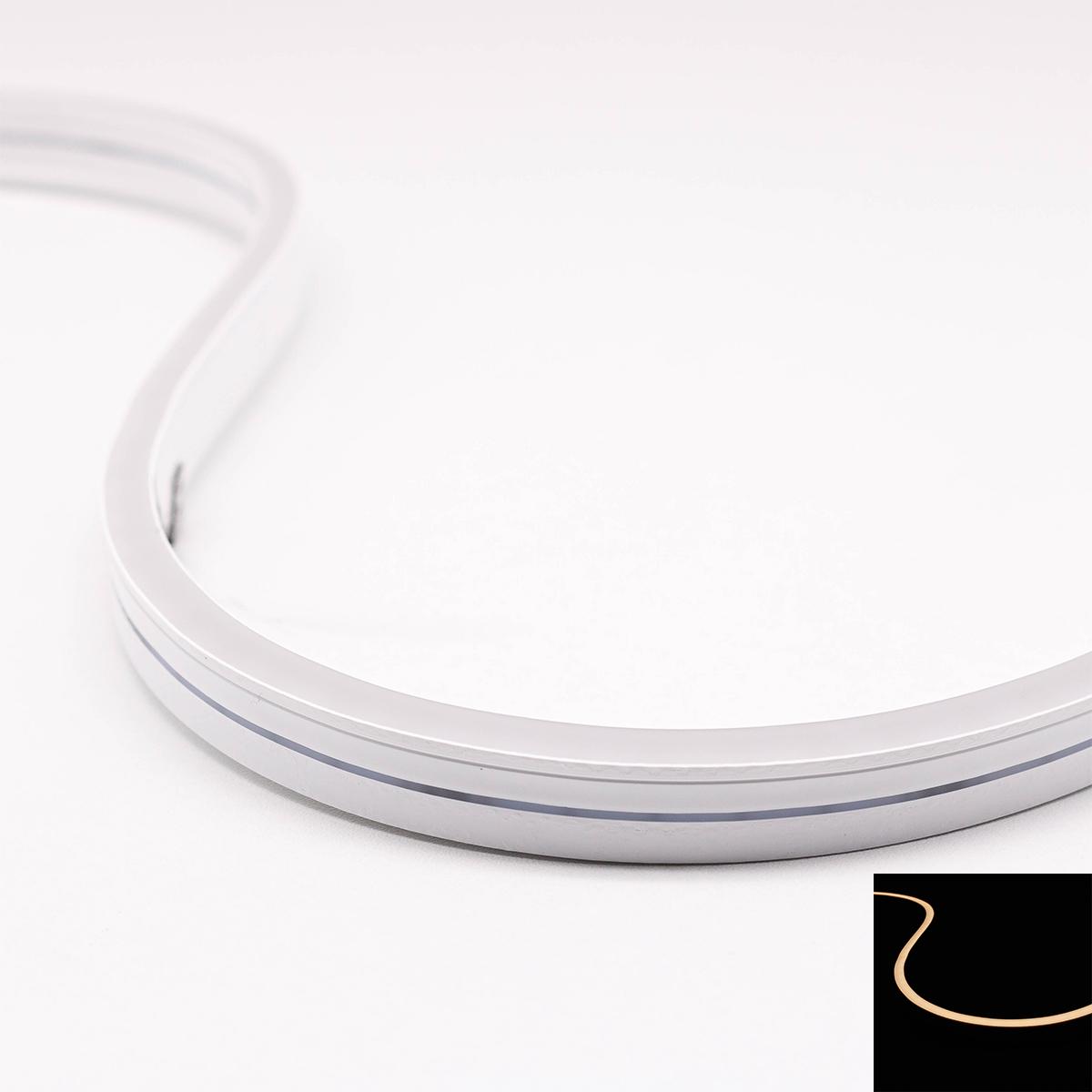 Properties "Neon Mini Neutralweiß 24V LED Streifen 5M 12W/m 120LED/m 6mm IP66 4000K"
| | |
| --- | --- |
| Fachgerechte Entsorgung nach WEEE: | ja |
| Lagertemperatur: | -20 °C bis +50 °C |
| Anschluss: | Kabel (offenes Ende) |
| Eingangsspannung: | 24 V/DC |
| Konstantspannung (CV): | 24 V/DC |
| Energieverbrauchskennzeichnung (nach EU 2019/2015): | G |
| Energieverbrauchskennzeichnung (Labelart): | Leuchte |
| EPREL-Eintragungsnummer: | 929795 |
| Garantie: | 2 Jahre |
| Schutzklasse (nach EN 61140 und VDE 0140-1): | III |
| Herkunftsland: | China |
| Dimmbar: | Ja |
| Dimmbarkeit: | PWM |
| Farbtemperatur: | 4000 K |
| Lichtfarbe: | neutralweiß |
| Nennlebensdauer: | 25000 Std. |
| Schutzart (IP): | IP66 |
| Farbwiedergabe: | 80 Ra |
| Abstrahlwinkel: | 120 Grad |
| Länge des Produktes (z.B. Strips, Kabel etc): | 5 Meter |
| LED-Chip-Typ: | SMD2535 |
| LED-Hersteller: | SANAN |
| Aufwärmzeit: | 1 s |
| Eingangsspannung (V): | 24 V/DC |
| Energieverbrauch: | 60 W |
| Leistung: | 60 W |
| Lichtstrom: | 2400 Lumen |
| Nennlichtstrom: | 2280 Lumen |
| Nennstrom: | 2500 mA |
| Zündzeit: | 0,5 s |
| Produktlänge: | 5 m |
| Produktbreite: | 6 mm |
| Produktlänge: | 5000 mm |
| Produkthöhe: | 12 mm |
| Betriebstemperatur (°C): | -20 °C bis +50 °C |
| Gewicht: | 0,11 kg |
| Netto-Gewicht des Produktes: | 0,5 kg |
| LEDs pro Meter: | 120 |
| LEDs pro Segment: | 1 |
| LED-Abstand: | 8,3 mm |
| Segmentlänge (teilbar alle x): | 8,3 mm |
| Leistung pro Meter: | 12 W/m |
| Stromaufnahme pro Meter: | 500 mA/m |
| Lichtstrom pro Meter: | 480 lm/m |
| Nennlichtstrom pro Meter: | 456 lm/m |
| Stripart: | Neon |
| Gewicht der Verpackung (Pappe + Kunststoff): | 0,38 g |
| Gewicht inkl. Verpackung Bruttogewicht: | 0,5 kg |
| Länge der Verpackung: | 30 cm |
| Farbtemperatur warmweiß: | 94056020 |