Neon Warmweiß 24V LED Streifen 5M 10W/m 84LED/m 7mm IP65 3000K
LED NEON Strip 24V - warmweiß IP65
Ein 5m langer, fester und gleichzeitig flexibler Silikonschlauch macht die LED Neon Strips schnell zum Verkaufs-Renner, denn sowohl für den Einsatz in Privaträumen als auch in Laden- oder Möbelbau oder in der Werbetechnik bieten sich tolle Gestaltungsmöglichkeiten.
Die im Schlauch verbauten 84 LED pro Meter strahlen ihr warmweißes Licht so einheitlich ab, dass eine homogene Lichtlinie wahrgenommen wird, deren Verlauf ganz nach Belieben gestaltet werden kann. Durch die Flexibilität des Materials sind die LED NEON Strips hervorragend geeignet für den Einsatz in Fugen, Ecken oder an Unterkanten.
10W/m
7x14mm
warmweiß 3000 Kelvin)
84 LEDs/m
SMD2835
120°Abstrahlwinkel
IP65 - Schutz gegen Strahlwasser und Staub
NICHT geeignet für den Gebrauch unter Wasser
Im Lieferumfang von jeder 5 Meter Rolle enthalten: 25 Halter, 1x Kleber, 2 Endkappen. Die Neon-Strips können ca. alle 8 cm gekürzt werden. Die entsprechenden Stellen sind als kupferfarbene Markierungen sichtbar.
Properties
Data according to manufacturer. Errors and changes reserved.
Datenblatt herunterladen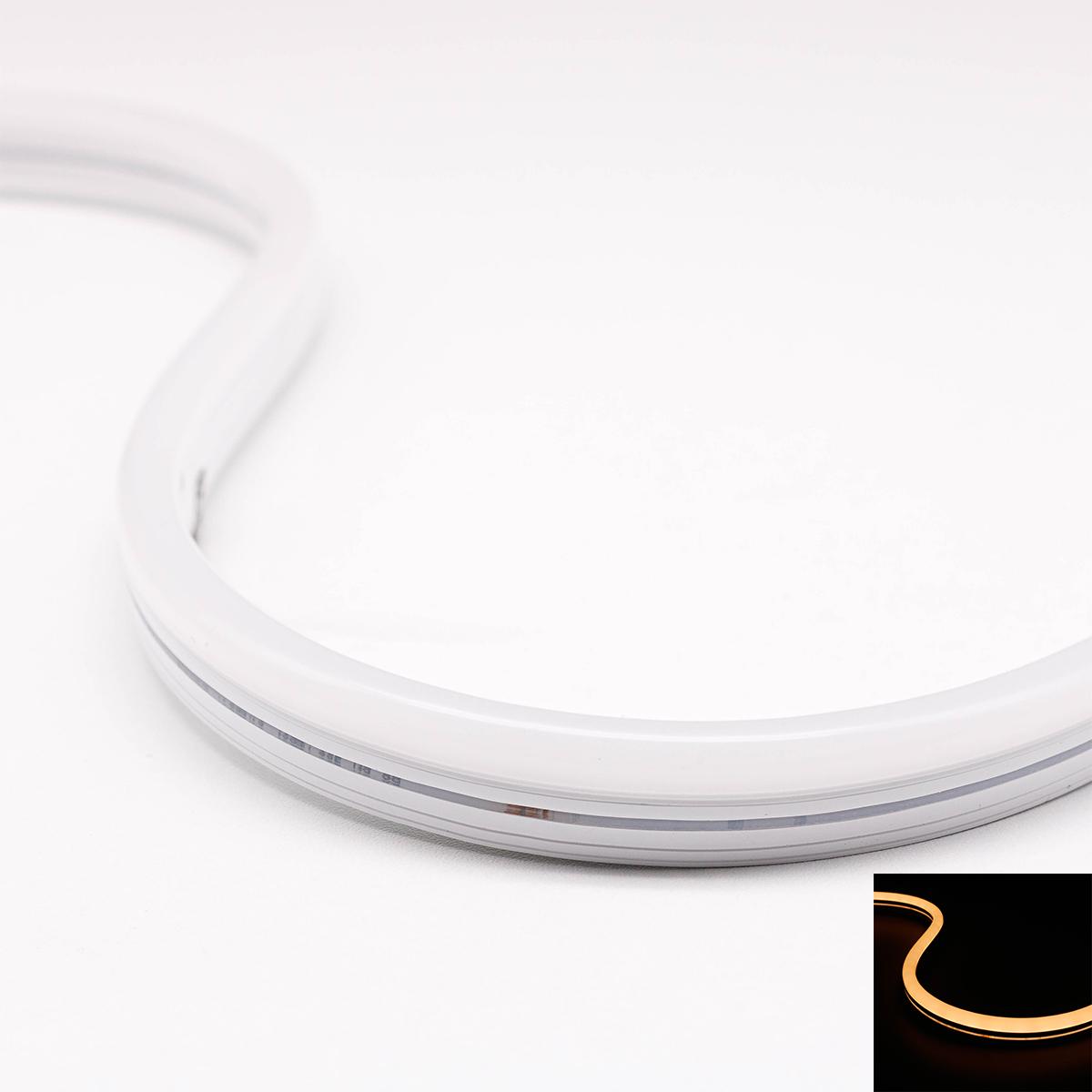 Properties "Neon Warmweiß 24V LED Streifen 5M 10W/m 84LED/m 7mm IP65 3000K"
Fachgerechte Entsorgung nach WEEE:

ja

Lagertemperatur:

-20 °C bis +50 °C

Eingangsspannung:

24 V/DC

Konstantspannung (CV):

24 V/DC

Energieverbrauchskennzeichnung:

B

Energieverbrauchskennzeichnung (nach EU 2019/2015):

G

Energieverbrauchskennzeichnung (Labelart):

Leuchte

EPREL-Eintragungsnummer:

897749

Garantie:

2 Jahre

Prüfzeichen:

RoHS

, CE

Herkunftsland:

China

Dimmbar:

Ja

Farbtemperatur:

3000 K

Lichtfarbe:

warmweiß

Nennlebensdauer:

25000 Std.

Schutzart (IP):

IP65

Farbwiedergabe:

80 Ra

Abstrahlwinkel:

120 Grad

Farbkonsistenz:

4 SDCM

Länge des Produktes (z.B. Strips, Kabel etc):

5 Meter

LED-Chip-Typ:

SMD2835

LED-Hersteller:

EPISTAR

Eingangsspannung (V):

24 V/DC

Energieverbrauch:

50 W

Leistung:

50 W

Lichtstrom:

2075 Lumen

Nennlichtstrom:

1975 Lumen

Produktlänge:

5 m

Produktbreite:

7 mm

Produktlänge:

5000 mm

Produkthöhe:

14 mm

Betriebstemperatur (°C):

-20 °C bis +50 °C

Gewicht:

0,11 kg

Netto-Gewicht des Produktes:

0,105 kg

LEDs pro Meter:

84

LEDs pro Segment:

6

LED-Abstand:

13,8 mm

Segmentlänge (teilbar alle x):

71,4 mm

Leistung pro Meter:

10 W/m

Stromaufnahme pro Meter:

417 mA/m

Lichtstrom pro Meter:

415 lm/m

Nennlichtstrom pro Meter:

395 lm/m

Stripart:

Neon

Gewicht inkl. Verpackung Bruttogewicht:

0,12 kg