RGB+CCT LED Panel Dreieck 30cm 9W 24V Rahmen schwarz
Panel in Dreiecksform mit schwarzen Rahmen, Seitenlänge 30 cm
Mit einem dreieckigen RGB CCT Panel statten Sie Ihre Räumlichkeiten mit einer flexiblen Wohnraumbeleuchtung aus. Unter Verwendung eines RGB+CCT Controllers stehen bis zu 16 Millionen Farbkombinationen zur Verfügung. Unterstreichen Sie die Farbstimmung in Räumen mit diesen extrem beliebten RGB CCT Panels.
Technische Details kurz zusammengefasst
Seitenlänge: 30 cm
Höhe: 11,5 mm
Schwarzer Aluminiumrahmen
Betriebsspannung 24V DC
Dimmbar (über RGB+CCT Controller)
Nennlebensdauer: ca. 35.000 Stunden
Montage des dreieckigen LED Panels
Für die Deckenaufhängung stehen Ihnen Montageclips, Seilaufhängung und Y-Seilaufhängung zur Verfügung. Bitte beachten Sie, dass die Y-Aufhängung in Zweier-Einheiten verkauft wird, Sie aber 3 Y-Aufhängungen brauchen.
Auch die Wandmontage ist denkbar.
Durch die Anordnung mehrerer Dreiecke lassen sich geometrische Figuren an Decken und Wänden kreieren.
Das Montagematerial, Netzteile, Controller und Fernbedienung sind nicht im Lieferumfang enthalten.
Wie werden die LED-Panels angesteuert?
Wir empfehlen Ihnen die Verwendung einer passenden Fernbedienung und eines passenden Controllers.
Es stehen Ihnen zwei Modellreihen zur Verfügung: Mi-Light/Mi-Boxer und die höherwertige Ausführung ATOS4. Beide Artikel müssen dazu bestellt werden.
Mit der Fernbedienung steuern Sie die Panels bis auf einen Abstand von ca. 30 Metern (im Freien mit Sichtkontakt).
Für die Ansteuerung der Panels mit Alexa oder Google Home brauchen Sie einen speziellen Controller, nämlich Art.Nr. 4525 (nur Mi-Boxer Artikeln kombinierbar).
Das passende Netzteil
Die RGB+CCT werden mit Konstantspannung (DC 24V) betrieben. Es können daher an einem Netzteil auch mehrere Panels über einen Controller (max. 10A= 240W) betrieben werden. Diese Netzteile müssen in der Leistung dann entsprechend dimensioniert werden. Beachten Sie bitte, dass die Netzteile mit ca. 80% bis 90% der angegebenen Maximallast belastet werden, um einen möglichst großen Wirkungsgrad zu erzielen.
Da die RGB+CCT dreieckigen LED-Panels mit Konstantspannung DC24V betrieben werden, sind diese mit sehr vielen am Markt befindlichen Steuersystemen, wie z.B. über KNX, DALI, ZigBee in Neuinstallationen oder aber auch in schon vorhandenen Systemen integrierbar.
Hierzu können entsprechende Aktoren (Controller) anderer Hersteller mit den dreieckigen LED-Panels zur Ansteuerung kombiniert werden.
Welches Netzteil ist geeignet für …
1 Panel (9W): 3801
2 Panels (18W): 2634; 3827
3 Panels (27W): 2635; 3828
4 - 6 Panels (36W bis 45W): 1999; 3829; 3818
7 - 10 Panels (63W bis 90W): 1995; 3830; 3820; 3824
RGB+CCT Controller 1 bis 10 Panels: 2093; 1979
Properties
Data according to manufacturer. Errors and changes reserved.
Datenblatt herunterladen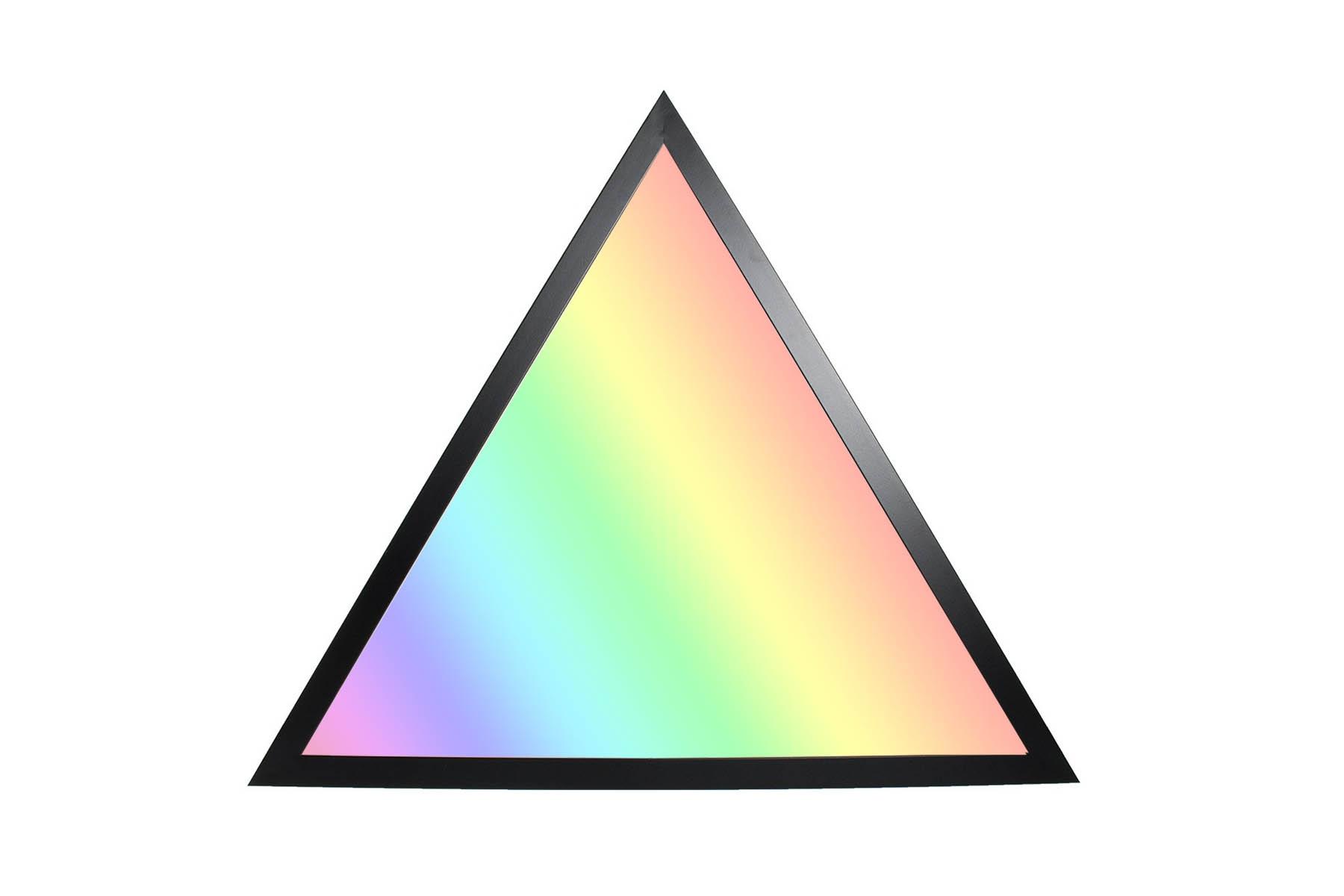 Properties "RGB+CCT LED Panel Dreieck 30cm 9W 24V Rahmen schwarz"
Lagertemperatur:

-20 °C bis +50 °C

Besonderheiten:

dimmbar

Eingangsspannung:

24 V/DC

Energieverbrauchskennzeichnung:

A

Energieverbrauchskennzeichnung (nach EU 2019/2015):

G

Energieverbrauchskennzeichnung (Labelart):

Leuchte

EPREL-Eintragungsnummer:

929768

Garantie:

5 Jahre

Schutzklasse (nach EN 61140 und VDE 0140-1):

III

Herkunftsland:

China

Dimmbar:

Ja

Farbtemperatur:

5500 K

, 6000 K

, 3500 K

, 4500 K

, 5000 K

, 4000 K

, 3000 K

, 6500 K

Lichtfarbe:

RGB+CCT

Nennlebensdauer:

35000 Std.

Schutzart (IP):

IP20

Farbwiedergabe:

80 Ra

Abstrahlwinkel:

120 Grad

Farbkonsistenz:

4 SDCM

Form:

dreieckig

Akzentbeleuchtung:

ungeeignet

LED-Hersteller:

EPISTAR

Eingangsspannung (V):

24 V/DC

Energieverbrauch:

9 W

, 8,5 W

Leistung:

9 W

Lichtstrom:

570 Lumen

Nennlichtstrom:

600 Lumen

Nennstrom:

370 mA

Netzteil:

extern

Schaltzyklen:

10000

Vergleichswert:

90 Watt

Zündzeit:

0,5 s

Abdeckung:

opal

Produktbreite:

300 mm

Produktlänge:

300 mm

Produkthöhe:

11 mm

Betriebstemperatur (°C):

-20 °C bis +50 °C

Gewicht:

1 kg

Netto-Gewicht des Produktes:

0,8 kg

Panelgröße:

30x30x30 cm

Gewicht der Verpackung (Pappe + Kunststoff):

0,2 g

Gewicht inkl. Verpackung Bruttogewicht:

1 kg

Länge der Verpackung:

32,26 cm

Farbtemperatur warmweiß:

94056020