RGB+CCT LED Panel Pro 120x30cm 48W 24V Rahmen weiß
RGB CCT LED Panel 120x30 48W - High Lumen
Das 120x30 cm High Lumen Panel hat einen weißen Aluminiumrahmen. Durch die schmale Länge ist dieses Panel sehr geschickt für längliche Räume, z.B. Korridore, Flure, Gänge. Wenn die Leuchte abgehängt wird, dann wäre auch der Einsatz über einem Esszimmertisch ein elegantes Feature. Das Panel ist dünn, wirkt minimalistisch und würde in einer modernen Wohnumgebung sicherlich das Tüpfelchen auf dem "i" bedeuten.
Viele Farbeinstellungen
Das RGB CCT Panel verfügt über ca. 16 Millionen Farbeinstellungen, die über einen Controller gemischt als auch gedimmt werden. Mit entsprechendem Zubehör wechseln Sie die Farbe per Knopfdruck. Lila, hellblau, dunkelgrün oder Pastelltöne - Ihrem Farbgeschmack sind keine Grenzen gesetzt.
Montagemöglichkeiten
Sowohl die Decken- als auch die Wandmontage ist möglich.
Zahlreiches Montagezubehör ist in unserem Onlineshop verfügbar.
Mit Z-Haltern wird das Panel direkt an die Wand oder Decke geschraubt bzw. gehängt. Controller und Netzteil müssen dann aber separat platziert werden, da diese nicht hinter das Panel passen.
Die Montageclips fixieren das Panel in einem Ausschnitt einer Gips- oder Holzdecke.
Einer Seilaufhängung wirkt schlicht und macht aus dem Panel eine Hängeleuchte.
Ein- und Aufbaurahmen sind auch verfügbar. Der Aufbaurahmen (nur die Click-Version ist geeignet) ist für die Deckenmontage geeignet.
Bei der Wandmontage wird das Panel nicht bündig in der Auflagefläche gedrückt. Alternativ kann man das Panel z.B. mit Schaumstoff Würfeln hinterlegen, damit dies im Aufbaurahmen nach vorn gedrückt wird. Dies stellt aber eine Kundenlösung dar.
Ein paar Daten
4000 Lumen
Rahmenfarbe: Weiß
Für Akzentbeleuchtung geeignet
Abstrahlwinkel 120°
Dimmbar (über RGB+CCT Controller)
Smart Home fähig mit dem MiBoxer Controller Art. Nr. 4525 / FUT039W
Der MiBoxer Controller FUT039W (separat zu bestellen) ist ein Multitalent und katapultiert Sie beinahe ohne Anstrengung in das Smart Home Zeitalter.
Sprachsteuerung mit Alexa oder Google Assistant? - Ja.
Ansteuerung mit dem Smartphone oder Tablet? - Ja.
Mit "Smart" sind weitere Einstellungsmöglichkeiten gegeben: Timer-Funktion, Schlaf-/Weckfunktion, Gruppierung von Leuchten und deren Ansteuerung, etc.
Und falls es doch eine MiBoxer-Fernbedienung sein soll - dann geht das auch mit diesem Alleskönner-Controller FUT039W von MiBoxer. Sie haben also volle Flexibilität!
Kleine Nebeninfo
Da unsere High Power Panels mit Konstantspannung (DC 24V) betrieben werden, sind diese mit anderen bereits verwendeten Lichtsteuersystemen integrierbar. Egal ob ein Smart Home, Casambi, KNX, DALI oder auch ZigBee 3.0 verwendet wird. Hierzu benötigen Sie nur einen passenden Controller Ihres Systems.
Properties
Data according to manufacturer. Errors and changes reserved.
Datenblatt herunterladen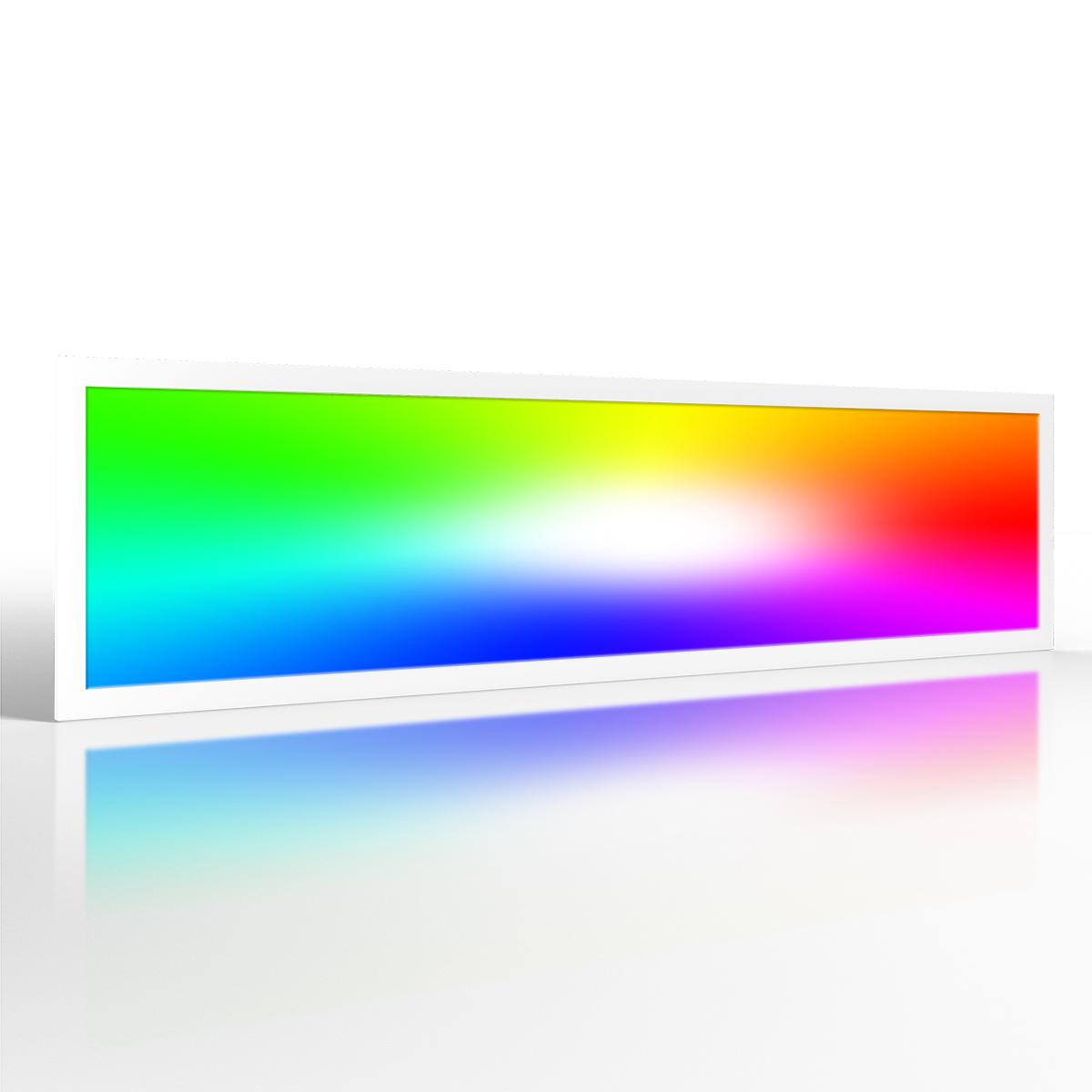 Properties "RGB+CCT LED Panel Pro 120x30cm 48W 24V Rahmen weiß"
Fachgerechte Entsorgung nach WEEE:

ja

Lagertemperatur:

-20 °C bis +50 °C

Besonderheiten:

dimmbar

Eingangsspannung:

24 V/DC

Energieverbrauchskennzeichnung:

A

Energieverbrauchskennzeichnung (nach EU 2019/2015):

G

Energieverbrauchskennzeichnung (Labelart):

Leuchte

EPREL-Eintragungsnummer:

901848

Garantie:

5 Jahre

Prüfzeichen:

RoHS

, CE

Schutzklasse (nach EN 61140 und VDE 0140-1):

III

Herkunftsland:

China

Einbautiefe:

115 mm

Dimmbar:

Ja

Farbtemperatur:

4100 K

, 5500 K

, 6000 K

, 2900 K

, 3500 K

, 4500 K

, 5000 K

, 5400 K

, 2700 K

, 4000 K

, 3000 K

, 6500 K

Lichtfarbe:

RGB+CCT

Nennlebensdauer:

35000 Std.

Schutzart (IP):

IP20

Farbwiedergabe:

80 Ra

Abstrahlwinkel:

120 Grad

Farbkonsistenz:

4 SDCM

Form:

rechteckig

Rahmenfarbe:

weiß

Akzentbeleuchtung:

geeignet

LED-Hersteller:

EPISTAR

Aufwärmzeit:

1 s

Eingangsspannung (V):

24 V/DC

Energieverbrauch:

48 W

, 60 W

Leistung:

48 W

Lichtstrom:

4000 Lumen

Nennlichtstrom:

4100 Lumen

Nennstrom:

2000 mA

Netzteil:

extern

Schaltzyklen:

10000

Vergleichswert:

620 Watt

Zündzeit:

0,5 s

Produktlänge:

100 mm

Betriebstemperatur (°C):

-20 °C bis +50 °C

Gewicht:

1 kg

Netto-Gewicht des Produktes:

3,6 kg

Panelgröße:

120x30 cm

Gewicht der Verpackung (Pappe + Kunststoff):

2,6 g

Gewicht inkl. Verpackung Bruttogewicht:

4 kg

Länge der Verpackung:

20 cm

Farbtemperatur warmweiß:

94056020