RGBW LED Verstärker Amplifier 5-24V 4CH
Verstärker Amplifier für RGBW LED Strips 12-24V
Beim Verlegen von LED Strips mit 12-24V wird ab einer Länge von etwa 5-10m ein Verstärker notwendig, da das Ausgangssignal über eine größere Distanz nicht ausreicht, um die volle Lichtstärke bis zum Ende der Strips zu halten (weißes Licht sieht schwächer aus, farbiges Licht "blasser").
Je nachdem, wie weit Ihr LED Strip verlegt werden soll, benötigen Sie also einen oder mehrere Verstärker und können dann die gesamte Läge des Strips mit nur einem Controller steuern.
Beim Verwenden von Strips, die 30 LED/Meter brauchen Sie den ersten Verstärker ab ca. 10 Meter. Wenn Sie LED Strips mit 60LED/Meter verlegen, empfehlen wir einen Verstärker schon nach ungefähr 5 Metern.
Auf diese Weise können Sie dann die gesamte Länge des Strips mit nur einem Controller ansteuern.
Die Anschlüsse für das Netzteil auf der einen Seite und für die Strips auf der anderen erfolgt über die integrierten Schraubklemmen.
Properties
Data according to manufacturer. Errors and changes reserved.
Datenblatt herunterladen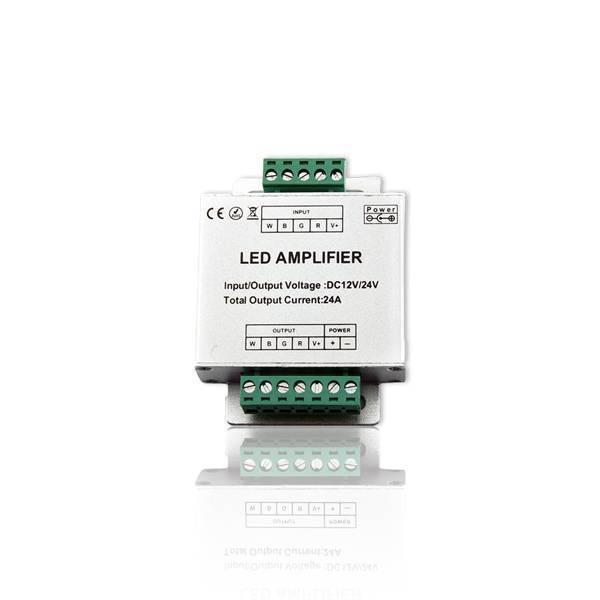 Properties "RGBW LED Verstärker Amplifier 5-24V 4CH"
Fachgerechte Entsorgung nach WEEE:

ja

Hersteller:

MiBoxer

Anschluss:

Schraubklemmen

Eingangsspannung:

5 V/DC

, 24 V/DC

, 12 V/DC

Energieverbrauchskennzeichnung:

Keine

Energieverbrauchskennzeichnung (Labelart):

Kein Label

Garantie:

2 Jahre

Prüfzeichen:

RoHS

, CE

Schutzklasse (nach EN 61140 und VDE 0140-1):

III

Herkunftsland:

China

Dimmbarkeit:

PWM

Schutzart (IP):

IP20

Smart Home Systeme:

MiBoxer

Eingebaute LEDs:

Nein

Eingangsspannung (V):

24 V/DC

, 5 V/DC

, 12 V/DC

Energieverbrauch:

576 W

Netzteil:

extern

Produktbreite:

81 mm

Produktlänge:

64 mm

Produkthöhe:

24 mm

Betriebstemperatur (°C):

-20 °C bis +40 °C

Gewicht:

0,09 kg

Netto-Gewicht des Produktes:

0,087 kg

, 0,09 kg

Gewicht der Verpackung (Pappe):

0,02 g

Gewicht der Verpackung (Pappe + Kunststoff):

0,02 g

Gewicht inkl. Verpackung Bruttogewicht:

0,105 kg

Höhe der Verpackung:

3,5 cm

Länge der Verpackung:

11,7 cm

Gesamtschaltleistung 24V:

576 W

Kanalschaltstrom:

6000 mA

Kanalanzahl:

4

Breite der Verpackung:

7 cm