Strip Kaltweiß 12V LED Streifen 5M 9,6W/m 120LED/m 8mm IP20 6000K
LED Lichtband mit überzeugender Lichtausbeute.
120 leistungsstarke LED´s mit einer kleinen Bauform sind auf einem Meter verteilt. Der Strip kann mit einer Schere an den markierten Stellen durchtrennt werden und auf die gewünschte Länge gekürzt werden.
Sie sind auf der Suche nach einer perfekten und pointiert akzentuierten Innenbeleuchtung?
Vielleicht möchten Sie Praxis- oder Küchenräume indirekt beleuchten? Mit unserem LED Strip mit kaltweißem Licht wird es bei Ihnen angenehm hell, genau dort im Raum, wo Sie es benötigen. Auf 5 Metern Länge bietet der Strip dann tolles Licht genau da, wo Sie es haben möchten.
Wie wird der LED Strip montiert?
Eine Anbringung des Strips ist dank des selbstklebenden Tapes auf der Rückseite (Marke 3M) sehr einfach möglich. Gerne empfehlen wir die Verwendung von LED Strips in einer passenden Aluleiste, denn dadurch wird die Optik der Installation professionell aufgewertet. Durch die Schutzart IP20 ist der LED Strip nur für die Verwendung in trockenen Innenräumen vorgesehen. Dank eines bereits vorgeklebten Tapes der Marke 3M auf der Rückseite kann der Strip mühelos angebracht werden. Bitte beachten Sie, dass die entsprechenden Oberflächen staub- und fettfrei sind.
Wenn Sie sich bei der Installation des LED Strips für eine passende Aluleiste entscheiden, kann diese den LED Strip vor eindringendem Schmutz und Staub schützen. Weiterhin bietet die Leiste Schutz gegen unbeabsichtigte Stöße und sorgt zudem für eine gute Kühlung des LED Strips, was der Lebensdauer der LEDs besonders zuträglich ist.
Welches Licht kann man erwarten?
740 lm und 120 LED pro Meter bedeuten sehr helles und einheitliches, kaltweißes Licht. Der breite Abstrahlwinkel von 120° sorgt für eine gleichmäßige Verteilung des Lichts an der richtigen Stelle innerhalb des Raumes. Die opale Abdeckung einer passenden Aluleiste sorgt dann zusätzlich für nahezu blendfreies Licht.
Positive Auswirkungen auf den Energieverbrauch
In unseren LED Strips werden äußerst energieeffiziente SMD3528 Chips verbaut. Diese verbrauchen wenig Energie und besitzen dennoch eine sehr hohe und gleichmäßige Leuchtkraft. Zudem kann unser LED Strip einfach mit einem 12V Trafo an einen normalen 230V Stromanschluss angeschlossen werden. Bei fachgerechter Montage und Pflege haben Sie mehr als 25.000 Betriebsstunden Freunde an dem LED Strip.
Die wichtigsten Eckdaten noch einmal im Überblick
Anschluss mittels 12V Trafo an den 230V Stromanschluss
5 Meter Länge, 8mm Breite
kaltweißes Licht mit 740 lm pro Meter
Abstrahlwinkel 120°
9,6 W/m
120 LED pro Meter für einheitliche Lichtwahrnehmung
SMD3528 Chip für sparsamen Energieverbrauch
Schutzart IP20 für den Einsatz in Innenbereichen
Einsatzdauer über 25.000 Stunden
Fazit
Wer auf der Suche nach einer gut akzentuierten und hellen Innenbeleuchtung ist, findet in unserem LED Strip eine effiziente Lösung. Das kaltweiße Licht bietet vor allem für Räume mit einem hohen Lichtbedarf eine gute Lösung für eine indirekte Beleuchtung.
Properties
Data according to manufacturer. Errors and changes reserved.
Datenblatt herunterladen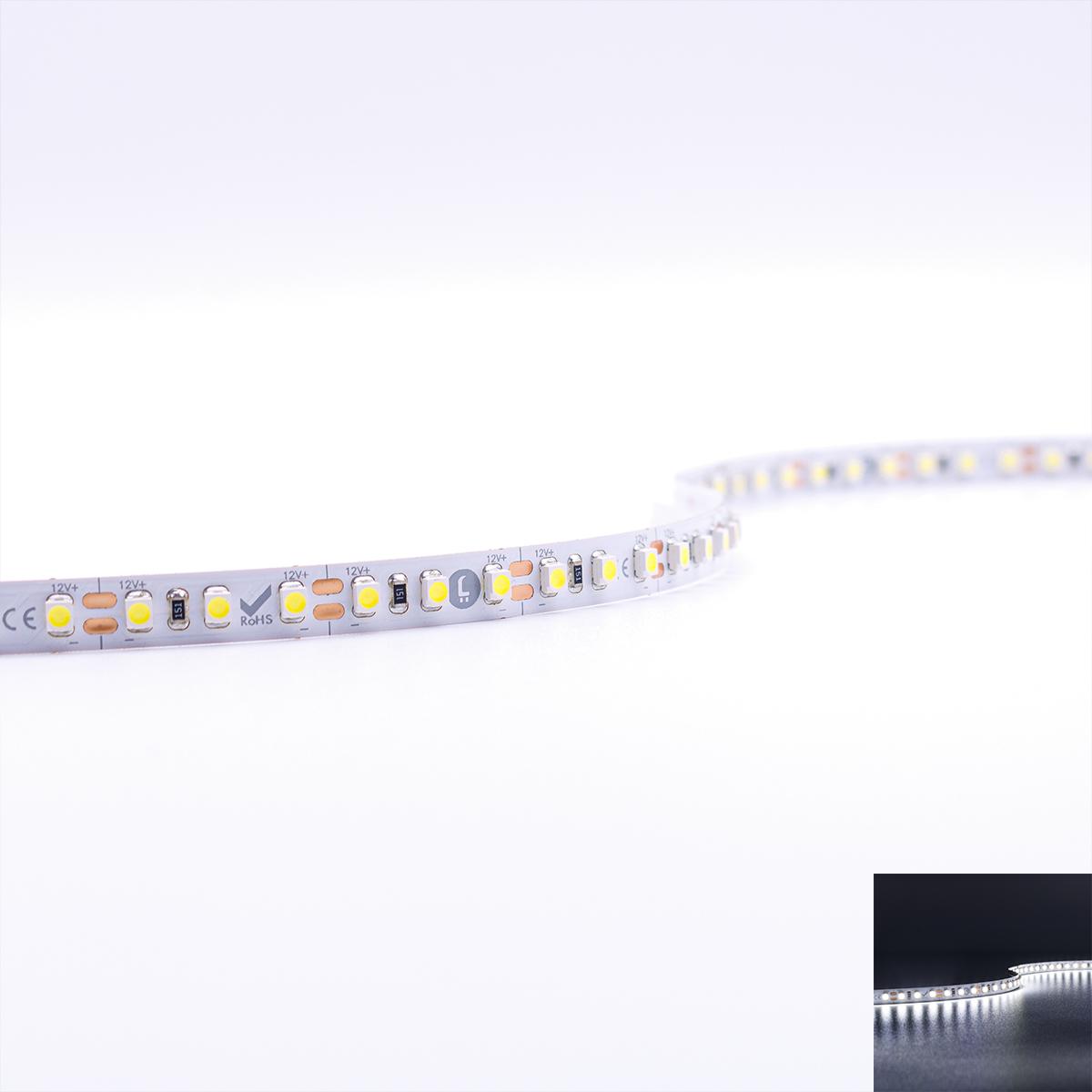 Properties "Strip Kaltweiß 12V LED Streifen 5M 9,6W/m 120LED/m 8mm IP20 6000K"
Fachgerechte Entsorgung nach WEEE:

ja

Lagertemperatur:

-20 °C bis +50 °C

Eingangsspannung:

12 V/DC

Konstantspannung (CV):

12 V/DC

Energieverbrauchskennzeichnung:

A

Energieverbrauchskennzeichnung (nach EU 2019/2015):

F

Energieverbrauchskennzeichnung (Labelart):

Leuchte

EPREL-Eintragungsnummer:

897077

Garantie:

2 Jahre

Prüfzeichen:

RoHS

, CE

Schutzklasse (nach EN 61140 und VDE 0140-1):

III

Herkunftsland:

China

Dimmbar:

Ja

Farbtemperatur:

6000 K

Lichtfarbe:

kaltweiß

Nennlebensdauer:

25000 Std.

Schutzart (IP):

IP20

Farbwiedergabe:

80 Ra

Abstrahlwinkel:

120 Grad

Farbkonsistenz:

4 SDCM

Länge des Produktes (z.B. Strips, Kabel etc):

5 Meter

LED-Chip-Typ:

SMD3528

LED-Hersteller:

EPISTAR

Eingangsspannung (V):

12 V/DC

Energieverbrauch:

48 W

Leistung:

48 W

Lichtstrom:

4890 Lumen

Nennlichtstrom:

4890 Lumen

Produktlänge:

5 m

Produktbreite:

8 mm

Produktlänge:

5000 mm

Betriebstemperatur (°C):

-20 °C bis +50 °C

Gewicht:

0,1 kg

Netto-Gewicht des Produktes:

0,095 kg

LEDs pro Meter:

120

LEDs pro Segment:

3

LED-Abstand:

8,3 mm

Segmentlänge (teilbar alle x):

25 mm

Leistung pro Meter:

9,6 W/m

Stromaufnahme pro Meter:

800 mA/m

Lichtstrom pro Meter:

978 lm/m

Nennlichtstrom pro Meter:

978 lm/m

Stripart:

Classic

Gewicht der Verpackung (Pappe + Kunststoff):

0,02 g

Gewicht inkl. Verpackung Bruttogewicht:

0,11 kg
Downloads "Strip Kaltweiß 12V LED Streifen 5M 9,6W/m 120LED/m 8mm IP20 6000K"