Strip Kaltweiß 24V 5M 14,4W/m 60LED/m IP65 6000K
Strip Kaltweiß 24V 5M 14,4W/m 60LED/m IP65 6000K
Der 5 Meter lange LED-Streifen kann alle 100mm gekürzt werden und somit auf das gewünschte Maß angepasst werden. Nehmen Sie bitte die Kürzung nur an den Schnittmarkierungen vor, um die Funktionalität des Strips zu wahren. Der LED Streifen hat eine Breite von 10 mm. Rückseitig befindet sich auf dem Strip ein Klebestreifen zum Befestigen auf glatte und saubere Oberflächen. Auf dem LED-Strip befinden sich 60 LEDs pro Meter.
Aufgrund der Schutzart IP65 ist dieser LED Streifen für die Installation im Außenbereich oder in Feuchträumen des Innenbereichs geeignet. Die kaltweiße Farbe bietet sich vor allem bei modernen Wohnungen/Häusern oder minimalistischer Architektur an, da Kaltweiß sehr clean und steril wirkt und so den puristischen Effekt eines modernen Hauses noch verstärken kann. Feuchträume sind z.B. Badezimmer, die mit kaltweißen LED Streifen noch mehr herausgestellt werden können bei moderner oder futuristischer Ausstattung. LED Streifen mit der Klassifizierung IP65 sind für den Unterwasser-Gebrauch NICHT geeignet.
Lebensdauer: ca. 25000 Stunden
Schutzart: IP65
Farbwiedergabe: ca. >80 Ra
Lichtstrom pro Meter: bis zu 1175 Lumen pro Meter
Stromaufnahme pro Meter: maximal 600 mA pro Meter
6 LEDs pro Segment
Tipp: Wir empfehlen die Verbauung von 24 V/DC LED Streifen in Alu-Profile (separat zu bestellen). Der LED Strip wird durch das Alu-Profil vor mechanischen Beschädigungen geschützt und die Montage sieht sauber abgearbeitet aus.
Properties
Data according to manufacturer. Errors and changes reserved.
Datenblatt herunterladen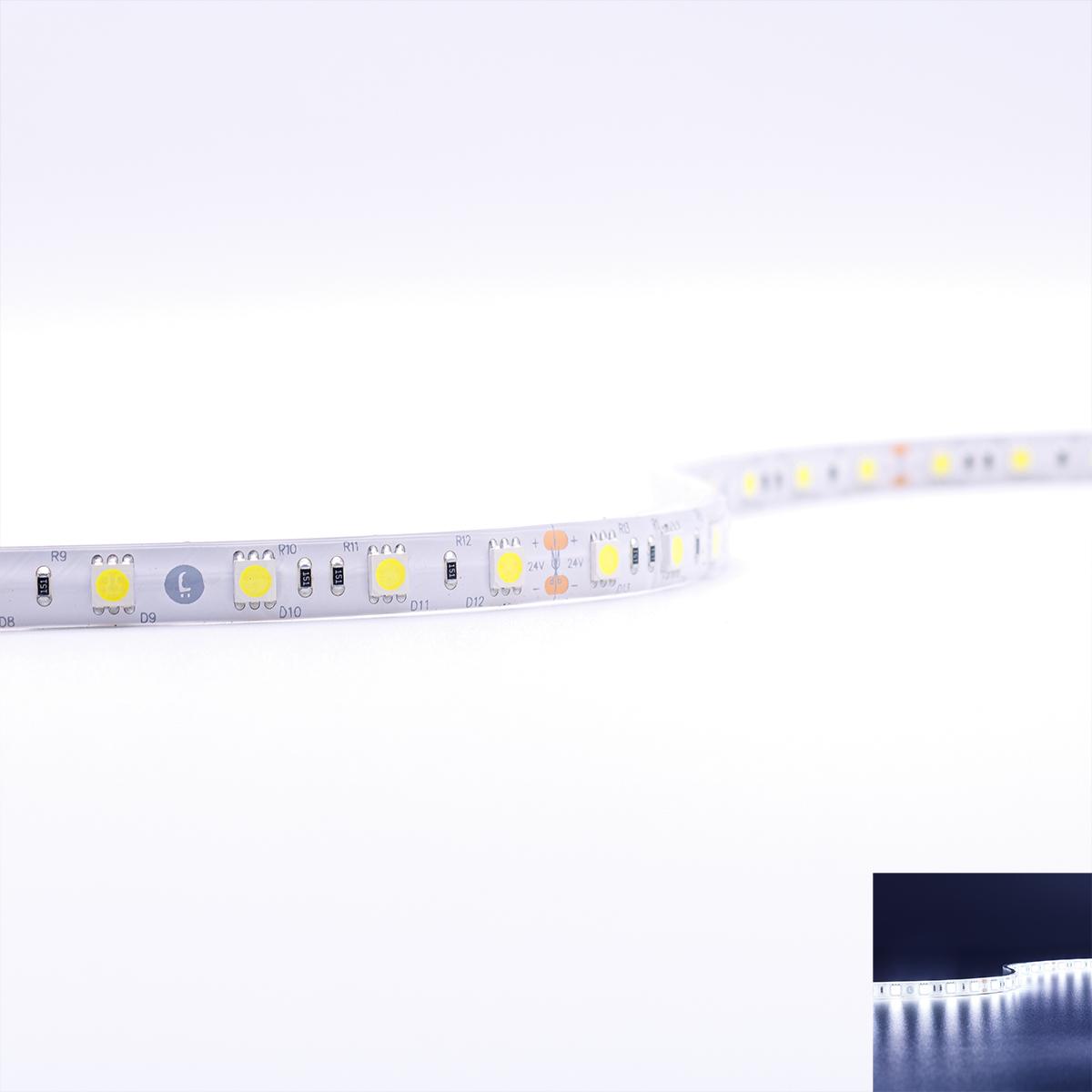 Properties "Strip Kaltweiß 24V 5M 14,4W/m 60LED/m IP65 6000K"
Fachgerechte Entsorgung nach WEEE:

ja

Lagertemperatur:

-20 °C bis +50 °C

Eingangsspannung:

24 V/DC

Konstantspannung (CV):

24 V/DC

Energieverbrauchskennzeichnung:

A+

Energieverbrauchskennzeichnung (nach EU 2019/2015):

G

Energieverbrauchskennzeichnung (Labelart):

Leuchte

EPREL-Eintragungsnummer:

901869

Garantie:

2 Jahre

Prüfzeichen:

RoHS

, CE

Schutzklasse (nach EN 61140 und VDE 0140-1):

III

Herkunftsland:

China

Dimmbar:

Ja

Dimmbarkeit:

PWM

Farbtemperatur:

6000 K

Lichtfarbe:

kaltweiß

Nennlebensdauer:

25000 Std.

Schutzart (IP):

IP65

Farbwiedergabe:

80 Ra

Abstrahlwinkel:

120 Grad

Farbkonsistenz:

4 SDCM

Länge des Produktes (z.B. Strips, Kabel etc):

5 Meter

Akzentbeleuchtung:

geeignet

LED-Chip-Typ:

SMD5050

LED-Hersteller:

SANAN

LED Anzahl:

300

Aufwärmzeit:

0,5 s

Eingangsspannung (V):

24 V/DC

Energieverbrauch:

72 W

Leistung:

72 W

Lichtstrom:

6625 Lumen

Nennlichtstrom:

5875 Lumen

Nennstrom:

3000 mA

Produktlänge:

5 m

Produktbreite:

10 mm

Produktlänge:

5000 mm

Produkthöhe:

1,8 mm

Betriebstemperatur (°C):

-20 °C bis +50 °C

Gewicht:

0,11 kg

Netto-Gewicht des Produktes:

0,108 kg

LEDs pro Meter:

60

LEDs pro Segment:

6

LED-Abstand:

16,7 mm

Segmentlänge (teilbar alle x):

100 mm

Leistung pro Meter:

14,4 W/m

Stromaufnahme pro Meter:

600 mA/m

Lichtstrom pro Meter:

1325 lm/m

Nennlichtstrom pro Meter:

1175 lm/m

Gewicht der Verpackung (Pappe + Kunststoff):

0,11 g

Gewicht inkl. Verpackung Bruttogewicht:

0,218 kg

Höhe der Verpackung:

14 cm

Länge der Verpackung:

23,8 cm

Farbtemperatur warmweiß:

94056020

Breite der Verpackung:

21,5 cm