Strip RGBW 24V LED Streifen 5M 15W/m 60LED/m 12mm IP20 Farbwechsel RGB+3000K
LED RGBW Strip SMD5050 - farbiges u. warmweißes Licht
LED Strips werden immer beliebter für die Verschönerung von privaten und auch gewerblichen Räumen, da hier viele Möglichkeiten gegeben sind, ganz gezielt Akzente zu setzen. Doch bei dem großen Angebot an LED Streifen stellt sich schnell die Frage, welchen man überhaupt kaufen soll. Insbesondere die technischen Daten in den Artikelbezeichnungen der LED Streifen lassen für den Laien Fragen aufkommen.
LED Strip: Große Qualität und Vielfarbigkeit
Der Artikelnamen der LED Lichtkette beginnt mit der Bezeichnung RGBW Strip. Hier ist das Wichtigste und der große Vorzug des abgebildeten LED Streifen genannt: Er ist in der Lage, in Rot, Grün, Blau und Weiß zu leuchten und entsprechende Mischfarben wiederzugeben, möglich gemacht durch den Chip SMD5050. Die Farbtemperatur des weißen Lichts ist in diesem Modell Warmweiß, welches immer für eine behagliche und gemütliche Atmosphäre sorgt.
Für gleiche Leistung nur halb so viel Strom (verglichen mit 12 Volt LED Strips)
Mit der Spannung von 24 Volt ist bei diesem LED Strip gegenüber den 12 Volt LED Streifen der klare Vorteil verbunden, dass für die gleiche Leistung nur halb so viel Strom benötigt wird und gerade bei längeren Strecken (mehr als 5m) bzw. bei einem höheren Anspruch an die Installation hier die Leitungsverluste geringer ausfallen. Auch sind insgesamt weniger Einspeisungen notwendig. Der LED Strip hat eine Lebensdauer von mindestens 25.000 Stunden. Zu beachten ist die Schutzart IP20, die darauf verweist, dass dieser LED Strip nur in trockenen Innenräumen verwendet werden darf.
LED Streifen leicht montieren und genießen
Der Weg von der Bestellung der LED Lichtkette bis zur Anbringung zuhause ist denkbar einfach. Auf der Rückseite des Strips befindet sich Klebeband, welches für die Anbringung auf sauberen Oberflächen perfekte Dienste leistet. Empfohlen ist jedoch die Anbringung in einer Aluminiumleiste, da diese die LED Lichtkette zusätzlich schützt und die Installation wesentlich professioneller aussieht. Möchten Sie die LED Streifen verlängern oder kürzen, haben Sie dazu ganz einfache Möglichkeiten. Und zwar können Sie an den entsprechend markierten Stellen einfach mit einer Schere die LED Streifen durchschneiden und auf diese Weise kürzen. Soll der LED Streifen länger werden, können Sie diesen mit Hilfe unserer Schnellverbinder oder durch Verlöten verlängern.
Details zum LED Strip
Spannung: 24 Volt
Verbrauch: 15 Watt pro Meter
794 Lumen pro Meter
120° Abstrahlwinkel
60 LED/m
Lichtfarben: Rot, Grün, Blau und Warmweiß (3000K)
Breite: 12 mm
Properties
Data according to manufacturer. Errors and changes reserved.
Datenblatt herunterladen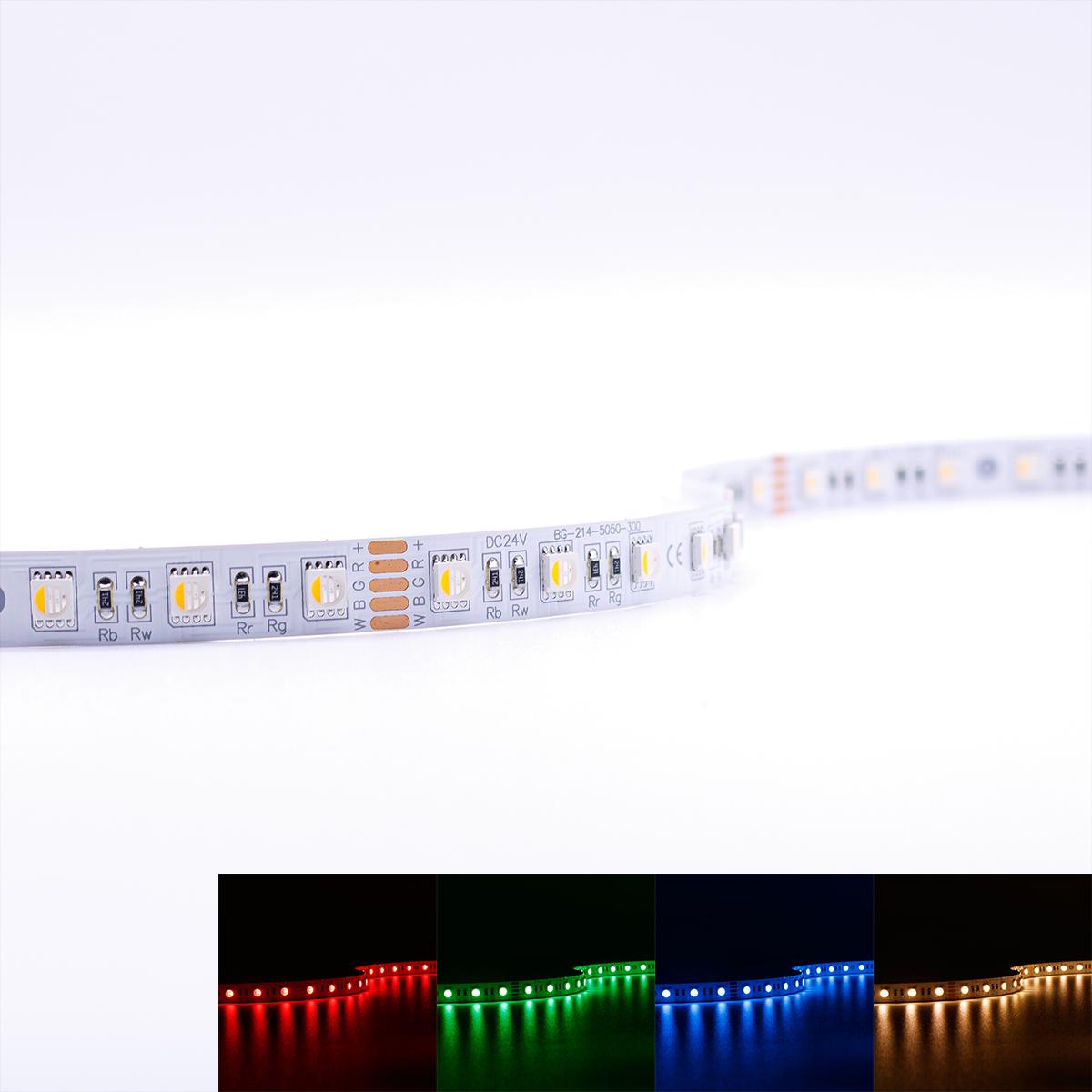 Properties "Strip RGBW 24V LED Streifen 5M 15W/m 60LED/m 12mm IP20 Farbwechsel RGB+3000K"
Fachgerechte Entsorgung nach WEEE:

ja

Lagertemperatur:

-20 °C bis +50 °C

Eingangsspannung:

24 V/DC

Konstantspannung (CV):

24 V/DC

Energieverbrauchskennzeichnung:

B

Energieverbrauchskennzeichnung (nach EU 2019/2015):

G

Energieverbrauchskennzeichnung (Labelart):

Leuchte

EPREL-Eintragungsnummer:

897692

Garantie:

2 Jahre

Prüfzeichen:

RoHS

, CE

Herkunftsland:

China

Dimmbar:

Ja

Farbtemperatur:

3000 K

Lichtfarbe:

RGBW

Nennlebensdauer:

25000 Std.

Schutzart (IP):

IP20

Farbwiedergabe:

80 Ra

Abstrahlwinkel:

120 Grad

Farbkonsistenz:

4 SDCM

Länge des Produktes (z.B. Strips, Kabel etc):

5 Meter

LED-Chip-Typ:

SMD5050

LED-Hersteller:

SANAN

Eingangsspannung (V):

24 V/DC

Energieverbrauch:

75 W

Leistung:

75 W

Lichtstrom:

4125 Lumen

Nennlichtstrom:

4125 Lumen

Produktlänge:

5 m

Produktbreite:

12 mm

Produktlänge:

5000 mm

Betriebstemperatur (°C):

-20 °C bis +50 °C

Gewicht:

0,14 kg

Netto-Gewicht des Produktes:

0,142 kg

LEDs pro Meter:

60

LEDs pro Segment:

6

LED-Abstand:

16,7 mm

Segmentlänge (teilbar alle x):

100 mm

Leistung pro Meter:

15 W/m

Stromaufnahme pro Meter:

500 mA/m

Lichtstrom pro Meter:

825 lm/m

Nennlichtstrom pro Meter:

825 lm/m

Stripart:

Classic

Gewicht der Verpackung (Pappe):

0,01 g

Gewicht der Verpackung (Pappe + Kunststoff):

0,01 g

Gewicht inkl. Verpackung Bruttogewicht:

0,152 kg
Downloads "Strip RGBW 24V LED Streifen 5M 15W/m 60LED/m 12mm IP20 Farbwechsel RGB+3000K"