Strip Rot 12V LED Streifen 5M 4,8W/m 60LED/m 8mm IP65
Strip Rot 12V LED Streifen 5M 4,8W/m 60LED/m 8mm IP65
Der 5 Meter lange LED-Streifen kann alle 50mm gekürzt werden und somit auf das gewünschte Maß angepasst werden. Nehmen Sie bitte die Kürzung nur an den Schnittmarkierungen vor, um die Funktionalität des Strips zu wahren. Der LED Streifen hat eine Breite von 8 mm. Rückseitig befindet sich auf dem Strip ein Klebestreifen zum Befestigen auf glatte und saubere Oberflächen. Mit der Angabe LED/m wird die LED-Dichte auf einem Streifen gemessen. Auf diesem LED-Strip befinden sich 60 LEDs pro Meter.
Aufgrund der Schutzart IP65 wird der 12 V/DC LED Streifen im Außenbereich oder in Feuchträumen, wie z.B. Bad oder WC, verbaut. Unterhalten Sie im Außenbereich eine Cocktailbar, einen Biergarten oder eine Jet-Set-Bar? Dann werden Sie mit diesen rot leuchtenden LED Streifen weitere Stimuli bei Ihren Gästen erreichen. Rot ist energiegeladen und feurig. LED Streifen mit der Schutzart IP65 sind NICHT für die Nutzung unter Wasser geeignet.
Lebensdauer: ca. 25000 Stunden
Schutzart: IP65
Lichtfarbe: rot
60 LEDs pro Meter
Stromaufnahme pro Meter: maximal 400 mA pro Meter
3 LEDs pro Segment
Unser Tipp: Grundsätzlich empfehlen wir die Verwendung von Aluprofilen bei der Installation des 12 V/DC LED Streifens. Durch das Profil wird der Strip vor Beschädigungen von außen bewahrt und überschüssige Wärme wird schnell abgeleitet, was wiederum der Lebensdauer des Streifens zugutekommt. Mit geeignetem Zubehör (separat zu bestellen) wird der LED Streifen verlängert oder über das Eck verlegt.
Properties
Data according to manufacturer. Errors and changes reserved.
Datenblatt herunterladen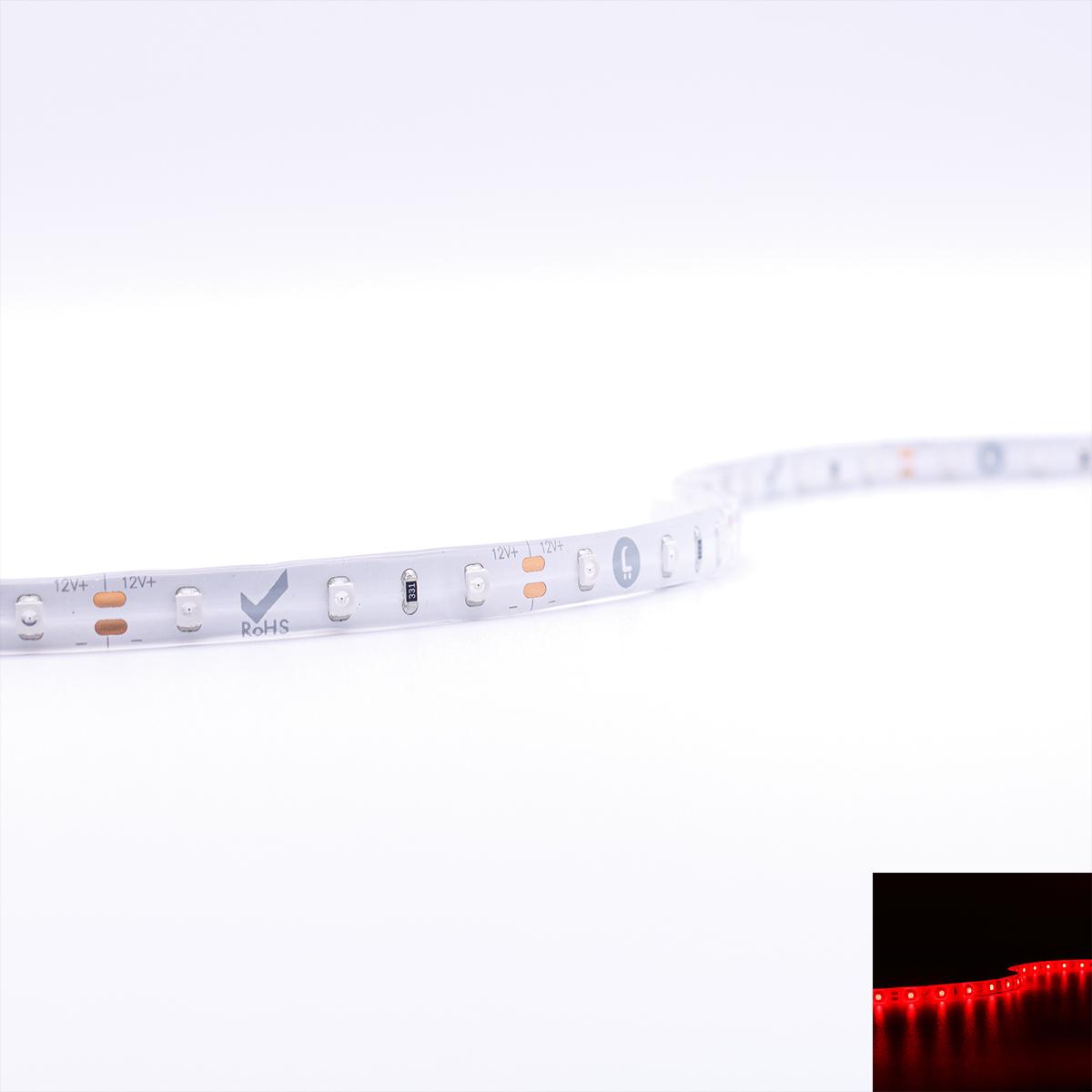 Properties "Strip Rot 12V LED Streifen 5M 4,8W/m 60LED/m 8mm IP65"
Fachgerechte Entsorgung nach WEEE:

ja

Lagertemperatur:

-20 °C bis +50 °C

Eingangsspannung:

12 V/DC

Konstantspannung (CV):

12 V/DC

Energieverbrauchskennzeichnung (nach EU 2019/2015):

G

Energieverbrauchskennzeichnung (Labelart):

Leuchte

Garantie:

2 Jahre

Prüfzeichen:

RoHS

, CE

Herkunftsland:

China

Dimmbar:

Ja

Lichtfarbe:

rot

Nennlebensdauer:

25000 Std.

Schutzart (IP):

IP65

Abstrahlwinkel:

120 Grad

Länge des Produktes (z.B. Strips, Kabel etc):

5 Meter

LED-Chip-Typ:

SMD3528

LED-Hersteller:

EPISTAR

Eingangsspannung (V):

12 V/DC

Energieverbrauch:

24 W

Leistung:

24 W

Produktlänge:

5 m

Produktbreite:

8 mm

Produktlänge:

5000 mm

Betriebstemperatur (°C):

-20 °C bis +50 °C

Gewicht:

0,17 kg

Netto-Gewicht des Produktes:

0,165 kg

LEDs pro Meter:

60

LEDs pro Segment:

3

LED-Abstand:

16,6 mm

Segmentlänge (teilbar alle x):

50 mm

Leistung pro Meter:

4,8 W/m

Stromaufnahme pro Meter:

400 mA/m

Stripart:

Classic

Gewicht der Verpackung (Pappe + Kunststoff):

0,02 g

Gewicht inkl. Verpackung Bruttogewicht:

0,18 kg
Downloads "Strip Rot 12V LED Streifen 5M 4,8W/m 60LED/m 8mm IP65"